Write On! Interviews: Writer Gloria Maloney
Write On! interviews writer Gloria Maloney.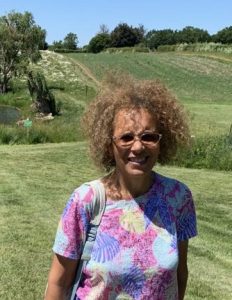 Gloria won the Pen to Print Poetry Competition 2021 with her poem Steam Train and has since submitted further poetry for publication.
WO: How would you describe your writing to someone new to it?
GM: I use descriptive language involving the five senses to draw the reader in.
WO: Can you tell us a bit about your latest project?
GM: I'm presently working on writing prose and poems about my childhood.
WO: What inspired you to write in the first place, and what inspires you now?
GM: I took early retirement last year and realised I now had the time to take up a long-standing desire to write poetry and prose. Winning the Pen to Print poetry competition in 2021, with my poem titled Steam Train, was an enormous accolade that encouraged me to continue writing, resulting in my local newspaper, The Gazette, London Wildlife Trust and The London Garden Society publishing several of my poems.
 I find it truly uplifting to see the words flow from my pen onto the paper as I write, emerging into a poem.
WO: The current issue of Write On! explores the theme 'Nature, Inspiring Creativity: Past, Present and Future'. With that in mind, how has nature had a direct impact on your inspiration? Is there any particular art or creative work based in nature that sparks ideas for you?
GM: Nature is my constant companion and plays an important part in my creativity. Walks in the countryside enthuse me with ideas. The landscape artist John Constable's painting, The Hay Wain, gave me inspiration and the idea to weave the title into my poem, The Pairing Of The Cinnabar Moth And The Ragwort.
During his life, Constable painted scenes of the Essex countryside around Dedham and along the River Stour, which happens to be one of my favourite walks, starting from Dedham to Willy Lott's cottage.
WO: What one piece of advice would you give an aspiring writer?
GM: To always write from your heart, drawing from events that have a special meaning to you.
WO: Question from Twitter user: @grasshopper2407: What period of life do you write most often from (childhood, teenager, adult, matured)?
GM: I use memories from my childhood and teenage years.
WO: Can you tell us anything about future projects?
GM: I'll be creating a series of nature poems embellished with my art illustrations.
WO: Lastly, if you could choose one fictional animal/creature to be a pet or companion, who would it be and why?
GM: My ideal fictional pet would be the Cheshire Cat from Alice In Wonderland. His infectious grin and engaging riddles to decipher will keep me entertained and when he disappears, he can leave his grin next to me for company!
***** 
Issue 10 Write On! magazine is available now. You can find it here.  
Write On! Audio Podcast Contributor Giveaway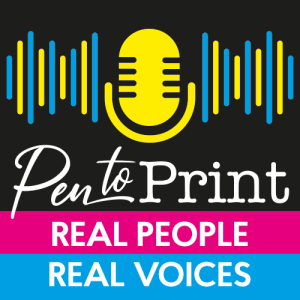 Get involved with Write On! Audio. As a contributor, you could win A Writer's Journal Workbook by Lucy van Smit. All Write On! Audio submissions submitted before 20th February will be considered eligible. The first two pieces chosen for broadcast will receive a book. Submit on: https://pentoprint.org/get-involved/submit-to-write-on/.
Visit https://anchor.fm/pentoprint to listen to the Write On! Podcast and get inspired.
Published by Bloomsbury, A Writer's Journal Workbook is packed with creative tasks, goals and advice! As an added bonus, you can also purchase it directly with this special discount code: AWJW25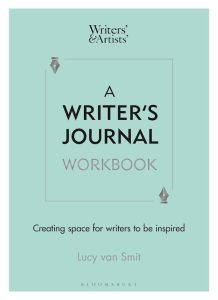 Always write from your heart, drawing from events that have a special meaning to you.