Write On! Interview: As A Writer – Jack Rooke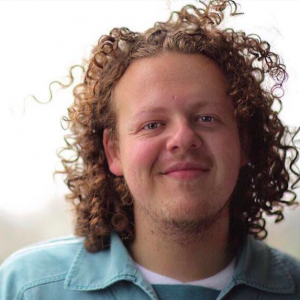 Jack Rooke is an award-winning comedy writer-performer and presenter from Watford. He is currently creator, writer and narrator of his debut comedy-drama show Big Boys, which is being developed for Channel 4 after making a pilot in 2018. Produced by RoughCut TV, Big Boys is an adaptation of Jack's acclaimed Edinburgh Fringe shows Good Grief and Happy Hour, about two misfit guys becoming best friends at university. He is also working on a project for Comedy Central.
For stage, Jack's debut solo hour, Good Grief, a comedy-theatre piece about his father's death, co-written with his 85-year-old Nan, Sicely, was met with critical acclaim. The show enjoyed numerous runs at Soho Theatre and went on to be adapted by BBC Comedy for Radio 4.
Jack's second show, Happy Hour, was commissioned by Soho Theatre for their Edinburgh Fringe 2017 programme. The show was the source for adaptation and inspiration for his debut book, Cheer The F**k Up, a part-comedic memoir, part-advice guide about mental health released in July 2020 with Penguin UK/Ebury Press.
Jack's latest show, Love Letters, was a comedy hour on modern romance set to a live harp, produced by Berks Nest and described by the Guardian as 'effortlessly charming and buoyantly funny'. The show went on to be transferred to the Soho Theatre main house. His debut short film, The Dawn Of A New Gay, was based on the show and produced by C4's Random Acts. It was selected for the BFI London Film Festival 2019, London Short Film Festival and London Comedy Film Festival, as well as numerous international film festivals.
As a broadcaster, Jack has made myriad documentaries. His debut BBC Three series, Happy Man, about male happiness and suicide, was nominated for Best Factual TV Show in the I Talk Telly Awards 2017. He also presented the BBC Arts documentary Mamma M.I.A., a one-off special about the rapper M.I.A.
Jack was the resident on-air expert in bereavement and mental health for BBC Radio 1, frequently featuring on R1's Surgery and helping to create documentaries such as R1's Guide To Happiness and the award-winning Clara Amfo: Running With Grief. He has also created work for multiple platforms as a long-term comedy ambassador for the suicide prevention charity CALM (Campaign Against Living Miserably).
WO: How would you describe your writing/work to someone new to it?
JR: Hello! Well, I'd say I'm a very lucky writer-performer, author and screenwriter who gets to pen things that combine themes of grief, loneliness and coming-of-age stuff, with humour and loads of jokes. I try to approach writing as part-confessional, part-entertainment and part making hard stuff feel less lonely to think about. I love any writing medium that allows someone to play with dark humour and walk the line of laughing and crying. That's what I hope to achieve with my big projects.
WO: Can you tell us a bit about your latest book Cheer The F**k Up?
JR: It's an autobiographical book-meets-advice-guide for young people (although any age really!) about how best to help someone going through a shit time. I wanted it to blend stories of my life losing my dad as a teenager, coming out as gay and losing a friend to suicide alongside just frankly writing about my experiences with my own mental health to create something very funny and accessible. Then I've tried to pack it full of tips on how best to support someone going through any of those experiences, the dos and don'ts and how we can all have some of those difficult conversations.
WO: What inspired you to write in the first place, and what inspires you now?
JR: It's very strange, really, because I can't remember. I know my dad loved storytelling, especially silly, fun or true stuff. He loved writers like Spike Milligan, was always watching sitcoms with me and constantly telling puns or rather bad jokes. But I think what inspires me now is trying to write stuff that I wish I had had access to at certain points in my life. I think you should write what you think is missing, and then present it in any tone that feels right for you. For me, it's always been jokes and trying to use humour to break down the awkward barriers we have in talking about tougher topics. to my mind, comedy is an art form, and not to be laughed at! (Excuse the equally bad dad pun)!
WO: The current issue of Write On! explores the theme of 'Growth' and how we navigate Spring as the season of change. With that in mind, do you use changes in the natural world to motivate your writing? 
JR: I don't really use seasonal stuff or nature that much as an inspiration within my work. However, during the first lockdown, I started going on big walks every day, around parks or forests, and have a renewed love of nature that I guess the daily grind had numbed me from ever developing. Now, I always go for a long walk if I get a spot of writer's block, or just need an escape. I am forever coming up with my best ideas on walks and just writing them into the Notes function on my  phone. Considering how much writing involves technology and screens, I would firmly recommend to every writer to get out within nature as much as possible
WO: What one piece of advice would you give an aspiring writer?
JR: Persistence. My gosh, it's bloody testing at times, ha ha. I also think, just being so grateful that you have the skill to articulate yourself and your thoughts and stories. It's such a gift. Writing is the most powerful tool in the world, because every other art form uses it in some way. So I'd say perseverance and gratitude are very important qualities to familiarise yourself with when approaching any piece of writing. You will get there and it's such a fun tool to have and continuously develop. You never stop improving.
WO: Can you tell us anything about future projects?
JR: I'm currently writing a semi-autobiographical comedy drama for Channel 4, called Big Boys. It's set at my university and based around the years after my dad died. It's mad, really. It's completely my dream project, so I'm ridiculously excited, but I'm also trying to read it every day and redrafting it (a reasonable amount) to make sure it's not crap! The pressure is on.
WO: Lastly, if you could choose one fictional animal/creature to be a pet or companion, who would it be and why?
JR: Winnie-The-Pooh. For his emotional intelligence and natural sugars addiction. Although I'm trying to be more vegan so his honey obsession may not be very conducive to the success of that!
Connect with Jack on Twitter: @jackrooke Instagram: @jackdaverooke
Cheer The F**K Up available to buy here: https://www.penguin.co.uk/authors/1084005/jack-rooke.html?tab=penguin-books
*****
Issue 7  Write On! magazine in available now. You can find it here.  
Writing is the most powerful tool in the world because, every other art form uses it in some way.