Writer Of The Month: Eithne Cullen
By Julie Dexter
This month Eithne offers us a collection of poems and two extracts from her novels. The first two poems each have a theme of ageing, though, they are vastly different in context. Metaphors and allusions within the first poem are tightly woven into the rhyme scheme featuring couplets and triplets which make up this poem. Transhumance invites us to seek our higher selves, transcending the human, to look above and beyond to a more hopeful future: the place where the best gazing is to be found.
Transhumance
Four women sitting in The Village pub
eat scampi: old- school basket grub,
content in blue jeans, no school shoes.
They talk of moves to pastures new-
the million things that they can do:
to study art, or learn to ballroom dance,
boldly travel to new continents;
of Shakespeare's blood baths,
and inside Willie Lohman's head.
And funny things that children said.
And ways of burying the dead.
Circles of acquaintance in their working lives.
The knitting talk that features here
is not Woman's Weekly kind of fare
but sharp designers' rising fame.
And, as in life, the talk will turn to sport,
and Beckham's teacher gives a quick report,
They move from hectic working world
to verdant futures, up on higher ground.
where the best grazing is to be found.
© Eithne Cullen, 2016
*****
The second poem was written for a competition run by Carers UK, subsequently appearing in the anthology, Not In The Plan. (2017).
Eithne's poem harks back to the long-gone days of Sex-and-Drugs and Rock-and-Roll. Although the poem portends a certain sadness, I like the humorous slant. Evoking a feeling of a bygone age, it also offers a telling observation of ageing and memory lost to the past where our ageing rocker continues to exist.
The Ageing Rocker
The ageing rocker, rocking in the corner
his fingers, stained and yellow, cracked and sore
fiddle with a bracelet made of knotted string
his leather waistcoat, symbol of long lost rebellion,
hangs loose about his fading frame
and the tattoo – slack on tired, mottled skin
lies limp – not the proud motto it once was,
carved with a pen-knife and some dodgy ink
his slogan: sex and drugs and rock and roll.
The sing-a-long host is belting out some tunes:
pack up your troubles, give me your answer do…
but in his head the song remains the same
and Jimmy Page is teasing out a riff
and Janis told him it was fine to lose his sight
she'd rather go blind than see him walk away
now he'd be leaning on a zimmer as he left,
she'd see his ten lace docs amid the slippered feet,
and he would make some sense of all of this
but for now, he's locked, and rocks, inside his head.
© Eithne Cullen, 2017
*****
Eithne's third piece of work is easily read as a prose poem. She wrote it as a story after she heard about a 'secret' underground line that used to take dead bodies out of The London Hospital.
'Spread The Word' run London wide workshops and competitions, winning entries are published in their City Of Stories anthologies. This story was a winner in 2018.
Whitechapel Train
Under the ground the train rattles. The platform's crowded with clerks, men from the brewery, hospital workers and housemaids heading home. They feel the ghost train's passing; it sends that shiver they feel when they're told: "someone's walking on your grave."
On the ghost platform, below, there's secret cargo – stored, counted and recounted. Guards load carriages with mortal remains. No ceremony for paupers going to paupers' graves. Fifteen-year-old Sandy gasps, he's young enough to be taken aback. The older workers feel no surprise; they've seen the cargo and lifted it. They've watched it, not knowing where it's bound.
Sandy's hands are wizened from the touch of cold, dead flesh. He's shocked to see a corpse's face – jumps when an arm flops from its sacking shroud.
Albert, down the platform, smirks. He's found a way to turn a profit with the resurrection men. Secret, shady deals go down, yet the pile of corpses never seems to shrink.
Over the road, the smell of death is rank; stinking drains and sewage spread disease. There's no water down here in the East End – stick to beer, it's safer they say. Sandy sucks the warm ale down like a lucky charm. When the train is loaded, he'll get a shilling. All share a conspiratorial look, take the coin, reminded not to talk. This secret is shared by health board, doctors and guards; put to the back of their minds, till next time, when the ghost train runs again.
*****
Eithne successfully submitted a monologue to Green Curtain Theatre for their Coronavirus call out. She was lucky enough to have her monologue Laptop recorded by an actor and posted on their site.
Green Curtain is a company creating drama for and about the Irish diaspora.
http://www.irishinlondontheatre.co.uk/lockdown-2020/the-laptop
*****
As well as poems and short stories, Eithne has written two novels. Both were Book Challenge entries with Pen to Print and published by New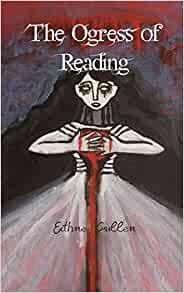 Generation.
Her first was for the 'Real People Real Lives' competition. The Ogress of Reading is based on a murderer operating as a 'baby farmer' in Victorian times. She exploited young women killing their babies; records show at least 400 were murdered.  The book is available on Amazon.
In this extract, a young mother is looking for a way to have her baby cared for while she can work without the stigma of being an unmarried mother – a terrible thing in those days.
Evelina's Choice
Evelina looked at the paper again and felt the ache in her breasts  – the sting of milk coming in  – at the thought of giving up her baby. Tightness gripped her, with the realisation that she'd lose her golden-haired girl; a gasp of sadness escaped her throat. She'd known from the start of her pregnancy that she'd have to find some solution to this difficult problem; she'd have to make some different way of life.
It seemed like some kind of godsend. She'd placed her advert in the Bristol Times and Mirror. Hers was direct and to the point: "Wanted, respectable woman to take young child." It was clear, simple and cost very little. When the paper came out, she'd hurried to buy her copy to see her notice in print. Now, here, next to her own she could see the solution to her problem. The address was in Reading, far away for sure, but near enough to visit Doris, if she saved her train fares carefully. The words danced before her eyes but she read them again to make sure she was clear about the message:  "Married couple with no family would adopt healthy child, nice country home. Terms – £10."
This advertisement held the answer to her problems; an older couple, respectable and settled. They sounded suitable.  She tested the name out, Harding… it sounded safe, reliable and secure. Mr and Mrs Harding, a couple, she pictured them holding hands standing by a fireplace in a comfortable home. They might well be the ones to give Doris the start in life she needed.
*****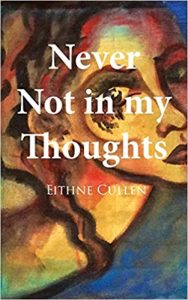 Eithne's second novel is more of a contemporary fiction.  The plot stemmed from an idea that had been in her head for some time:  a simple story about a woman who 'just' walked out on her husband and family. Never not in my Thoughts, a story about love and obsession, is available on Amazon.
In this extract, Martin (the main character) has reported his wife as a missing person. He is appointed a 'Ms Pers' officer and wonders about what kind of person this might be.
Ms Pers
Ms Pers was nothing like the comic-book figure he'd been expecting. She was, in fact, a very young, very attractive police officer. He was puzzled as she introduced herself as Maxine. She explained she was the Ms Pers officer who'd been assigned to Holly's case. He looked, bemused. She repeated herself, still he didn't get it.
"Ms Pers, Mr Good, it's what we say when we talk about Missing Persons, I'm a Missing Persons officer!"
"Oh…I see." But he wasn't sure if he saw at all.
"I've been assigned to your wife's case, I'll be a kind of liaison officer, helping to look for your wife, support you and the family, you know, the kind of thing I mean?"
He nodded.
"Can I come in?"
She came in and they sat and went over all the things he'd told the officer the previous day. It never occurred to him that he'd be under any suspicion himself, but when she said she'd like to look around with some of her colleagues, he realised he'd be under scrutiny from her and her team. She asked for recent photos of Holly and asked about the children's welfare. Martin was worried, this woman might think him some kind of a monster, she must think the children were in danger and he was the one to who could cause them harm. She talked about access to social workers and family support. Martin's stomach churned and he ran to the sink to throw up. He felt beads of sweat run down his brow and a stringy elastic trail of vomit hang from his mouth. He must have looked like a monster. Maxine left him to it, let him clean himself up and compose himself. She went outside and spoke into her radio.
When she returned, she asked if they could have some tea. He filled the kettle and began to busy himself, take his mind off what was about to happen.  She spoke gently and explained it would be better to let the officers look around, see if Holly had left any clues about her disappearance. See if there was anything worth using to help find her. When the doorbell rang, she asked if she could answer it; he nodded. She left him while she spoke to her colleagues.
*****
Eithne is rightly proud to have had two poems published in the Journal Of The Pre-Raphaelite Society. The following poem is about May Morris. May, William Morris's daughter was an embroiderer who rightly earned her place firmly within the Arts and Crafts movement.
Eithne wrote this poem after seeing an exhibition about May Morris at the William Morris Gallery.
Dear Miss Morris,
I know your work, I know your skill
and reputation; I like your style
I love to use your patterns.
I'm sixteen years old and can cook as well as sew;
I can live away from home, I know.
I'd like to come and work with you –
I think I'd fit in well –
and learn my trade from you-
I really think I can.
Dear Miss Morris,
my threads are never tangled,
I keep my stitches straight,
I can trace a shape, a leaf,
a bird, a thorn, a flower  –
my needle knows its way.
I'd like to come and work with you –
I think I'd fit in well –
and learn my trade from you-
I really think I can.
Dear Miss Morris,
I can craft a chain for a stem
compose a satin stitch petal,
choose colours to dazzle and stun.
My hands are always clean
I keep myself smart, like you.
I'd like to come and work with you –
I think I'd fit in well –
and learn my trade from you-
I really think I can.
© Eithne Cullen, 2019
*****
I'd like to close with two shorter poems, a quintain and a clerihew, both successfully published in MsLexia magazine's Little Ms.
In these most odd and solitary times, I think we can all appreciate the sentiment implied in the following poem.
Zoom
The screen of the laptop is winking
I open the wine and start drinking
The family appear
As if they are near
A great way to see them I'm thinking
*****
I find myself enjoying the assonance of the clerihew in this final poem, a smile of sadness spreading across my face as I think of the Brexiteers zooming off in their Nigel Farage repaired cars, unwittingly speeding out of the European Union.
Clerihew
Nigel Farage
is opening a garage
fixing motors
for Brexit-voters
*****
I hope you've  enjoyed Eithne's writing as much as I have. You can connect with Eithne on Twitter: @eithne_cullen
Our next Writer Of The Month will be Farzana Hakim.
*****
The poem invites us to seek our higher selves, transcending the human, to look above and beyond to a more hopeful future: the place where the best gazing is to be found.