Write On! Interview: As A Writer… L.M. Towton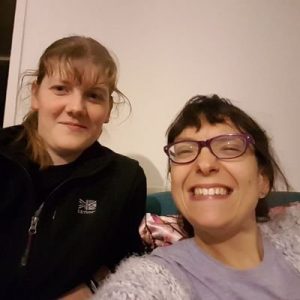 Write On! interviews not one but two writers this week. L.M. Towton is the pseudonym of Science Fiction/Fantasy (SFF) writing partnership Lauren Towers and Michelle Sutton. Pen to Print Book Challenge Shortlisters 2015 and Penguin Random House (PRH) WriteNow Participants 2018, they are currently getting their first novel ready for submission to agents.
WO: How would you describe your writing/work to someone new to it?
MS: Besides unpublished?
LT: Psychics and witches and murderers, oh my
MS: I'm not sure. We're currently redrafting and editing our main WIP and it's a lot darker than it originally was. But our actual style… obviously we lean to SFF and we like strong characters with issues? By that I mean, I think our characters are pretty flawed. None of them are perfect.
LT: We're a bit twisted, and we balance that with a bit of black humour, and quite a lot of swearing, magic and cake.
MS: And we like putting our characters in danger and hurting them. Which writer doesn't?
WO: Can you tell us a bit about your latest work, The Soul Caller?
MS: The Soul Caller is the WIP we're currently editing. It has an elevator pitch, which is basically: Mysterious deaths in a Cornish town lead psychic Cleo Chalice to uncover a sinister, supernatural cult intent on raising an ancient evil. It was actually longlisted in the very first Pen to Print Book Challenge, but it has changed A LOT since then.
LT: Yes. We wouldn't allow anyone to see the longlisted one now.
MS: God no. This draft, once we've finished, we'll be sending out to agents. So, we'll see.
WO: What inspired you to write in the first place, and what inspires you now?
LT: Joy? Loud, insistent characters. Excuses to research cults.
MS: Mythology, folktales and legends. Or specific writers or TV shows; too many to list. And what-ifs. I always like a good what-if.
LT: Things that aren't there. We couldn't find this story, so we wrote it.
WO: The current issue of Write On! explores the theme of 'Hope'. It's such a simple word but the feeling behind it can inspire greatness, lift people out of difficult times and act as a beacon for good things to come. How does hope keep you writing, keep you inspired and keep you motivated?
MS: I don't know if it does. Maybe the lack of it can hinder the motivation and writing?
LT: Definitely. Can hinder the motivation for breathing.
MS: And I think hope is quite present, in our writing? We like making things hard for our characters and sometimes it can seem dire for them but we always make sure there's a glimmer of hope for them to grab hold of.
LT: Before we slit their throats.
MS: Not the MCs, though.
WO: What one piece of advice would you give an aspiring writer?
MS: Keep going. Don't give up, if it's something you really want.
LT: Keep hold of your love for it.
WO: Question from Twitter user: @eithne_cullen – How does working as a collaborative work for you? Do you fall out?
LT: We talk a lot, about life and about the book, we work on a very similar wavelength (for writing) and we discuss rather than fall out.
MS: As we live in different parts of the country, we work entirely online either talking via messenger or video calls and working via Google Drive for writing and editing. I don't think we disagree often, and definitely don't fall out. And it helps having another person to bounce stuff off.
WO: Can you tell us anything about future projects?
LT: The next one, we think, is destiny, angels and demons, and the characters are our oldest so far.
MS: And have been getting louder (and grumpy) about Soul Caller getting all the attention. After that, either something new or a sequel, depending on how subbing for Soul Caller goes.
WO: Lastly, if you could choose one fictional animal/creature to be a pet or companion, who would it be and why?
LT: Iorek Byrnison, from His Dark Materials. Because kickass, super, bear.
MS: I have loads in my head. But, today, I'd probably go for Jonesy – the cat from Alien – he was far cleverer than the crew and her survived, so…
You can find out more about L.M. Towton and connect with them on Twitter: @LM_Towton.
Keep going. Don't give up, if it's something you really want. Keep hold of your love for it.