Write On! Interview: As An Author… Tasha Madison
This week Write On! interviews YA and historical fiction author Tasha Madison.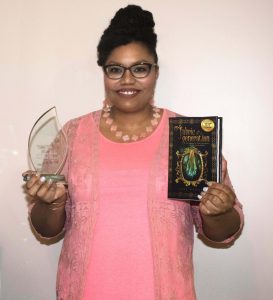 Tasha's YA historical fantasy recently won the 2020 Author Elite Award (AEA) for Best Young Adult Fiction. Her historical fiction novel, Pharaoh's Shadow received a Top-10 distinction for Best Historical Fiction from AEA, an international honour bestowed for literary merit and publishing excellence. Tasha's goal is to enthral readers by writing about historical and everyday events in unique ways. She also coaches creatives and helps them to write, polish, and produce content more strategically.
WO: How would you describe your writing to someone new to it?
AN: I write lively stories that immerse the reader in the culture, history, and drama of the present, past, and (sometimes) future. I like to use vivid imagery to paint pictures in the minds of my readers. I always endeavour to entertain and create opportunities to learn.
WO: Can you tell us a bit about your latest book Pharaoh's Shadow?
AN: My latest offering, Pharaoh's Shadow, is a historical fiction novel based on the true story of the infamous conspiracy to murder Ramesses III, the reigning pharaoh of the 20th dynasty in ancient Egypt. As a paternal line descendent, I wanted to explore how the various historical actors might have contributed to his demise. My book takes a deep dive into an ancient time and provides a front-row seat to the dramatic happenings of the royal household. It also uncovers the significant role that politics, religion, and the pursuit of power played in collapsing a golden empire.
WO: What inspired you to write in the first place, and what inspires you now?
AN: My initial inspiration came from poets. As a child, my father shared with me his affection for the words of Langston Hughes and Kahlil Gibran. My mother gifted me books by Nikki Giovanni and Maya Angelou. Their words felt like music to my soul.
I fell in love with poetry as a means to express the deepest parts of who I am. My passion for reading poetry morphed into a desire to write my own. After I wrote poetry for many years, I tried my hand at storytelling. A pen has never been too far from me ever since.
Today, I am inspired by so many things: the sound of B.B. King's guitar groaning in the background as I do the dishes, the delight that comes from a burst of sunlight on my face, the pleasure of a good cup of coffee and a dose of people watching at my local café … I find inspiration all around me. In fact, some of my best ideas come to me while engaged in the most mundane activities of life.
WO: The current issue of Write On! explores the theme of 'Hope'. It's such a simple word but the feeling behind it can inspire such greatness, lift people out of difficult times and act as a beacon for good things to come. How does hope keep you writing, keep you inspired and keep you motivated? 
AN: Hope is the confident expectation that all things will work out for our good. You can't live without hope. It gives us the strength to overcome doubts and fears. When we focus on what will happen after the storms in our life pass, it's impossible to be disappointed.
Hope keeps me writing because it encourages me to think of a positive end result. It pushes me past the pain of research, plotting, and drafting and revising into the thrill of seeing a reader holding my book in their hands. Hope keeps me motivated by persuading me to trade stressing out over the small issues of life we often get hung up on for the beauty of the present moment, however imperfect it is.
WO: What one piece of advice would you give an aspiring writer?
AN: Ignore the naysayers! Don't let anyone (not even family or friends) deprive you of your passion for writing. You will face many rejections and failures, but you only need one "yes" to be successful.
WO: Can you tell us anything about future projects?
AN: I am currently toying with the idea of penning my first YA series. It will involve a recent high school graduate recovering from being bullied and an unexpected source of power that will change the trajectory of his life forever. But, will he use his new abilities for good or to get revenge?
WO: Lastly, if you could choose one fictional animal/creature to be a pet or companion, who would it be and why?
AN: Paddington Bear, of course! This is mostly due to a childhood obsession with teddy bears. However, I think he would be a fun companion, especially for a writer in need of inspiration or a little everyday adventure.
You can find out more about Tasha Madison on her website www.TashaMadison.com and connect with her on Facebook: facebook.com/theTashaMadison; Instagram: instagram.com/thetashamadison and Twitter: @theTashaMadison. Pharaoh's Shadow is available to buy from Amazon, Barnes and Noble, and wherever else books are sold.
Ignore the naysayers! Don't let anyone (not even family or friends) deprive you of your passion for writing. You will face many rejections and failures, but you only need one "yes" to be successful.