Showcase: To Be A Child Again + Mother Of Floods
Happy New Year, everyone!
While I am sure most of you experienced a less than desirable holiday season, I hope each of you still managed to rest, laugh and unwind. Few years are likely to test us as a species in our lifetimes like last year, and while we are not out of the woods yet, we have at least steadied each other long enough to find the path back to normality.
One way we can continue to help each other is to spark joy wherever we can, and no one experiences joy like a child. So, to kick off Showcase in 2021, I'd like to begin by sharing a poem by Palak Tewary entitled To Be a Child, Again. Let yourself be washed away by your own nostalgic memories and indulge yourself in how you might recreate them when you are able. In addition to the written poem, I have also included a video version that Palak made to emphasise the positive emotions and imagery of her piece.
I am also ecstatic to share a podcast interview featuring Write On's very own Editor Madeleine White. While it is easy to point at the negative events of 2020, there were many positive moments, too; not least of which was the publication of Madeleine's inspirational debut novel, Mother of Floods. In the embedded episode of Myth Legends & Lore podcast, Madeleine talks about Write On! and Mother of Floods and reads an excerpt of the novel for you to enjoy.
Keep on writing!
Dan (Associate Editor)
*****
To Be a Child, Again by Palak Tewary
Days of Disney cartoons, cakes and cherries,
Nights full of stories of trolls and fairies,
And how do I forget the paper boats and rain,
Oh…to be a child, again.
The higher the swings, the louder the laughter and screams,
Content with the collection of hopes and dreams,
When wealth was dolls, marbles and train,
Oh…to be a child, again.
Happiness was receiving parcels,
Or going to the sea and building sand castles,
Or even just catching sight of a plane,
Oh…to be a child, again.
The biggest worry was fights with friends and making up once more,
And maybe learning the timetables for eight, twelve and four,
It could be seeking those hiding – from lane to lane,
Oh…to be a child, again.
(C) Palak Tewary, 2021
Palak Tewary, an Indian-born Londoner, is a management and finance professional, who, along with being an ardent writer, is a travel buff, photography and videography enthusiast. She blogs at: www.palaktewary.com and is now focusing on writing books, articles, short stories and poetry. Connect with her on: YouTube/ Twitter/ Instagram  @palaktewary.
*****
Mother Of Floods by Madeleine White
(C) Madeleine White & Myth Legend & Lore Podcast, 2020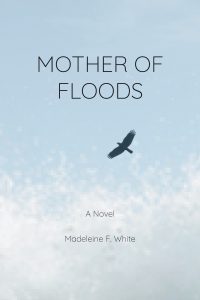 Mother Of Floods is Madeleine's debut novel and is out now and available to buy. You can connect with Madeleine on Twitter & Instagram: @madeleinefwhite. Connect with Myth Legend And Lore on Twitter: @LoreMyth & Website: mythlegendlore.podbean.com
If you'd like to see your writing appear in the Write On! 'Showcase', please send your short stories, poetry or novel extracts to: pentoprint@lbbd.gov.uk. You can read more fiction, poetry, interviews and author advice in the latest issue (6) of Write On! out now and available here.