Write On! Interview: Mark Haddon – Facing The Darkness Together
Bestselling author, artist and all-round creative talks to Holly King about making empathy and extraordinary characters matter.
As I join the Zoom meeting for our interview, cursing Dell for placing the camera at the bottom of my laptop, I think about what limits a virtual interview has. No smells, background sounds, the whole experience confined to a 13-inch screen. I see Mark's face flash up as he joins and I think back to the first email exchange we had, his response to my introduction written as a conversational poem, which I then reciprocated. Clearly, this is a man who enjoys putting in a little extra into life, someone who finds ways to add creativity into any communication, despite the limits we've been faced with in 2020.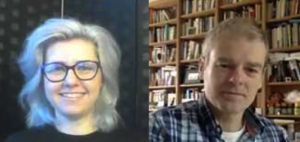 I think of A Spot Of Bother and The Pier Falls, which seem even more poignant now than when they were published (2006 and 2016 respectively). In them, I saw characters wanting to connect, finding new ways to communicate difficult things with each other in ways they had never tried before.
"I think the thing that ties all my books together is empathy. I'm really interested in putting myself into other people's shoes and asking: 'What are they experiencing?' I'm interested in strange, unexpected experiences. Maybe all my writing could be summed up with: 'What would it be like to be X in that situation?'
Before I wrote The Pier Falls my wonderful agent said: 'You write novels in which nothing happens', so I decided to write short stories where everything happens. I didn't want to write about people I might meet in my daily life any more. I felt like writing about people stuck in extraordinary situations, asking: 'What would it be like to die as a pier crashes into the sea?' and: 'What would it be like to be a kid that finds a gun?'"
It's a great question to ask ourselves, and not just as writers. Does he ask the same question for his stories which are based on myths?
"Sometimes I ask myself what it would be like to find oneself in these 'old stories', because there are often situations where they are passed over quite quickly. Wodwo is a rewriting of Sir Gawain And The Green Knight, and I wondered: 'What would it be like to spend the whole year half-convinced that someone was going to kill you?' That isn't really dealt with in the poem, it's a gap, and I thought: 'There's a story in that gap I could write myself into.'
I'm often looking for gaps in old stories where I can insert myself. In The Porpoise, Chloe (who is based on Marina in Shakespeare's play Pericles) was originally nailed into a coffin and dumped overboard into the sea, and it's just passed over in the play. I thought: 'What a waste! What a horrific situation to be in, so let's describe it.'"
This question seems to be at the heart of what drives him to write. There was a long gap between writing The Red House and The Porpoise and I recall an interview where Mark said The Porpoise 'felt necessary' to write. As a writer who can't yet determine what stories inside her are necessary, I wondered how he identified that feeling?
"One of the things that made me choose The Porpoise is because the young female character in Shakespeare's Pericles, who becomes a main character in my novel, is treated very badly and then discarded. She is a victim of sexual abuse; she isn't given a name and is only given two lines. Pericles intends to marry her and when he finds out that she is having what is called an 'incestual relationship with her father', he runs away on fun adventures (to parody it). I thought that wrong needed righting."
We chat about what makes writing necessary, and how neither of us face a financial necessity to write; it's something less tangible but no less real.
"Writing is why I'm on the planet and if I don't write it's extremely painful; this existential void opens. You will not write unless you're compelled to – you should do it only if you have some kind of pathological obsession. A writer friend of mine says to students: "Your arse has to make friends with the chair", which makes almost anything else preferable to writing. I've got this lovely room (he gestures to his wall, which is lined with floor-to-ceiling bookcases), but when there isn't a global pandemic on, I go straight to a café."
Inevitably, we turn back to the pandemic, and its impact on creativity. I was fortunate that the Write On! team came together and formed Write On! Extra, allowing me to stay connected while furloughed. However, at times, we all felt our creative energy left us. Was it the same for Mark?
"I had a sort of practice for a global pandemic last year – I had a triple bypass just before The Porpoise came out and I was stuck at home. But writing is always a lonely business, and if you live somewhere nice, or you like your family, it's not too bad. It's horrific for some people, though."
It has been horrific for some. And I've been struggling with whether writing really helps in a world where people are facing such immediate difficulties. Reading The Boys Who Left Home To Learn Fear resonated with me, as the narrator spends his last days alive writing in a journal. It won't save him, yet he still does it, because survival is not enough. So: art, books, music, theatre, going for a coffee, meeting with loved ones, is that the extra layer of life?
"This is one of those questions which presupposes quite a sophisticated answer, and the honest answer is, I stuck the journal in there because it works. So much of writing is like an image of a fruit machine, constantly spinning the wheels until you find a combination and think: 'I'll have that please' (he pauses, thinking of advice he can give that we readers want from established authors). Something that I've always believed: Throw stuff away and the good stuff comes back. Even if you don't think you do, you remember the good stuff, and it's happened to me again and again."
I think back to Mark tying his work together with empathy, something readers can take from the page and apply to all our lives, especially with the year we've had. We're each going through our own difficulties, which his graphic novel Social Distance seems to be responding to?
"I work for Samaritans, which is an excellent thing to do during a pandemic because it gets you out of the house! Social Distance came from the fact that a good number of people who ring Samaritans live in a state that most of us are now being forced into. People are very lonely, or have difficult mental or physical problems which keep them locked at home; and there are a lot of those people. You just don't see them, because they aren't on the street. For them, the pandemic is only a slight tweaking of their normal life."
The breadth of Mark's characters and their terrible, beautiful and surreal experiences has shown me that none of us are incomprehensible, or evil; something we are all inclined to believe about others when we are uncertain or scared. Perhaps the most obvious example is Angelica's father in The Porpoise.
"If you volunteer for Samaritans you listen to a lot of people in distress, and to a lot of people whom most find it difficult to empathise with. We get a lot of calls from prisons, at the moment especially. You talk to people who've done terrible things and are shunned by everyone else. They come across as surprisingly normal in most cases, and if you listen to their stories they hang together as well as ours; it's just that things have gone horribly wrong somewhere. So, on paper, I'm very keen to think like that about characters we might otherwise dismiss as 'evil'. And I think that's one of the big adventures of writing and reading fiction: getting into extraordinary minds. Those minds can be different in many ways, and one is that they can be the mind of someone who does awful things. You will never stop terrible things happening unless you know why people do them.
Another thing you learn in Samaritans is that it's always better to face the bad stuff head-on. People find it really hard to talk about the difficult things they face, and people find it hard to listen to. They ring Samaritans to talk about the really dark stuff that no one wants to hear; and the dark stuff is always more bearable for being looked at head-on."
Mark finishes our interview giving me the vital thing we based Issue 7 on: Hope. Hope that reaches out from his stories and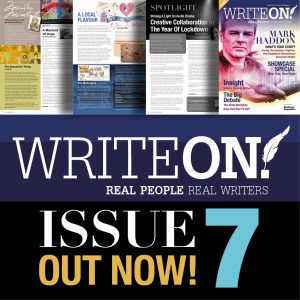 settles in your chest, feeling the connection between yourself and his characters, between one human communicating with another, between all of us if we look straight at the darkness and choose empathy.
*****
Issue 7  Write On! magazine in available now. You can find it here.  
So much of writing is like an image of a fruit machine, constantly spinning the wheels until you find a combination and think: 'I'll have that please'.