Write On! Interview: Philip Bowne
Write On! interviews author Philip Bowne.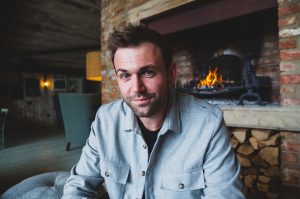 Philip lives in London and works as an in-house writer for The Wombles, a forthcoming children's CGI TV show and book series. His debut novel Cows Can't Jump was recently awarded the Spotlight First Novel Prize and longlisted for The Guardian's Not The Booker Prize. Phil's short fiction has been published on both sides of the Atlantic, in the likes of The Lampeter Review and The Atticus Review. Over the last few years, Phil has written travel pieces for The Guardian, and in 2016 he worked as a volunteer in the Calais 'jungle' refugee camp.
WO: How would you describe your writing/work to someone new to it?
PB: First and foremost, I like to have fun with my writing. I like to create scenes and characters and situations that put a smile on my face. And I hope I can do that for the reader, too. I like to intersperse moments of comedy or farce with tragedy and conflict. I like to explore themes I believe to be relevant to us all: love, loss, risk, faith.
I try and keep my writing as lean as possible. I love reading books that are written in a clipped, simple style. Nothing too fancy! I think this style allows the reader into a story faster. And I avoid using long, unnecessary words. There's nothing worse than having to stop reading to look up what a word means. I want my writing to be accessible.
WO: Can you tell us a bit about your latest book, Cows Can't Jump?
PB: Cows Can't Jump is my debut novel. It started as a short story of the same name. I wrote the book in my early 20s, while I was managing a bar at London Bridge.
Billy has just left school and is desperate to escape middle England. It's 2016, and as a gravedigger, he's working the ultimate dead-end job. To make matters worse, he's a virgin, and there's no hope of him meeting a girl any time soon. The only women at work are in coffins.
Billy's home life isn't any better. In the evenings, he observes his dysfunctional family: his grandad's engaged to a woman half his age, his dad's become obsessed with boxing, and he suspects his mum is having an affair. All the while, celebrities are dropping like flies and Britain is waiting for the EU referendum. Everything is changing, and Billy hates it.
Billy's life gets a jump-start when he falls in love with Eva, an older girl from Switzerland, who's passionate about Russian literature, Gary Numan, windfarms and chai tea. To Billy's despair, Eva travels back to her home in Switzerland at the end of summer. But he won't give up on her that easily. He gambles everything for a chance to be with Eva again.
When things start to go wrong, Billy's journey across Europe involves hitch-hiking with truckers, walking with refugees, and an encounter with suicidal cows. But the further he goes, the harder it is to be sure what he's chasing – and what he's running from.
WO: What inspired you to write in the first place, and what inspires you now?
PB: I've always enjoyed telling jokes and stories. And I love playing around with words and ideas and creating characters, while putting them in difficult situations. It's as simple as that, for me. But I'm often inspired to write stories about things I read in the news. The title Cows Can't Jump (and the section in the book that it refers to) was inspired by a news story that I read about cows mysteriously falling off a cliff in Switzerland.
I'm hugely inspired by locations. I like my writing to have a strong sense of place and I love lyrical descriptions of settings that also reveal something about a character.
But I think people are my biggest inspiration. I've worked lots of different jobs and met lots of different people. I've heard lots of stories. I tend to pinch things and muddle them together into stories.
WO: The current issue of Write On! explores the theme of 'Growth' and how we navigate Spring as the season of change. With that in mind, do you use changes in the natural world to motivate your writing?
PB: I love writing about seasons. I think the way I describe the natural world (and how my characters respond to it) is really important. It can reveal so much about the character and how they see the world, how they respond to their problems, and how they are coping. I use the natural world as a tool for character development: in Cows Can't Jump, Billy becomes depressed through a dark and bleak winter. By the spring, things improve, and he starts to feel more hopeful.
I think it is a secondary motivation for me, though. First and foremost, I think of conflict and how I am going to make life tough for my protagonist.
WO: What one piece of advice would you give an aspiring writer?
PB: Don't worry too much. Just finish the draft. The first draft is always rubbish, but only once it is finished do you get that sense of perspective and the shape of the story. Once you have a story down on paper, you can see where it can be improved. You can keep chipping away at it. But if the story is just living in your head, or in the notes page on your iPhone (like some of mine are), it's impossible to make it any better. So just tell the story to yourself. That's what I see a first draft as. Just telling yourself the story. The second, third, fourth draft (and so on) are when you start to tell the story to everyone else.
As writers, we all get caught up with self-doubt and that feeling of wanting to give up. I find I have that feeling more now than when I started out, so I think I should take all of this advice on board myself!
WO: Can you tell us anything about future projects?
PB: Right now, I am ghostwriting a book for somebody, but it's 'Top Secret' at the moment, so I can't say any more than that! It's a really fun project to be involved in. My day job involves writing scripts, novels, and short stories for The Wombles, the classic British entertainment brand.
Once things settle down a little, I have some ideas for a sequel to Cows Can't Jump… but one step at a time!
WO: Lastly, if you could choose one fictional animal/creature to be a pet or companion, who would it be and why?
PB: I would have to say a Womble! I am biased, of course, but I think Wombles would be a lot of fun to have around. Plus, they look after the environment and keep things tidy. What's not to love?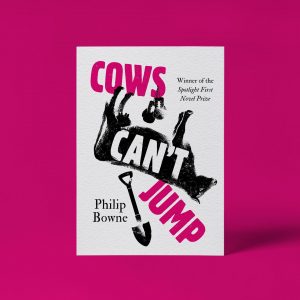 You can find out more about Philip Bowne here: philipbowne.com and connect with them on Twitter: @chumpybloke and Facebook: Philip Bowne – author.
Cows Can't Jump is available to buy from waterstones.com/book/9781911107354 or amazon.co.uk/Cows-Cant-Jump-Phil-Bowne/dp/1911107356
***** 
Issue 7  Write On! magazine in available now. You can find it here.  
Don't worry too much. Just finish the draft. The first draft is always rubbish, but only once it is finished do you get that sense of perspective and the shape of the story. Once you have a story down on paper, you can see where it can be improved.