Write On! Interviews: Author Charlotte Baker
Write On! interview: Author Charlotte Baker.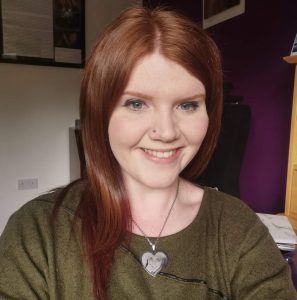 Charlotte is an author, associate lecturer, and PhD student with an interest in crime and horror. She has nearly 50 publications to her credit, including her novel Themis, and her recently accepted novella series, Valor Diamond. Charlotte spends her time with family, drinking coffee, walking, and conversing with the various monsters that float around her imagination.
WO: How would you describe your writing to someone new to it?
CB: It's the sunshine and unicorns corner of hell. My work is always character-driven, atmospheric, and challenging in terms of representation, depictions of violence, genre conventions… anything really. 
WO: Can you tell us a bit about your latest book, Valor Diamond?
CB: Valor Diamond is a genre-bending vampire novella series in which humanity is called into question when the Rhyme and Retribution Killer tortures and murders his victims in the most heinous manner. Operation Diamond is called in to decipher the mysterious nursery rhymes and track the killer down. But what happens when the hunters become the hunted?
WO: What inspired you to write in the first place, and what inspires you now?
CB: My mum is inspiring. She's not only an incredible poet but has a fiery determination and resilience – she keeps me going! I've always been easily emotionally immersed in fictional worlds: literature, film, TV, anything and everything. To be able to create these worlds only amplifies these experiences for me. I love it and I always feel really grateful that I'm able to be an author.
WO: The upcoming issue of Write On! explores the theme 'Writing With Wonder' – creating stories that fuel the imagination.  With that in mind, how do you weave wonder into your writing?  
CB: The need to fuel the imagination means that you need to walk on the precipice of showing something, but not too much. I'm interested in people – who they are, how they behave, why they focus on the things they do. Weaving wonder and fuelling a reader's imagination is about alluding to an origins story – something that must exist, but is never explicitly stated and yet is the key to unlocking everything about that personality. To me – people are wonderful!  
WO: What one piece of advice would you give an aspiring writer?
CB: Don't wait for the path to emerge. Create your own.
WO: Question from Twitter user: @grasshopper2407 – How do you select the names of your characters?
CB: Oh, I feel like this is a really boring answer: but the characters often just arrive in my head, fully formed and ready to start talking. It's normally the name I first think about that I use. But, in Valor, I had decided their names were going to be reflective of their ability. So, I searched for their attributes in Latin (e.g Vita = Life, Nex = Death) and this made for some interesting names!
WO: Can you tell us anything about future projects?
CB: I'm hoping to get my PhD completed early next year and plan the next few books in the Valor series! I also have a few more projects underway, but these are top secret!
WO: Lastly, if you could choose one fictional animal/creature to be a pet or companion, who would it be and why?
CB: It's a close one between possibly the two most different creatures from Harry Potter: either Niffler, the small creatures obsessed with all things shiny, as they're excitable, like me. Or Fluffy, the three-headed dog, because I love animals and I get three there for the price of one!
You can find out more about Charlotte here www.facebook.com/charlottebakerproofreader/ and connect with them on Twitter: @CharHorrorFan. Valor Diamond updates can be found at: www.inputoutputenterprises.com/post-1/i-o-enterprises-signs-new-author
***** 
Issue 10 Write On! magazine is available now. You can find it here.  
Don't wait for the path to emerge, create your own.