Write On! Interviews: Author David Yeats
Write On! interviews Author David Yeats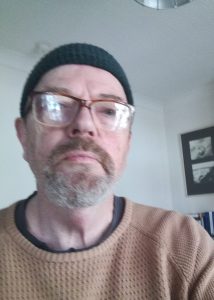 David says: "On leaving school, I attended Folkestone College of Art. In the mid-1980s, I gained a BA in African History from The School Of Oriental And African Studies and I've recently been awarded a MA in Creative Writing from the University Of Birmingham. I've led a varied working life being employed as a teacher, a fruit picker, on the cross-channel ferries, in hotels and restaurants, as a bookseller, un correcteur anglais for MIPTV and MIDEM in Cannes, a technician, publicist and producer on performing arts projects and West End and fringe productions, a researcher for environmental projects, a charity worker and, latterly, an exam invigilator. My debut novel The Opal Causeway was published by The Book Guild in October 2022 and a short story Bugger! Bugger! Bugger! was published in Fusion: 21 Stories From The Complete Creative Writing Course, ed. Maggie Hamand (whose excellent course I attended).
WO: How would you describe your writing to someone new to it?
DY: It might seem strange but I've often thought of my work as visual, like a painting, a collage or a series of photographs. I believe it to have a good balance between description/reminiscence and action/dialogue. The Opal Causeway is my debut novel started in 2004 and, since then, my writing style has developed. From feedback from readers, my writing seems to give food for thought and has poignancy. I've been amazed by the tiniest of details some readers have noticed and commented on.
WO: Can you tell us a bit about your latest book, Drifting Aimlessly Through Lockdown?
DY: Other than promoting The Opal Causeway, I've been working on Drifting Aimlessly Through Lockdown, which is a surreal diary of a lone individual's attempts, with only his Dyson vacuum cleaner for company, to combat the demons that haunt him. He travels through dream and memory; not only over the time span of his life, but over centuries and millennia, while dealing with severe tinnitus.  
WO: What inspired you to write in the first place, and what inspires you now?
DY: I was inspired initially to write by going to a book reading and being very enthused by what I was hearing. There seemed to be not only words but music and pictures; an inspiring rhythm. Before, it had always been start/stop for me, but somehow, going to that reading launched me into writing. It gave me a seriousness, a determination I'd lacked before. Of course, it's ultimately the world and all its inhabitants and environments that inspire me.
WO: The recent issue of Write On! explored the theme of 'Hearing Voices'. With that in mind, is there an inner voice that drives you forward, or maybe plants those seeds of doubt when it comes to being creative? Or perhaps it's an external voice you have to ignore. How do you overcome that? Finally, are there any connected voices in your creative space that inspire you?
DY: An inner voice? I suppose for me any inner voice(s) stems from memories – either real, muddled, or assumed – and reminiscences: sudden realisations, snapshots in my brain like storyboards, from which imagination ignites and then writing starts to flow. So the voices are mostly distant ones that call me, inspire me and cause doubt to get behind me.
WO: What one piece of advice would you give an aspiring writer?
DY: Everybody is different and will have developed or will develop their own way of working, but when you reach an impasse, don't get disheartened. Believe what you do has meaning and don't be afraid to let go sometimes. You have to give yourself space. I once felt I should keep tidy notes; now I accept they are chaotic! Think about keeping sketches and scrapbooks, snippets of film perhaps. Remember that the mind is a mischievous thing. And remember to read!
WO: Question from Twitter user: @MadeleineFWhite What is the best money you ever spent as a writer?
DY: Spending the money to go one winter to Spain for two months and staying in a small family hotel and writing every morning without having to worry about anything else except whether the sky would be blue that day.
WO: Can you tell us anything about future projects?
DY: A question quite a number of readers, either through online reviews or at readings, have asked is whether The Opal Causeway has a sequel. Well, it has! I've now embarked on the final edit. It's called Zinny And Little Zinny and is set around the time of the opening of the Channel Tunnel. Similar themes are explored, though the structure is different, while many of my characters from The Opal Causeway have matured and new ones complement them. I've also completed a series of short stories related to both The Opal Causeway and Zinny And Little Zinny which span from 1935 to 1965: Tales From The Opal Shores, telling of isolated incidents in the protagonists' lives set against the backdrop of momentous national and international events.
WO: Lastly, if you could choose one fictional animal/creature to be a pet or companion, who would it be and why?
DY: Solomon the Elephant from The Elephant's Journey by Jose Saramago. Of course, Solomon really did exist, although he's become more of a myth now. But why? Because of his great intelligence and because together we could travel far.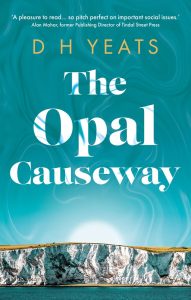 You can find out more about David Yeats and connect with him on LinkedIn: linkedin.com/in/dh-yeats-913427142/?originalSubdomain=uk, Facebook: facebook.com/profile.php?id=100080504232594, Twitter: @dhyeats and Instagram: @dh.yeats
The Opal Causeway is available to buy from www.bookguild.co.uk/bookshop/book/438/the-opal-causeway-kufQ/
***** 
Issue 16 of Write On! is out now. Find it in libraries and other outlets. You can also find the digital issue here.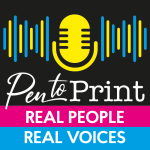 Each edition of our Write On! Audio podcast features an exclusive interview. Find us on all major podcast platforms, including Apple and Google Podcasts and Spotify. Type Pen to Print into your browser and look for our logo, or find us on Anchor FM.
*****
If you or someone you know has been affected by issues covered in our pages, please see the relevant link below for ​information, advice and support​: https://pentoprint.org/about/advice-support/
Think about keeping sketches and scrapbooks, snippets of film perhaps. Remember that the mind is a mischievous thing. And remember to read!