Write On! Interviews: Author Joe Bedford
Write On! interviews author Joe Bedford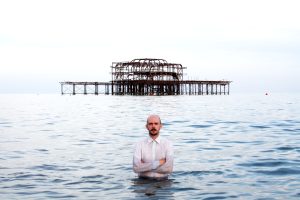 Joe is a writer from Doncaster, currently based in London and undertaking a Creative PhD at the University of Leicester. His short fiction has been published widely and has won numerous awards, including the Leicester Writes Prize 2022, as well as being shortlisted for the ALCS Tom-Gallon Award. His debut novel, A Bad Decade For Good People, was released by Parthian Books in June 2023.
WO: How would you describe your writing to someone new to it?
JB: On the whole, my writing is about real human emotions. I feel people have such uniquely complex inner lives and that fiction can shine a light on those parts of ourselves that we normally keep hidden. In that sense, my stories are about how people think and feel, and how our emotions drive us into situations we never imagined we'd find ourselves in.
WO: Can you tell us a bit about your latest book, A Bad Decade For Good People?
JB: When I started work on A Bad Decade For Good People, I wanted to try to pin down my own feelings about everything that happened around the EU referendum and all the complex emotions that followed. It's neither a 'Remain' novel nor a 'Leave' novel – what I'm interested in is how such a national event affected people on an individual level. The novel is set in Brighton where I lived for many years, and Brighton itself is very much at the forefront of what drives the story. But it's also something I want to resonate with anyone who is engaged by themes of family, sexuality and grief. I feel these are some of the things that turn what might otherwise be an abstract 'political' novel into a heartfelt and personal one.
WO: What inspired you to write in the first place, and what inspires you now?
JB: Like many authors, my writing journey began at school, under the guidance of a very special teacher who inspired me to work creatively. Since then, I've written more or less continually, but what inspires me has definitely changed over the years. In my twenties I was driven by this idea of 'being a writer', and so my inspiration came from other writers who I saw as role models who had achieved just that. More than that, I wanted to be a 'progressive writer', pushing the medium forward, and so I found myself writing short stories and novels that were a little out of the box. Looking back on that time, I can see where this drive to 'be a writer' was getting in the way. Now I'm inspired by the world around me, and I use that world – rather than the world of great literature – as a starting-point. I don't now believe it's meaningful to say "I'm a writer." It's better to just be a human being who happens to write.
WO: The current issue of Write On! explores the theme of 'Literary Passions And Guilty Pleasures'. With that in mind, what would you say fuels your literary passion in terms of both reading and creating? Do you have a bookish guilty pleasure that you're happy to share?
JB: That's an interesting question. There's a strange double-edge to fiction, in that it both immerses you in a world that isn't yours while at the same time, revealing things about the world you do live in. Even in the most fantastical stories, there's something real occurring which as a reader, makes me feel as though I'm not just escaping reality but sidestepping it momentarily to look at it from a different angle. Connecting with a writer I've never read feels exciting because it opens up a new angle, multiple angles, and the same thing happens in writing. Stumbling across a new angle, especially an unexpected one, is addictive. It triggers those feelings that come along with creativity, which are I think something like the same feelings found in adventure, exploration, even danger. That said, it isn't as though those feelings belong just with 'progressive', 'ground-breaking' or 'literary' fiction. One of my favourite authors is Daphne du Maurier, precisely for the fact that she is so good at immersing her reader in a world outside their own. Her ability to bring out that dangerous feeling in her readers, battering them with new and mysterious angles, is what makes her so great. 
WO: What one piece of advice would you give an aspiring writer?
JB: I'm sceptical about writing 'advice', not because it  can be misleading, but because I think it's often difficult for writers to know when, where and how to apply that advice. The old tropes such as 'write what you know' can be helpful, but it's hard to understand the intricacies of how that works on a practical level without years of practice. For me, developing your writing skills goes hand-in-hand with developing your character as a person. Reflecting on yourself, your attitudes, relationships, traumas – all of these things will help hone your instincts in working out the stories that are true to you and that only you are able to tell.  
WO: Question from Twitter user: @grasshopper2407 – What are common traps for aspiring writers?
JB: One of the most common traps I see aspiring writers fall into relates to what I said before and find myself saying all the time. Without a strong sense of self – I mean without having reflected on who you are as a person and why – it's very difficult not to simply repeat stories and perspectives that belong to somebody else. Recently, I read 250 stories for a national competition, and I was amazed at how many of them were written in the same 'literary' voice. If you've ever listened to Steve Coogan's Alan Partridge audiobooks, you can hear that voice parodied very well: it's cliched, overwritten, sentimental, formulaic. And though I think even great writers might slip into that voice in early drafts, the reason many writers don't manage to break out of it is because you need a strong sense of self to work against that automatic 'everyman' voice in the redraft. For me, this isn't just a pitfall in style, it's a trap I see at work in every aspect of storytelling – the trap of writing a story that feels like anyone could have written it.  
WO: Can you tell us anything about future projects?
JB: As I mentioned, I'm lucky enough to be undertaking a PhD in Creative Writing, and for that I'm writing a new novel. It's a different process for me, involving different kinds of reading and writing, as well as different kinds of sharing and accountability, but I feel provoked in all the right ways. Hopefully, that provocation is producing something special. I'm writing about nature for the first time, and about the political ecologies of the right-wing, but still with a view to keeping the personal and the human at the centre.
WO: Lastly, if you could choose one fictional animal/creature to be a pet or companion, who would it be and why?
JB: That's a toughie; there's so many great ones. One of the literary characters that comes to my mind most often, human or animal, is Boxer from Animal Farm. Boxer is the big, simple horse that puts everything he has into serving his fellow animals, totally blind to the cruel pragmatism of his leaders, just working himself to the bone. I'd like to go and grab him and say, "Come on, mate, this farm is rubbish, let's get out of here before they turn you into glue." And then we could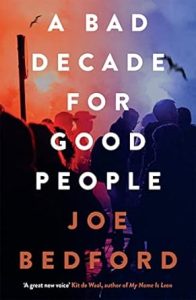 wander off and enjoy the sedentary years with apples and fillies, or whatever it is horses like.
You can find out more about Joe Bedford at his website: joebedford.co.uk or connect with him on X (formerly Twitter): @joebedford_uk.
A Bad Decade For Good People is available to buy from all the usual places or via parthianbooks.com/collections/pre-order/products/a-bad-decade-for-good-people 
***** 
Issue 18 of Write On! is out now and you can read it online here. Find it in libraries and other outlets. You can find previous editions of our magazines here.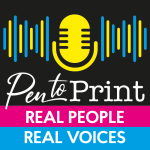 You can hear great new ideas, creative work and writing tips on Write On! Audio. Find us on all major podcast platforms, including Apple and Google Podcasts and Spotify. Type Pen to Print into your browser and look for our logo, or find us on Podcasters.Spotify.com.
*****
If you or someone you know has been affected by issues covered in our pages, please see the relevant link below for ​information, advice and support​: https://pentoprint.org/about/advice-support/
For me, developing your writing skills goes hand-in-hand with developing your character as a person. Reflecting on yourself, your attitudes, relationships, traumas – all of these things will help hone your instincts in working out the stories that are true to you and that only you are able to tell.