Write On! Interviews Author Rachel Joyce
Write On! interviews author Rachel Joyce.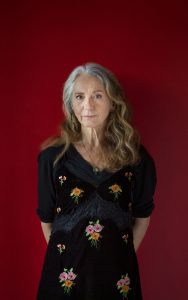 Rachel Joyce is the author of the Sunday Times and international bestsellers The Unlikely Pilgrimage Of Harold Fry, Perfect, The Love Song Of Miss Queenie Hennessy, The Music Shop and a collection of interlinked short stories, A Snow Garden & Other Stories. Her latest novel, Miss Benson's Beetle, won the 2021 Wilbur Smith Adventure Writing Prize.
Rachel's books have been translated into 36  languages and two are in development for film. The Unlikely Pilgrimage Of Harold Fry was shortlisted for the Commonwealth Book prize and longlisted for the Man Booker Prize. Rachel was awarded the Specsavers National Book Awards 'New Writer Of The Year' in December 2012 and shortlisted for the 'UK Author Of The Year' 2014. Rachel has also written over 20 original afternoon plays and adaptations of the classics for BBC Radio 4, including all the Bronte novels. She moved to writing after a long career as an actor, performing leading roles for the RSC, The National Theatre and Cheek By Jowl. She lives with her family in Gloucestershire.
WO: How would you describe your writing to someone new to it?
RJ: When people ask what I do, I'm very vague. I say I write books and change the subject. But in terms of how I would describe them, that's even harder. There aren't many car chases in my books (though actually there is one in Miss Benson's Beetle.) They are character-led stories, often about the kind of people who have been left a little on the sidelines, or misjudged. I want to take the ordinary and find the place where it takes on a more universal meaning; those small moments that are transformed into something luminous.
WO:  Can you tell us a bit about your latest book, Miss Benson's Beetle?
RJ: Miss Benson's Beetle is about two women who leave a broken 1950's Britain and travel to the other side of the world in search of a golden beetle that may or may not exist. They are completely ill-matched and completely ill-prepared for all that lies ahead, and yet they are drawn into an adventure that exceeds every expectation. It's a women's adventure story that also celebrates friendship.
WO: What inspired you to write in the first place, and what inspires you now?
RJ: I have always expressed myself through writing. It's how I make sense of the world, and how I find my place within it. In terms of inspiration, it always comes from what I see. It often takes me by surprise. Increasingly, I think writing is about listening to the story, really listening to it, and not imposing your ego on it.
WO: Write On! recently explored the theme 'Keeping Going!'  – creating with perseverance and courage.  With that in mind, what markers have defined your writing journey? Tell us about where you've had to dig deep to keep going.
RJ: Oh, I dig deep every day! It's not an easy process for me. I'm always disappointed, and always critical. But I've learnt that this is part of being creative. Doubt is there, sitting on your shoulder, and you have to say, 'Hello, Doubt. Nice to meet you. Now, would you mind if I get on with what I'm doing?' When I'm stuck, I often feel it's because I've lost touch with the truth of the story. It's good in those moments to go and sit in a café or on a train and be reminded of what you value.
WO: What one piece of advice would you give an aspiring writer?
RJ: Look after the writer inside you. It's an important part of who you are. Don't look to other people to do that job for you. You have to believe in it and honour it.
WO: Question from Twitter user @Grasshopper2407: What was the first book that made you cry? 
RJ: Probably something when I was a child, like The Diddakoi by Rumer Godden. There was another story I loved as a child about everything with wheels being taken on a flying adventure over London on Christmas Eve. I think that made me cry too, but more because I so wanted it to be real.
WO: Can you tell us anything about future projects?
RJ: I've been working for the last few years on the screenplay of my first book, The Unlikely Pilgrimage Of Harold Fry, which is currently filming. Next year, I will also publish the third and final piece of the Harold Fry trilogy.
WO: Lastly, if you could choose one fictional animal/creature to be a pet or companion, who would it be and why?
RJ: If I choose a fictitious pet, my real pet will probably abandon me. She's sitting at my feet as I write this. She loves it when I sit still.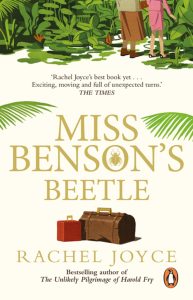 You can find out more about Rachel Joyce here:www.rachel-joyce.co.uk and find her on Instagram as: @rachelcjoyce or Facebook on: Rachel Joyce Books. Miss Benson's Beetle is available to buy from all bookshops.
***** 
Issue 10 Write On! magazine is available now. You can find it here.  
Look after the writer inside you. It's an important part of who you are. Don't look to other people to do that job for you. You have to believe in it and honour it.