Write On! Interviews: Author Rob Edmunds
Write On! interviews author Rob Edmunds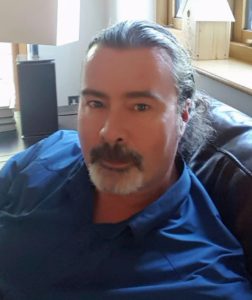 Rob says: "I'm a writer of historical fiction who has currently published two novels about the ancient Numidian King Masinissa. He's not well known in most parts of the world these days, but his impact on history and his legacy are considerable. He played a pivotal role in the outcome of the Second Punic War between Rome and Carthage, a war that defined Mediterranean history for centuries thereafter, and is still revered today across North Africa. He features on the money in places like Algeria and Tunisia, for instance, and there's a statue of him in the centre of Algiers. In a cultural sense, he's also been depicted by many artists and performers over the centuries. As a character, he was portrayed in the very first epic movie, Cabiria, which played to audiences worldwide in 1914 and the most recent person to play him was the legendary movie actor Woody Strode after whom, a little comically, the character Woody from the movie franchise was named.
In terms of my own background, I'm from South Wales and have worked in the education sector, specifically Higher Education, for many years. The campus where I work runs Arts and English language (ESOL) courses. Most of our language learners are refugees from various parts of the world. For instance, we have a few hundred Ukrainian students at the moment and the colleague I work with closest is also from that country. It's a very rewarding role in many ways. Outside my work and writing, I have broad interests. My sport has always been swimming and recently, I've become an aficionado of classical music."
 WO: How would you describe your writing to someone new to it?
 RE: That might be a tricky question to answer! My style is reflective and, at times, philosophical. I've aspired to blend dramatic action with more emotional moments. My books do have a few romantic moments and I feel those scenes are amongst the best I write. I've also undertaken extensive research into the historical periods I've written about which I've enjoyed and  hope readers will detect and appreciate!
My themes are a distinctive and harder to define than most. I may fall between and within quite a few genre categories. Despite the fact I've written about the exploits and adventures of an ancient king who lived many centuries ago, I regard my writing as having strong autobiographical elements. I inhabit the characters a little and they see, inevitably I suppose, through my eyes. I've found that writing, as well as being expressive, has also been therapeutic. I've had a few epiphanies along the way and have certainly worked several scenes from my own life into the storylines. It's not the richest seam to mine, but it's nice to have a personal dimension to the books. I've done this to an even greater extent in my most recent book, where I've included quite a few characters based on some friends of mine. They would certainly recognise themselves. I've also opened this novel with a personal anecdote my grandfather shared with me about an incident that occurred during his military service, although I've embellished the tale a little!
WO: Can you tell us a bit about your latest book?
RE: The book I've recently finished and hope to publish soon focuses on an aspect of the Second World War that has yet to be covered in a work of fiction. It's set in Britain, India and Burma during 1944. It also includes quite a few cameos from noteworthy people, from both the film world and the military, who've largely been forgotten but who, in many instances, led remarkable lives.  There are several personal elements to the story, far more so than in the books I've already published. I wanted to commemorate and honour a few people. There is one, in particular, who I also hope one day to write another novel about. It's a female character though, so that, inherently for a male writer, will be far more of a challenge. I do have an outline structure and her story, taken in its entirety, is incredible.
WO: What inspired you to write in the first place, and what inspires you now?
RE: I've always felt I had the ability to write novels, but I think I needed a little structure for that to go beyond a few sketches. I was very fortunate to discover the story of Masinissa, as it did provide me with the characters, timeframe and sequence of events I could compose a story within. The more I learned about him, the more fascinated I became. It's almost a hidden history, like finding treasure buried in the sand. As I continued to write, I gained both momentum and confidence. The books have recently been published as audiobooks and listening to them being read, exceptionally well, by a professional narrator has been encouraging. It gave me a sense of the parts of the books that I wrote well. It was a real boost to listen to my own words and feel they had merit as literary works. The narrator himself was also very encouraging and I'm grateful to him!
WO: The current issue of Write On! explores the theme of 'Literary Passions And Guilty Pleasures'. With that in mind, what would you say fuels your literary passion in terms of both reading and creating? Do you have a bookish guilty pleasure you're happy to share?
RE: My literary passions and interests are quite eclectic and have a tendency to roam all over the place. There are writers I admire greatly and attempt to emulate. These include William Faulkner, Isabel Allende and John Updike. I've taken as the title of my current novel a line from one of Faulkner's novels I felt was pretty well suited to the story. Guilty pleasures perhaps would be occasional graphic novels, but I wouldn't say there was anything furtive or shameful about that interest. I've always enjoyed the works of the Hernandez brothers, Jaime especially. The fictitious Maggie and Hopey stories in the Love And Rockets series are so well written and drawn. I also enjoy some autobiographical works. On a tangent, the participatory journalism George Plimpton turned into books is wonderful. He really was a larger-than-life character.
WO: What one piece of advice would you give an aspiring writer?
RE: It has to be perseverance. That has to be the main quality you have to nurture and depend on. Writing is very challenging and getting your writing noticed is even harder. Also, I think it's important to enjoy what you're doing! Ultimately, writing is a personal exercise and expression.
WO: Question from Twitter user: @lucykaufman_ What do you still hope to achieve in the world of writing?
RE: Hi Lucy, I'm not really sure how to answer that question. Until it emerges and starts taking some shape, writing is, for me, quite amorphous and intangible. There is an element of the muse about it. I have a few ideas I hope I'll be able to shape into stories in the future. Like every writer, I'd like my writing to be read and enjoyed widely – and the characters, many of whom were real people – to be more widely known. I feel my books have cinematic appeal and wrote them with that partially in mind. I hope they might one day be adapted for the screen. Masinissa has been depicted in a few movies but never, to this point, as the leading, central character.
WO: Can you tell us anything about future projects?
RE: I have a few outlines I'm researching and exploring. For the most part, they would again be historical fiction, but set in different times and locations. My third novel is complete and ready for publication. I hope it sees the light of day in the not-too-distant future.
WO: Lastly, if you could choose one fictional animal/creature to be a pet or companion, who would it be and why?
RE: What a fun question to conclude on! Let's say the tiger Hobbes, from the cartoon series Calvin And Hobbes. He's always kind, solicitous, funny, occasionally bewildered and up for adventures. I could use a companion like that from time to time!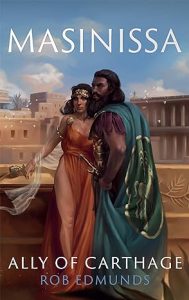 You can find out more about Rob Edmunds here www.robedmunds.net and connect with them on X (formerly Twitter): @RobEdmunds11 and by name on Goodreads. Masinissa: Ally Of Rome and Masinissa: Ally Of Carthage are available to buy from Amazon: https://www.amazon.co.uk/gp/product/B08D7NHYW9
***** 
Issue 18 of Write On! is out now and you can read it online here. Find it in libraries and other outlets. You can find previous editions of our magazines here.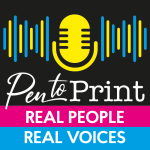 You can hear great new ideas, creative work and writing tips on Write On! Audio. Find us on all major podcast platforms, including Apple and Google Podcasts and Spotify. Type Pen to Print into your browser and look for our logo, or find us on Podcasters.Spotify.com.
*****
If you or someone you know has been affected by issues covered in our pages, please see the relevant link below for ​information, advice and support​: https://pentoprint.org/about/advice-support/
Perseverance. That has to be the main quality you have to nurture and depend on. Writing is very challenging and getting your writing noticed is even harder.