Write On! Interviews: Author Sita Brahmachari
Creating Stories, Connecting Voices
Write On!'s Amber Hall discusses the purpose and power of storytelling with YA Author Sita Brahmachari.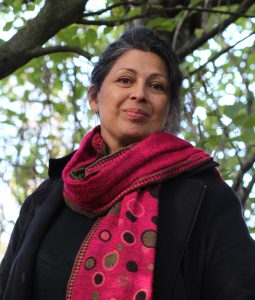 Before sitting down to interview Sita Brahmachari, the acclaimed Young Adult (YA) author, I'd only half-settled on the idea of speaking about my own trauma. I've lived with an eating disorder for most of my life and I'm finally taking full recovery seriously. It isn't how I usually introduce myself, of course. We're not supposed to expose ourselves so readily. We're told, directly and indirectly, that it's shameful, or that we're being 'too much' by opening up like that. It isn't the done thing; particularly if you're conducting an interview.
But I'm here to discuss Sita's latest novel, When Shadows Fall: a book that's all about journeying from the shadows into the light. When reading it, one of the things that struck me most was the emotional depth of Sita's work. She gets to the heart of things, writing with a purpose and sensitivity that convinced me she wouldn't feel uncomfortable with my admission. In fact, I thought she'd appreciate my honesty.
When Shadows Fall is a gut-wrenching read at times. The young characters in the book experience all kinds of trauma. Omid, a central character, is a Syrian refugee. Another, Kai, is forced to deal with a devastating loss. But there's something else that comes through – something that helps the characters to overcome these 'shadow' experiences – and that is an unshakeable belief in the power of storytelling.
I meet Sita over Zoom, on a sunny spring morning in April. There's something about this time of year, the sense of rebirth it brings, that lends itself to the themes explored in her work, including her most recent book. With our issue theme 'Hearing Voices: Inner Voices, Outer Voices And Connected Voices' in mind, I start by asking what love means to the author. It's a big question; the biggest, perhaps. But, as Sita explains, it's a force that underpins all her work.
"Love is a pathway to everything. In my stories, I suppose I'm wanting to open up an empathy portal. Whatever your personal challenges or difficulties, when you see those things resonating in someone else's story, even if it's a story of someone completely unlike you, it opens up."
It's at this point I share my own story. Though early on in the interview, it feels like the right moment to do so. Sita has a gentle demeanour and a connectedness to the things around her. At one point, she stops to say, "Oh, a little bird has just come to settle next to me!" I get the impression that things – animals, people – flock to her. There's an openness there that brings something real to the discussion. She tells me she once wrote a story about a girl called Orla, who suffered from anorexia, like me.
"When I'm writing any story, I think first about what it would be like for my character to read it. I would think: 'What would it be like for Orla to read that book, and what would I want her to get out of it?'"
Clearly, Sita knows how impactful stories are. If I'd read Orla's story as a young person, when my unhealthy relationship with food first began, I might have understood what those feelings were. Maybe because I never had access to a story like Orla's, I now wonder whether there's a reluctance to confront darker themes in YA fiction. What does Sita think about this?
"There's a tentativeness to say what things are. You know, hundreds of thousands of refugee children are walking this world today. It's like, who do we think we're writing children's books for?"
Sita's own childhood was spent in the countryside, and nature continues to inspire her work. Born in Derby to an Indian father from Kolkata and an English mother from the Lake District, the family resided in the Lake District and Shropshire. In her stories, nature facilitates growth.
"Even as a young child, I was very connected to the emotional landscape that is evident everywhere in nature. I believe people's early landscapes – the landscapes of their childhood – really forge them."
After university, Sita worked in community theatre at the Royal Court Young People's Theatre.
"My job was to go in and tell stories… to get people to feel that their stories were part of the fabric of theatre and what storytelling would be. It's the thread that connects all my work."
In fact, this is where her ideas for When Shadows Fall germinated.
"It was always a story I was going to tell," Sita says. In the book, creativity enables connection of all kinds: connection to the self, to each other, and to the landscape. This is what helps the characters deal with the challenges they face. Now, as a writer in residence at the Islington Centre for Refugees and Migrants, she still sees, first hand, how transformative the arts can be.
"[At the centre], people from all over the globe can come together and be in a communal space, where we can feel a sense of home in each other. What you see is the flourishing of people through the arts, and the growth of people through the arts."
Community is a foundational element in Sita's work; through her stories, we're reminded just how powerful it is. She shares: "What I hope is seen in a lot of my storytelling is that this communal space is the space." Personally, I'm convinced it's the perfect way to open up that 'empathy portal' we touched on earlier.
In her 2011 novel, Artichoke Hearts, the artichoke bud is used as a metaphor for the protective layers we build: out of shame or fear, or because we feel misunderstood. It's easy to forget that the ways people present themselves is often a result of what has happened to them. For Sita, writing is a process of peeling back the layers of her characters; even the ones who may not be so sympathetic when we first meet them. It's about looking beyond the surface, so that we can connect with these characters as they actually are, not as they initially appear to be. "I'm looking for a kind of truth," she tells me.
There's something intuitive about the ways Sita develops her characters emotionally. Before writing, she plots their journey in a notebook to highlight "…how empowered they are at different points in the story. And it always has to be a journey to those young people feeling agency and power." When writers champion marginalised voices in fiction, as Sita does, we empower those who are disenfranchised in the real world. Writing allows people to stake their claim on a blank page and say: "Here I am. This is my story."
When Shadows Fall uses a mix of narrative voices but, for the most part, it's written from the perspective of a teenage boy. I want to know why Sita has chosen a voice that, on the surface, is so different from her own.
"None of these characters are me, but if I write what I know emotionally because of the journey in life that I've had, and the people and landscapes that have expanded my world, then I can start to think from different perspectives. When you write from different perspectives, you grow as a writer, too. I think that's what all the arts are about: trying to step into somebody else's shoes. And, not just their shoes, but to get a sense of what it would be like to see the world through that person's eyes."
In recent years, arts funding has been stripped across the public sector. Councils have less money to spend on community projects and public-facing institutions such as galleries, museums and theatres. Funding cuts have been made to arts subjects at universities, too, spelling disaster for the future of the creative industries in this country. Considering the role that the arts play in our lives, it's truly devastating. In her introduction to When Shadows Fall, Sita writes:
This story is in your hands
To have and to hold.
In it you will find the passing of a pen
And charcoal to make art from scorched earth.
As she explains: "There's more than one way to scorch an earth. Depriving people of essential things is another way of doing so, I think."
With the interview drawing to a close, Sita says something that I think sums it up: "The connections we make grow something." I know, from my own experience, how potent connection is. But I also know that storytelling is connection. It's how we make sense of ourselves and each other; it teaches us to listen, with compassion, so that we can see one another more clearly. In a world that feels more divided than ever, it's crucial that we tell stories. I, for one, am glad I shared a chapter of my own.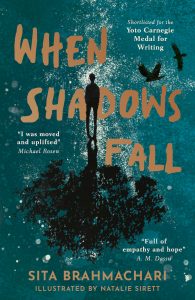 *****
"When Shadows Fall you stand beside." Omid (taken from When Shadows Fall)
From the creativity and hearts of young people comes a new communal artwork; an outpouring of empathy celebrating the power of self-expression in a journey to healing, solidarity, and wellbeing this Refugee Week ( June 23).
The Raven Treasure exhibition is curated by Sita, working in conjunction with artist Natalie Sirett. You can see it here.
Connect:
You can find Amber on Twitter and Instagram: @amber_marie_123
You can find Sita on: sitabrahmachari.com
When Shadows Fall is available on Amazon.
***** 
Issue 16 of Write On! is out now. Find it in libraries and other outlets. You can also find the digital issue here.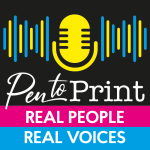 Each edition of our Write On! Audio podcast features an exclusive interview. Find us on all major podcast platforms, including Apple and Google Podcasts and Spotify. Type Pen to Print into your browser and look for our logo, or find us on Anchor FM.
*****
If you or someone you know has been affected by issues covered in our pages, please see the relevant link below for ​information, advice and support​: https://pentoprint.org/about/advice-support/
When you write from different perspectives, you grow as a writer, too. I think that's what all the arts are about: trying to step into somebody else's shoes.