Write On! Interviews: Author Emma Tallon
Write On! interviews bestselling author of gritty British organised crime thrillers, Emma Tallon.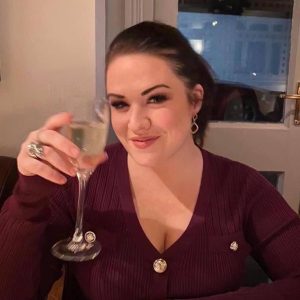 With nine books published, seven in her Tyler series and two in her Drew series, Emma looks forward to her tenth coming out in February 2022.
WO: How would you describe your writing to someone new to it?
ET: My books are very character-based. The storylines surround criminal firms within the London underworld and the trials and tribulations they face, but the soul of the stories lie with the relationships between the characters and their colourful personalities. There are a lot of dirty deeds, twists and turns, some gritty violence, but at the heart of it all, there's family, friendship and loyalty.
WO: Can you tell us a bit about your latest book?
ET: My latest book, Her Betrayal, is the third in a crime family series about the Drews. They run a lot of the illegal enterprises in the East End and they've had some trouble with a particularly psychotic enemy through the last book. In this book, they're still working on dealing with that situation once and for all, but there's also a lot of other drama going on. There's a rat in the midst and one of the heads of the firm is arrested for murder. I'll say no more, as there are twists I don't want to spoil, but this is the copy from the back of the book:
As head of the family crime business, and with a new guy in her life, things have never been better for Scarlet Drew. Working with her aunt Lily on their biggest-ever job – revenge on the woman who set fire to their factory, with Lily's daughter trapped inside – Scarlet is suddenly dragged into the local police station to answer questions about the death of a local gangster. The face she sees across the interview table shocks her to her core. It's her new boyfriend, John.
Hours later, John is banging on Scarlet's door, telling her he loves her and she can trust him. Can Scarlet risk believing the only man she's ever loved, or is she putting her family in unthinkable danger?
As the night of Lily's plan draws near, the police come knocking once again. This time with evidence that could see Scarlet locked up for good. Can they still pull off their biggest job yet, or has Scarlet made a fatal mistake and let John get one step ahead of them?
WO: What inspired you to write in the first place, and what inspires you now?
ET: The inspiration to get to where I am now has been more of a journey, rather than one big thing. I've had my head in a book since I can remember. Reading was an escape for me, as it is for so many other people. Books are whole other worlds that can be accessed from one place, the characters people that you get to hang out with when you're reading and, for me, it's the same while I'm writing them, too. From a child, I used to make up stories and write them down and I continued as an adult, just for fun.
For years, I considered it just a hobby I enjoyed, something to amuse myself with in private time. Then, one day, I was looking for a side income and someone suggested putting myself up on a freelancing website. I had only planned to put myself up as an admin assistant, but then a ghostwriting job caught my eye. I figured I'd go for it. Why not, right?
I didn't get that one but it prompted me to look for more. I took whatever I could get – the lowest-paying gigs and the ones no one else wanted – until I built up a few good reviews. From there, I climbed the ladder and, after a time, I ended up writing as a full-time freelance ghostwriter. This was amazing to me. I couldn't believe how lucky I was, getting to do something I loved every day and getting paid for it! I didn't mind, at the time, that I got no credit for those books. My days were happy and fulfilling and that was enough inspiration for me.
When I fell pregnant with my son, I wound down my ghostwriting clients for a while. Then, he was a few months old, I very nearly went back to it. But something made me pause. I had a baby boy who would one day look to see what I had done with my life. And, while I was content doing what I did, it suddenly wasn't enough. I wanted to make him proud and I wanted to give him the world. His arrival inspired me to reach for more. So I sat back and thought things over and realised I had an opportunity. I didn't need to get back to work for a little while, and I had the support and encouragement of my husband, so I focused on finishing one of my own books. I still remember the feeling of achievement when I typed that first The End.
From then on, my son, and now, my daughter too, became my sole inspiration. To this day, with every single thing I do and every word I write, it is they who drive me. I have a deep need to create everything I can, to the best of my ability, for them. And I think they'll remain my inspiration in all I do for the rest of my life.
WO: A few months ago, we explored the theme 'Keep Going!  – creating with perseverance and courage'.  With that in mind, what markers have defined your writing journey? Tell us about where you've had to dig deep to keep going.  
ET: I don't think there is an author out there who hasn't had to dig deep and push through the tears at some stage in their journey. It's not an easy road and it's not always a fair road, to carving a career out of writing. One of the biggest stories that stuck with me, was Angela Marson's journey. That woman is amazing and her writing is insane. Since getting published, she has sold millions of copies. Because she's that great. But until five years ago, she was rejected by publishers for 20 years. And that just goes to show how hard it is. Because, even if you are the most talented writer in the world, if editors have all their time taken up by the authors they already have, and if the ones who have that rare slot to take someone new are looking in another genre, your chances are already zero. And, even if there are editors looking to take new authors in your genre, to get your manuscript in front of them is difficult. Again, you're up against hundreds of others all trying to do the same thing. It's hard and it takes so much perseverance and courage to push through that, with no guarantee you'll come out with anything. But, if it's your passion, then you just have to keep going.
I think, for me, the most marked point where I had to really dig deep to push on, has been this last 18 months. I had my daughter just a month into the first lockdown last year and, two weeks later, we started building work on our house. When it had all been booked, we'd not planned to have to be there but, of course, Covid had other plans and so it was chaos.
Like most people across most industries, I found it very hard to get back into the swing of things after Covid changed our lives. With all the chaos going on at home, with a four-year-old home from school, with no freedom and with the fear we were – and still are, to a degree – all living with daily, it just made what used to be a normal routine really difficult. Even when I could find some time alone with my laptop, I'd stare at the screen for hours, just willing myself to start writing. Often, I couldn't tear my mind from everything else to focus. It was a struggle. But I eventually got on with it. I forced myself to. Because we have to, don't we? The world keeps spinning and time keeps ticking, no matter what else is going on. I reminded myself I had two babies I needed to give the world to. And that what was pushed me on.
WO: What one piece of advice would you give an aspiring writer?
ET: It's simple, but just – WRITE. It doesn't matter how rubbish it is, or how many plot holes, you circle back and fix all that later. But you need something to fix first. You need a skeleton to flesh out and polish. So just get it down. Nothing else matters until later.
WO: Question from Twitter user: @lucykaufman_ What's next? What do you still hope to achieve?
ET: I'm currently contracted for another two books with my publisher, both of which look as though they will be in my current series about the Drews. I have an idea for another series in the same genre, but my editor and I won't be looking at doing that one just yet.
There are lots of things I hope to achieve still. I just finished writing my tenth book, which is a huge milestone. Now I can't wait to get to my 20th ! I would also very much like to have my Tyler series, which was my first series, turned into a TV show. It's a bit of a modern-day, London-based Peaky Blinders type series, and I think it would transfer well to the screen.
For now, that's my current wish-list, but this changes all the time as my career progresses, so I guess I'll just see what happens next and go from there.
WO: Can you tell us anything about future projects?
ET: As mentioned above, I do have a third crime family in mind. I can't say too much yet, but there is a very strong female lead, who I'm already really excited about. Unlike my previous series, where the firms were already established, this woman is going to be entering the underworld for the first time. This is going to be a really fun and explosive plotline to write, so I can't wait!
WO: Lastly, if you could choose one fictional animal/creature to be a pet or companion, who would it be and why?
ET: Ghost, Jon Snow's dire wolf. He's a beautiful white wolf who is loyal to the death of his person. He'd protect his person and all his person loves with his last breath and understands exactly what you need from him. What's not to love?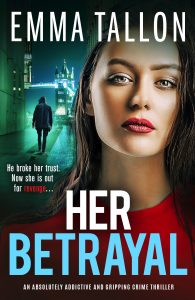 You can find out more about Emma Tallon here: emmatallon.com and connect with them on Facebook: facebook.com/emmatallonofficial, Instagram: instagram.com/my.author.life/and Twitter: twitter.com/EmmaEsj  Her Betrayal is available to buy from geni.us/B09M3VRQGPcover.
***** 
Issue 10 Write On! magazine is available now. You can find it here.  
It's simple, but just – WRITE. It doesn't matter how rubbish it is, or how many plot holes, you circle back and fix all that later. But you need something to fix first. You need a skeleton to flesh out and polish. So just get it down. Nothing else matters until later.