Happy New Year From Pen To Print + Write On!
Today, we look back at the highlights of both Pen to Print and Write On! magazine, as we celebrate our achievements in 2021 and look forward to what 2022 will bring.

What a year for everyone! We started 2021 with an expectation that things would be a lot better than the 2020 lockdown, but it seems that's not the case. One thing that has stayed consistent is our Pen to Print activity and the interest in taking up writing, or to continue writing, through these strange times. The team have hosted and facilitated over 300 events, workshops and, of course, ReadFest, since the start of the pandemic but we are looking to start hybrid events in the new year, welcoming people back into library spaces.
Throughout the year, the Write On! team have also kept up their creative output, releasing issues 7,8,9 and 10 of Write On! Magazine, working tirelessly on submissions, proof-reading and our regular online team meetings. The online Write On! Extra has grown from strength to strength, with monthly Monday Moments, Thoughtful Tuesdays, Thursday Connectors and Saturday Spotlight pages and weekly Wednesday Showcase, Friday Features and Sunday Interviews pages.

Being online is wonderful. It's keeping us connected and enabling us to deliver events and workshops, but the team would love nothing more than to meet up with our partners and colleagues over lunch or coffee. Online seems all very straight and to the point, with no real personal connection. Tech failures have been an added worry. As we are all desperate to connect with the outside world, or enjoy an event with our like-minded friends or support groups, the prospect of devices failing to connect leaves us anxious or fearful we'll miss out, or we may even look stupid! It's fair to say expectation that online events will run seamlessly have disappeared, from children wanting a parent's attention, to cats swinging from wind chimes – we have all had to accept this change in our personal and working lives and adapt to the technical and emotional challenges.
Some activity works online but our Awards Evening, for example, can't be replicated the same way as a workshop. A physical event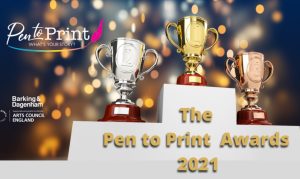 always feels more personal and the achievement for the winning writers more exciting. Winners can meet the judges and the team behind the scenes, along with refreshments, making it a real in-person celebration. We are delighted the winning entries from the Poetry And Short Story Competition were audio-recorded, which was a treat for our guests at the online Awards: pentoprint.org/our-publications/podcasts-video
But enough of the bad bits from 2021 and on to some of our highlights: Project Manager, Lena, became 'Granny Smith' in June with a beautiful bouncing granddaughter called Connie. The Smith Family welcome the new baby, who certainly won't be short of storytellers!
In the summer, our apprentice Mohammed passed the Level 3 Business Administration Apprenticeship with a distinction and went on to successfully accept a permanent position as a Frontline Officer with Pen to Print. With this, our team grew on 1 November with Esther joining us as our Social Media Assistant. Check out our social pages to see some of the fantastic work being created and shared.

ReadFest 2021 went with a bang in September, with Poets and Performers, Artists and Illustrators, Writers and Speakers all joining the festival. We are now busy planning for ReadFest 2022, so do get in touch if you're interested in taking part.
In the Autumn, Write On! Audio was launched, the podcast version of our published and online magazine. Listeners can tune in at their leisure, getting hints, tips and advice along the way. If you haven't done so already, subscribe to Pen to Print – Podcasts For Aspiring Writers on your favourite podcast platform.

The team are looking forward to publishing novels from our Book Challenge, with the Challengers nearing the end of their mentoring

time. The Book Challenge Competition is now open for new entries, along with all our other competitions: pentoprint.org/get-involved/competitions
As always, our regular classes started our year but 2021 also brought us A Year In Postcards and Hear My Voice writing workshops for women. The Rabbits Road Institute Library delivered workshops with their Writer in Residence Gboyega Odubanjo creating Two Stops Short Of Barking, a fantastic audio piece about our local area: pentoprint.org/our-publications/podcasts-video alongside the poetry collection with the same title.
We celebrated Crime Month in May and newly introduced Sci-fi And Fantasy month in November, which we look to continue next year. In November, we also celebrated with A Gentleman's Evening Of Poetry to mark International Men's Day.
Our partnerships with the Wilbur & Niso Smith Foundation, Hay Festival and Alternative Stories continue in the new year, and new partnerships have been created, with proposals flying in for 2022 onwards, so watch this space!
Our team are really proud that we have kept our writing community together during another tough year, with new people joining our events and connecting with the Write On! publications. We look forward to seeing you at our upcoming events, which remain FREE to attend, going forward into 2022, and we can't wait to receive your creative writing, spoken word and inspiring artwork submissions.
From Lena, Lisa, Mohammed and Esther in the Pen to Print office and Madeleine, Claire and all the Write On! team, we wish you a prosperous, healthy and happy New Year!
*****
Happy New Year from everyone at Write On!