Write On! Interviews: Poet Danny Fenn
Write On! interviews the Boleyn Poet, Danny Fenn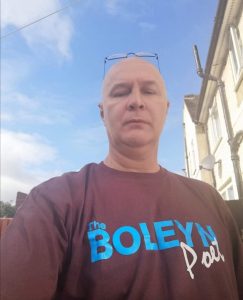 Danny originally wrote short verse about football from a fan's point of view and then began to branch out more. The more he scribbled down, the more words seemed to just fall from his pen onto the paper. Danny had always loved words that stemmed from his late mum, who wrote short verse as well. Although he wishes he had been encouraged more at school to pursue his creativity, sadly, he wasn't the best-behaved pupil. Now, though, Danny has a number of his ex-teachers following his poetry!
WO: How would you describe your writing to someone new to it?
DF: As previously stated, it was just football verse, but my catalogue now covers virtually every subject. A photo can trigger a poem, as can when I simply hear someone say something. My pen seems to just have a mind of its own. I'm quite forgetful, but seem to be able to remember so many verses I have, at one point or another, written or typed out. At a guess, I'd say I have at least a thousand finished/unfinished verses in either digital or paper version. I would describe my style now as very street orientated, which can be at times very to the point, while also making you smile and possibly shed a tear or two.
WO: Can you tell us a bit about your latest book If You Could See What I Hear?
DF: I have a book coming out shortly. It will be available on Amazon in paperback, as well as in the digital format. It's called If You Could See What I Hear, due to the fact a number of people have told me my verses create pictures they feel they can actually see. It's around 40 verses; the majority of which came about during lockdown. It's been ready to go for a while, but I've had a few hold-ups health-wise.
WO: What inspired you to write in the first place, and what inspires you now?
DF: The only subjects I enjoyed at school were PE and English. I always liked to write stories, but it wasn't really something that was encouraged. I had books around me from a young age at home; all types and genres. My mum and three sisters were all avid readers and I spent a lot of time in libraries growing up.
These days, I find that anything or anyone can inspire me to write, whether it be about social issues, or news stories I can create something around. I also get asked to write for wedding proposals (mainly by men), birthdays and have also written many verses for people who are having funerals for loved ones. It may seem strange, but I find great satisfaction in these, as I ask for personal information and then put it into verse and manage to get the correct mix of love and gentle humour, which helps in such situations. Pure and simple: writing gives me an outlet. I have suffered from OCD and other problems my whole life, many years undiagnosed, and I've found writing helps greatly. 
WO: The last issue of Write On! explored the theme 'Worlds Apart'. With that in mind, do you find yourself drawn towards writing about the world you know intimately, or do you strive to discover a world unknown?
DF: I definitely find that, as time goes on, I'm writing more and more about subjects I have to do a fair piece of research for, to check my facts are correct. Though you can always fall back on poetic licence if you do make a mistake! The world is huge, but we're all getting closer, so we need to learn about each other; writing is just one way of doing this.
WO: What one piece of advice would you give an aspiring writer?
DF: The first poem I posted online received very bad abuse from the grammar police, telling me about how to use punctuation etc, and asked did I ever actually go to school? I was expelled from school and never finished my schooling. People who had heard me read verse aloud told me to ignore them and post about life on the street, and others will get where I'm coming from – and they did. So my advice is: not everyone will get what you're about, but if you have a passion for it, that will shine through. And if you can turn negative feedback into positive, you're on the right road!
WO: Question from Twitter user: @lisalovesbooksx: Who would be your favourite poet and why?
DF: Throwing all snobbery aside, I love Pam Ayres. I remember as a youngster, sitting with my mum and sisters, watching Pam on TV. She was so funny and very clever, in the way she formed her verses. I also find poetry in musical lyrics. Simon and Garfunkel, in my opinion, are both poetic with their songs. 
WO: Can you tell us anything about future projects, or what you're currently working on and who with?
DF: I've lived, shall we say, a very colourful life, experiencing many situations that have been absolutely terrifying as well as absolutely hilarious. When I tell others, I seem to have them either trembling or crying with laughter. So, I've started writing my life story in all its gritty glory, with no filter. So far, I have about 60 pages and have run it past a couple of friends who are both good authors and both praised the storyline and also the way I have set it out, so, though it's far from finished, this is my aim.
Along with the book of poems due out, there is also a book of nostalgic poems about my true love, West Ham United. This is where the name the' Boleyn Poet' came from: other West Ham fans. So I have a few things on the go.   
WO: Lastly, if you could choose one fictional animal/creature to be a pet or companion, who would it be and why?
DF: After a lot of thought and changing my mind many times, I will go for Lassie the dog. Again, it goes back to being a youngster with a mum and three big sisters, when everything seemed safe. I could never watch Lassie without crying, but if I was with Lassie, we could have many adventures and no more tears.
You can connect with Danny on Facebook: danny.fenn.10. and on Instagram: @danny.fenn.10
*****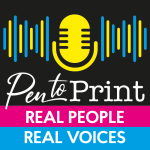 Issue 14 of  Write On! magazine is available now. You can find it here. 
Each edition of our Write On! Audio podcast features an exclusive interview. Find us on all major podcast platforms, including Apple and Google Podcasts and Spotify. Type Pen to Print into your browser and look for our logo or find us on Anchor FM.
*****
If you or someone you know has been affected by issues covered in our pages, please see the relevant link below for ​information, advice and support​: https://pentoprint.org/about/advice-support/
Sadly, he wasn't the best-behaved pupil. Now, though, Danny has a number of his ex-teachers following his poetry!