Full Circles And Curved Balls – In Conversation With Children's And YA Author, Sara Grant
By Charlotte Webb
The older I get, the more I meet people like me. By that, I mean people who have spent years working in a job that was full of wonderful experiences at the time but wasn't allowing them to fulfil their heart's desire. Children's writer Sara Grant is one of these people. Thanks to the magic of Zoom, I was lucky enough to find out how she has been able to turn a love for creative writing into writing success. I was also inspired by her passion for helping undiscovered Children and YA writers build their careers through the Undiscovered Voices initiative and organisations such as All Stories and The Society Of Children's Book Writers And Illustrators.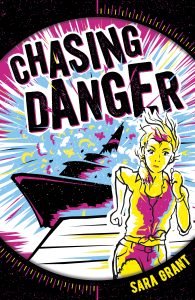 Our conversation flows beautifully, and I realise pretty much straight away that Sara's journey echoes parts of my own, as we both denied ourselves our true calling for nearly two decades. In Sara's case, rather than pursuing writing as her first love, she 'went around the houses', building a career in PR after graduating in Journalism and Psychology. In my case, it's been a journey from an office-based compliance environment (something I fell into more by chance than anything else), into writing and illustration.
Sara goes on to share that meeting her future husband led her to the UK. She used this as an opportunity to change her career, starting with completing a Masters Degree in Creative Writing at Goldsmiths University. Sara's passion for learning was abundantly clear when she told me that, after following the completion of her Masters, it wasn't long before she was back at Goldsmiths as a teacher; something she's been doing for several years now. This interaction with students helps inspire her own work, reminding her how important it is to be always learning.
We come on to Sara's first YA novel, which she wrote while studying for her Masters. She tells me how it came about by drawing on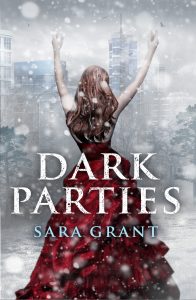 her own experience of emigration from the United States to the United Kingdom and putting in some 'what if' scenarios. She went on to add liberal doses of futuristic speculation, plus lots of imagination, resulting in the successful Dark Parties. Sara explains that speculative literature is limited only by imagination. She loves that it allows her to strip out everything other than the key experiences she wants to explore.
"What if someone said to me, 'No, we don't want you in this country.' What if a country somewhere said, 'No one in, and no one out.'"
The plot revolves around a girl's search for her grandmother; a character Sara shares was heavily influenced by her own, Ruth. "It's a love letter to my grandmother." Sara adds she has since recognised that she'd also been subconsciously working out her relationship with her father following his diagnosis of cancer, and writing this story helped her to work through this. She shares an insight that really resonates with me.
"In fiction, I reveal so much that I don't intend to reveal. Sometimes I consciously do it; for example, in a book I was working on in lockdown, I was exploring mine and my sister's relationship. I knew what I was doing, but it pushed me further than I expected."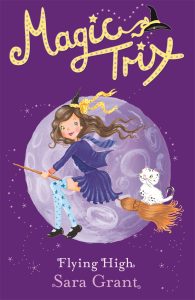 We move from motivation to Sara's more practical view on storytelling. She loves telling herself stories, and does so all the time; often while casually observing the hustle and bustle around her; watching people with no intention other than to tell herself their imagined stories.  She adds, though, that she finds it helpful to switch off from her digital world while doing so. Sara sees being able to completely immerse herself in a story as a gift. I can understand why. For most people, including me, avoiding endless distractions is not so easy.
We touch upon her desire to make a difference, to help, and our conversation leads to the story Nightlight, published as part of Stories From The Edge, an anthology designed to tackle real issues in order to educate teenagers in a serious, but fun way. This key plot echoes an experience of mine from many years ago, where witnesses to a situation I was in chose not to speak up. It's clear that this story aims to educate by flagging up a recognisable situation. To my mind, this is a fantastic way to engage young adults of today, as it gives them the freedom to make their own choices.
"I don't write because I know the answer. I write because I'm interested in the question. Issues and ideas are complex; I want my readers to think and explore. I don't think, 'I want them to take away this.' Instead, I want them to think about an issue."
As an illustrator, I'm always looking for ways to develop my existing skills, while adding new ones to my arsenal.  This seems to be Sara's maxim, too, in terms of her creative writing. She has a thirst for growth. This is clearly demonstrated through her love for education (she'd like to be a forever student), but also her endless fascination and child-like wonder around life itself. Like me, Sara doesn't have any children of her own, and we agree this might help us identify with them more readily – maybe because we've never truly grown up!
I'm keen to move the conversation on to illustration, the place where words and worlds meet and one that truly excites me. Sara tells me how, when she started working with illustrators, she would highlight text from each chapter where she thought there were great illustration opportunities. Her editor (and now friend), explained it was the job of the editor and illustrator to make these calls and connections and that she should focus on the writing! So now Sara aims to write in a way that gives her illustrator enough material to turn into a strong visual. Personally, I think this is an exceptional quality in a writer; to care about this side of the production.
"It's actually really important to think visually," Sara explains. "Ask yourself, how can my story come to life with illustrations?"
Talking of exceptional qualities, one of the reasons I was so keen to talk to Sara was her powerful drive to give back to other creatives. In fact, when she's not teaching, or writing, Sara is actively working to help unheard voices onto a platform where they can be heard.
At Goldsmiths, part of the course teaches the value of pitching to agents to get yourself noticed. Learning about this got Sara thinking about the voices of others, and how an anthology could be a great opportunity to pitch not just one, but several undiscovered voices. By drawing on her own extensive editing experience and connecting with a kindred spirit, in the form of Sarah O'Connor, Undiscovered Voices was born. They have now published several anthologies.
Sara explains how a careful selection process allows them to choose 12 writers from the applications they receive. When the latest collection is published, they invite agents and editors to promote those writers. I was blown away when Sara told me of the mass of successes as a result of the anthologies.
"We always said, if one of the 12 writers gets a publishing deal, that would be a success. Fast forward now to our eighth anthology, and we have had 400 books that have been published. Thanks to this, nearly 50 writers have been published!"
However, with great opportunities come difficult decisions, and that's no different for the panel that decides on the anthology content. It's an incredibly challenging task to choose just 12 new writers for an anthology that includes work written for ages five to eight, all the way up to Young Adult. Sara believes though, that, while talent and luck play a big part in the publishing industry, finding the right connections is also a huge deal for most writers (whether with an agent or an editor). It's therefore critical that those selected are matched with the right people. For Sara, the entire experience is rewarding and inspiring.
"Being part of others' stories, working with volunteers, being around writers at different stages of the process, is a way to give something back. It's excitement and fire, which helps me to keep writing with wonder."
Sara is also currently consulting for a company called Story Mix, founded by Yasmin Richards. Yasmin's vision is for every child to see themselves in a book. The topic of 'Before Bias' was the focus of a recent collaborative event between Story Mix and The Society Of Children's Book Writers And Illustrators (SCBWI). Here, authors were talking about how influenced they were by the books they read as children, and that they didn't see themselves in those stories.
"It's essential to start really young with picture books. That's the way we're going to have people growing up knowing they have a story to tell and that their experience deserves an audience. We can all be part of this by buying the books and supporting diverse authors."
Sara's advice for aspiring children's authors is simply to get involved! The SCBWI hold events right across the UK and online, and there's always lots going on. For example, every year in January they organise a Bootcamp event for debut authors.
Sadly, even the best of conversations must come to an end. Sara leaves me with this last, powerful call to action.
"Writing can be a long process. If you are a writer, my best piece of advice is tenacity. If you know you are a writer in your bones, you just have to keep going. Join the organisations that will help you. I started writing when my niece was born and got my first book deal when she graduated high school 17 years later. That very same niece is now a published writer."
I'll do my best, Sara – as a writer and an illustrator!
*****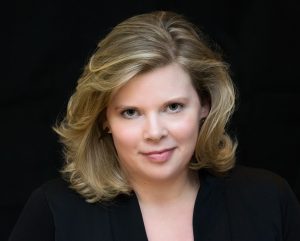 Connect with Sara at her website: sara-grant.com or on Twitter: @AuthorSaraGrant
Connect with Charlotte on Instagram: @charlottewebb.illustration
Connect with The Society Of Children's Book Writers And Illustrators through their website: scbwi.org
***** 
Issue 10 Write On! magazine is available now. You can find it here.  
Being part of others' stories, working with volunteers, being around writers at different stages of the process, is a way to give something back. It's excitement and fire, which helps me to keep writing with wonder.