Friday Features: Before, During And After A Very Lockdown Christmas
Edited by Claire Buss
When I had the idea for this feature – looking back at Christmas before and after the COVID-19 lockdown – we didn't have the Omicron variant and plan C, D or whatever weren't looming. It makes this look at Christmas and how we spend our time even more precious.
In 2019, before the pandemic hit the UK, I didn't go and see my family at Christmas. In 2018, I had driven to see my mum and step-mum, ferried my step-children around and basically didn't stop – it was very stressful. I made the decision to just stay at home and enjoy Christmas with my husband and my kids. Little did I know that the following year, 2020, the choice would be taken out of my hands. Knowing I wasn't allowed to see any of my family definitely made it harder and also made me feel guilty for not making the effort previously.
This year, pre-Omicron, I had decided I wanted family palooza. I organised a day when all the daughters and grandchildren from my mum's side could be together and I organised another day when all the sons and daughters and grandchildren from my dad's side could be together. It took some doing, which surprised me. I figured everyone would be desperate to spend time together after having missed out on so much, but trying to schedule 12 grown-up siblings, plus one lot of international flights, was tricky. I've done it, but potential 'restrictions' may mean it was all for naught.
I've gone from taking Christmas festivities with my family for granted, to being woefully sad at being without them, to planning madly, with possibly a dash too much Christmas cheer. The fact I've knackered my knee and may not be able to drive at all is by the by. If I have to dose myself up on painkillers and be unable to walk for the next three weeks, I am going to make that journey. Provided Boris doesn't cancel Christmas. Again!
I asked the Write On! team to share some of their thoughts on how Christmas is different for them this year. First up is Eithne Cullen, our Thoughtful Tuesday page editor.
The Leg Of Lamb
Christmas 2020, we had lots of things planned: dinner here, dinner there, back to ours, over to theirs… It looked like a fine way to celebrate the season after the disappointments of 2020. We put up the artificial tree. To achieve maximum cheer, we put every bauble and decoration we could find on the tree. The high chair was decorated with tinsel. We decided we'd not bother with turkey, for a change, and bought the biggest leg of lamb in the shop – there would be plenty to feed.
Then it was all cancelled. We should have seen it coming. So we were on our own, the two of us, with enough meat for three families for three days, even though we're not that big on eating meat. We dug out the cocktail recipe book and opted for cocktails; even an extraordinary green one with crème de menthe from the back of the drinks cupboard. Presents were opened on Zoom, turn-taking and blowing kissy waves of thanks. Then back to the leg of lamb, roasted, served cold (like revenge?) and curried.
This year, I'm not looking for a leg of lamb. In fact, if they come it will be much less meaty, much more veggie. There's the prospect of a nut roast. I wonder how to use those leftovers… There will be presents and a modestly-turned-out tree. There'll be a cheese board, laden with all kinds of treats; it's something we all love to share. And I hope we'll open gifts with people in the room and the wrapping paper will provide a lot of joy to the little one; they love to play with the wrapping paper, don't they? And we'll listen to the songs about chestnuts roasting and winter wonderlands. And we'll think about how lucky we are to see real people at Christmas and think of those who'll be lonely this year and Elvis will remind us in his song.
Then we'll welcome 2022, and hope it will be a better year for all. "After all," we'll say, "it couldn't be any worse."
(c) Eithne Cullen, 2021
*****
Palak Tewary, regular Write On! contributor, shares with us her Christmas Eve spent flying to spend it with family and the difference the pandemic restrictions made.
Christmas In The Air 
After a year and a half, I finally booked my ticket with shaking hands. It took a lot of research – a full plan of what I needed to get done and by when. It was more than visas now: forms, tests and rules. I had to make sure I knew it all.
Finally, being double vaccinated and with the amber lists turning to green, I could at least see family without having to quarantine. With that thought in mind, I booked my holidays. It seemed everyone had the same idea. The only flight I could get was on 24th December evening and returning on 1st January. With a sigh, I clicked 'reserve' – both my Christmas and New Year's would be up in the clouds.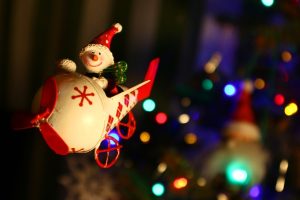 With all the changes we've seen in the last couple of years, this seemed to be a new normal I readily accepted; as was queuing up to get tested for Covid two days before my flight, pausing for only a split second to pay extra for a seat, to ensure there'd be at least one empty seat next to me. This is an option the airlines have now included to allow for social distancing, including arriving three hours before my flight, even though I had checked in online.
Packing meant having a good stock of sanitisers and masks. In addition to the passport, ticket and boarding pass, ensuring I had my test results, the passenger forms, my vaccination certificate – in triplicate!
The bustle of the airport appeared to be just the same as before, but there was a sense of the fantastic as we all walked around in masks, sanitising at every turn, after every interaction. Yet it was strangely exciting, as though it was my first trip. I felt like a butterfly, finally emerging from the cocoon of lockdown, ready to test my wings.
When travelling, we tend to remember the places we've visited and the sights we've seen. Sometimes we remember the food we've eaten, the stories we've unearthed and the people we've met, but there are only a few journeys that are remembered. There was the one when I'd travelled alone for the first time, the one when we were stuck at an airport for three days, the one where I almost missed a flight, the one where we lost our passports and the one when we had a celeb right across the aisle from us, and now this one: when, on Christmas Eve, I found myself above the clouds with a pre-packaged piece of fruit cake.
© Palak Tewary, 2021
*****
Next, Write On!'s Editor Madeleine White shares her experiences from last year and the poignancy this year brings.
December Reflections
Last year, I was preparing for Christmas: biscuits baked, turkey bought and a couple of suitably socially distanced meet-ups with friends. I was looking forward to those few festive days with every fibre of my being. The idea of really seeing people, meeting up after what had been a very difficult and isolating time, seemed wonderful. The first hotly anticipated event in the timeframe specified for the days we could mingle with family and friends, was the arrival of my adult daughter from London. However, when she arrived on the 21st, she had a sore throat.
Aware of my own slightly irritating throat two days later, I remember driving past the temporary lorry park at Manston.  As I contemplated the fate of the drivers stuck there over Christmas, I thought I might even help with the efforts of bringing food parcels and small gifts for those stranded drivers.
Things didn't quite work out as expected, though. Twelve hours later, my throat had become painful, and my morning coffee tasted like sand. Covid swept through our family. We ranged from virtually unaffected to walking wounded (me), to really ill – my 75-year-old Mum. Turkey, presents and festive cheer were swallowed up by the dreaded virus. As we headed into January 1st and Mum ended up being rushed to hospital, I remember thinking that this was a truly fitting end to a very difficult year!
So, as I reflect back, where am I now? There is no sense of last year's frantic jollity. In fact, I'm approaching this season in an altogether more gingerly fashion. I have, of course, put the lights and the crib up, the turkey has been ordered and the kids are coming home. And this year, we've all been jabbed and boosted to the hilt – including the flu jabs for those of us over 50.  However, despite these precautions and the business-as-usual approach, I'm very aware of the sense of the dry acceptance lurking in the pit of my stomach and am working very hard to stop it from turning into dour resignation.
I know these are uncertain times and that nothing is guaranteed. I am also sharply aware of the fact that death is an inevitable part of life.  But, as I look forward to this Christmas and into next year, I am very grateful to have a faith that is able to take me beyond fear, if I let it. This means that, even when times are at their darkest, I know there is better to come. Though I don't always see it, light is blazing somewhere!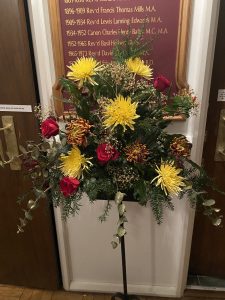 Proof of this is the birth of my beautiful nephew; my dad's namesake. He was born Saturday fifth December, the day I arranged for flowers to be put up in the church in memory of Dad. They were supposed to go up on St Nicolas Day, the sixth December, as that is Dad's 'nameday,' but were put up a day early. I have taken this as evidence that, in times like these, when life and death seem to be touching, life wins out. Even if the path is sometimes shadowed and we don't always know where it's going, the hope of better times to come will keep us moving forward to a place of power, purpose and peace.
(c) Madeleine White, 2021
*****
After I asked the Write On! team for their reflections on Christmas this year, Clare Cooper and her partner Allan Lochhead were inspired to share their thoughts. Clare reflects on the loss of past Christmasses.
Christmas Reflections
For the first time in over 40 years, we have no family base to return to for Christmas. My mother is now in a home and the house has had to be sold. In our panic to clear it, back in the summer, we gave away many things I am now regretting – including very expensive, brand-new Christmas decorations my mother had ordered at some point and ended up never using. They were all still in their boxes, up in the loft. I think, over and above everything else I regret letting go of – not least the house itself, of course – it's these decorations and everything they stood for that cuts the deepest.
My mother was a very sociable person and liked nothing better than filling the house with family, friends and neighbours. She would not have enjoyed a lockdown Christmas, at all! She was also a very good cook and hostess. Christmas usually meant a full house, parties, music, games, fabulous food, presents, coloured lights, crackers, making paper chains, putting out the nativity set in its special place on the hallway shelf, draping tinsel and baubles everywhere, choosing the tree from a local nursery and, of course, decorating it with well-used and much-loved decorations (the chocolate shapes were my favourites and somehow always mysteriously disappeared), carol singing and the Christmas Eve service in our local church, sherry and mince pie Christmas mornings round at neighbours' houses (each year, someone else would take a turn at hosting, while we children would show off our favourite presents to each other), the big lunch itself, with all the trimmings, home-made mince pies, yule logs and cakes, the requisite huge tin of a certain well-known brand of chocolates (they're a fraction of the size, now, have you noticed?), and, on Boxing Day, taking bracing walks in the surrounding beautiful countryside in the vain attempt to try to work at least some of it off. There's plenty of room for social distancing outdoors!
Last year, thanks to Covid restrictions, our little house stood empty and unlit over Christmas and the New Year. It breaks my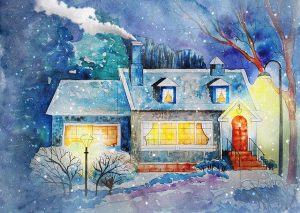 heart to think that, in all its history, that was the one and only time this happened, and the last time it was ours. I wish it could have been different. Other people are living there now, and no doubt they will make their own traditions. I really hope the little house is shining brightly once more, and will soon be ringing with the sounds of people having a fabulous festive feast and lots of fun and frolics (lockdown permitting). Beautifully decorated, of course. At least we can all still do that.
(c) Clare Cooper, 2021
Allan shares the memory of his favourite Christmas, age 15.
My Best Christmas
A lockdown Christmas holds no fears for me. So long as I have food, warmth and the television, I'm content. My fondest memory of a very happy Christmas was when I was 15 years old and me and my family (mother, father, brother) were all due to visit my uncle's house for Christmas Day. I was not looking forward to this. Their house was always chilly and you could see daylight through the turkey slices. l lay in bed and pretended to be feeling very ill. As soon as I heard the family car leaving, I jumped out of bed in perfect health.
I spent the day sitting on the floor in front of the gas fire and watched It's A Wonderful Life and other films in black and white. Our cat, Tinky, lay down beside me, contentedly basting in front of the fire, stomach tight as a drum on chicken. I feasted on chocolates and tea.
At regular intervals during the day, Tinky and I staggered into the kitchen to replenish chicken and tea, then staggered back to the gas fire.
There was perfect peace and silence, which I had been craving. No atmosphere, no rowing, no sudden trips to Casualty.
Mother did phone up in the afternoon to suggest I join them. I put on another Oscar-winning performance of suffering and imminent death and returned to my position in front of the fire.
I always remember that day as being my happiest Christmas Day ever. I was, and still am, very easily pleased!
(c) Allan Lochhead, 2021
*****
To round things off for us this festive season, Write On! regular Michelle Sutton has the last word.
Facing Christmas
This time last year, I (with Mum) was trying to plan a socially distanced Christmas dinner with my grandparents, which eventually turned into a 'Meals on Wheels' style drop-off instead.
So, will this year be any different?
Well, if you'd asked me earlier in the year, I'd have been very pessimistic and depressive about everything.
From 16 months of no paid work due to events being cancelled, choosing the wrong time to become a self-employed artist, to my previously sports-injured knee deciding to go, "Hey, how about new pain for the hell of it?", let's just say I was in a pretty low place. And that's without mentioning the dreaded building work happening around our house… I won't go there!
However, things took a turn for the better in August. Events started back up at the Natural History Museum and I've worked every sleepover since. I was able to attend several festivals and shows with my art stall both locally and in the Midlands, and a piece of my art – Asian Small-Clawed Otters – was a finalist in 'Explorers Against Extinction's' annual 'Sketch For Survival' initiative. My otters featured alongside fellow wildlife artists and celebrity pieces in an actual physical exhibition, held at the gallery@oxo, in London, during October, as well as part of the online auction to raise money for wildlife conservation. I'm still amazed they sold!
I guess that means I'm in a slightly better and more optimistic place heading into Christmas this year. Once again planning a Covid-safe day with the grandparents that hopefully even Omicron won't spoil (fingers crossed). But, if it does, we have our own Plan B… just in case.
(c) Michelle Sutton, 2021
*****
Whatever you've already faced in Christmasses past, or are gearing up to face this Christmas, I hope you can find joy in the small things and spend some quality time with your loved ones. The Write On! team will be here over the festive period, sharing creative writing and inspiration, so keep in touch and have yourself a merry little Christmas!
*****
When I had the idea for this feature – looking back at Christmas before and after the COVID-19 lockdown – we didn't have the Omicron variant and plan C, D or whatever weren't looming. It makes this look at Christmas and how we spend our time even more precious.