Write On! Interviews: Author Tracey Iceton
Write On! interviews author Tracey Iceton.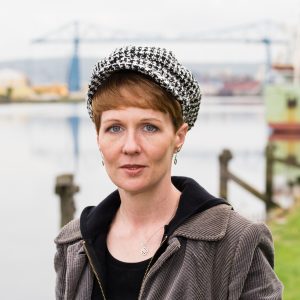 Tracey is an author and creative writing tutor from Teesside, UK. Awarded her doctorate in creative writing from Northumbria University in 2017, she is a qualified English teacher experienced in delivering creating writing courses and workshops. She is the author of three novels, Green Dawn At St Enda's (2016), Herself Alone In Orange Rain (2017) and White Leaves Of Peace (2019). Her fourth book, Rock God Complex: The Mickey Hunter Story, was published Sept 2020, and she is under contract with Cinnamon Press for further novels and works of creative non-fiction. She won the 2013 HISSAC short story prize for Butterfly Wings, was runner-up in the 2013 and 2014 Cinnamon Press short story competitions with Slag and As The World (Re)turns which appear in the anthologies Journey Planner and Patria. She also won the 2011 Writer's Block NE Home Tomorrow Short Story Competition and has been shortlisted for the 2012 Bristol Short Story Competition with Apple Shot and the 2015 Mslexia Women's Short Story Competition for Ask Not. Her articles and short stories have appeared in national and international journals, magazines and anthologies. Her PhD research, entitled Troubles Women, was a practice-led project exploring the portrayal of female paramilitary protagonists in 'Troubles' fiction. She works with many emerging writers, helping them develop their craft through her one-to-one mentoring/critiquing service, as well as offering self-study courses on creative writing. For more information, visit: trywriting.co.uk.
WO: How would you describe your writing to someone new to it?
TI: I write realism, with most of my work blending fact and fiction, playing with the concept of truth, so readers are left wondering what is invented/imagined and what 'really' happened. I particularly enjoy taking actual events, whether from the recent or more distant past, and writing into the gaps in historical records and accounts of those events. This is one of the great wonders of fiction – it lets the writer present a story as though it's what actually happened, when the truth of it can't otherwise be known. It's also an opportunity to tell those stories that official history excludes. If history is written by the victors, fiction can be written by those without that winning power. When I say 'by' here, I'm referring to the fact that most of my fiction is told through first-person narratives, so the story always seems to come from the point of view of the narrating character whose story it is. 
WO: Can you tell us a bit about your latest book, Rock God Complex: The Mickey Hunter Story?
TI: This book, very different from my previous works (The Celtic Colours trilogy), is the story of the rise to fame and fall from glory of legendary 1970s rock guitarist Mickey Hunter. Hunter was the lead guitarist for Crown & Kingdom, a band who deserve a place alongside other greats of this period like Led Zeppelin, Rainbow, Black Sabbath, etc. Like so many bands of that period, they imploded tragically. Later in life, Hunter, facing a terminal diagnosis, attempted to resurrect them. The book charts both his early career and latter days told in the only way such a story could, I felt, be told.
WO: What inspired you to write in the first place, and what inspires you now?
TI: I always read avidly as a child, loving the escapism of fiction. That led me to 'write' my own stories, mostly made up in my head, rarely committed to paper, from being seven or so years old, just because I enjoyed imagining worlds, filling them with made-up people, and directing what happened in them. I didn't know then that being a writer was something I could actually do. It was just part of who I was. I think this is still at the heart of why I write now, but I'm also inspired by the stories themselves. When I encounter a story that I feel needs to be told, I'm inspired to write it. That was the inspiration behind Green Dawn At St Enda's, for example (part one of The Celtic Colours trilogy); I came across the story of Patrick Pearse and the 1916 Dublin Easter Rising and just knew I had to tell it.
WO: The previous issue of Write On! explores the theme 'Nature, Inspiring Creativity: Past, Present And Future'. With that in mind, how has nature had a direct impact on your inspiration? Are there any particular art or creative works based in nature that spark ideas for you whenever you experience them?
TI: There aren't really any creative or artistic works based on nature that have inspired my writing. Not that I don't appreciate paintings or poems, etc. that explore the natural world, but I'm more the type of writer to take inspiration directly from the source, so nature itself would be that source. If I want to describe a natural scene, for example, I'll go and look at that scene in real life (as far as possible) and work from that reality, trying to capture the sights, sounds, smells, the feel and essence of that natural wonder.
WO: The current issue of Write On! explores the theme 'Mind Your Language.' With that in mind, have you ever faced any linguistic difficulties in your writing? Or perhaps it has been necessary to modify your language for various reasons? How do you weigh up those decisions? 
TI: All writers face the basic linguistic difficulty of choosing the right words, those that most effectively convey the understanding they want readers to take from any piece of writing, but the main challenge I have faced in relation to this is modifying language use for specific characters. 
This was particularly important for my Celtic Colours Trilogy when I needed to create the effect, in the dialogue, of characters speaking with Irish accents, or using Irish dialect and it took quite a bit of research to do it in a way that gave the flavour of Irish voices while ensuring the text was still readable and didn't fall into the trap of 'comedy' Irish, that stereotypical 'top of the morning to ya' Irish that sometimes appears in fictional contexts.  
Any decisions I have to make about writing are founded in what will serve the story best and this applies equally to linguistic choices, such as when scripting dialogue for characters who will, or need to have, a specific voice. And I never shy away from swearing if it's appropriate to the character and context, even if the language might offend some readers. I also work hard to make sure linguistic choices are relevant to the period, if the story has a historical setting, whether that's a couple of decades or a couple of centuries ago.
If, as a writer, you can't be flexible in your command of linguistic choices, you're never going to successfully convey what you set out to share with readers.
WO: What one piece of advice would you give an aspiring writer?
TI: Make the most of every opportunity that comes your way, whether that's to study writing, meet other writers, time to actually write, or chances to promote your writing. Don't let any relevant opportunity pass by.
WO: Question from Twitter user: @lisalovesbooksx What is your favourite under-appreciated novel?
TI: This is really difficult to answer, as there are so many brilliant books out there that are under-appreciated simply because they get published by small indie presses who dare to take risks and publish something other than obvious 'best sellers'. Saoirse's Crossing by Jan Fortune, which I read recently, is a good example of this. It's a stunning book, my most recent favourite, and should be being read much more widely, especially as people's fascination with and fear over death continues to grow. I'm frustrated with this aspect of writing at times – that great books don't get the exposure they warrant. What's even more frustrating is those books I encounter in my capacity as writing mentor/editor; books by emerging writers that are outstanding and deserve to be published and reach a wider audience. But just because they deserve it doesn't mean they will be published, especially as mainstream publishing is more and more driven by profits and less and less by creative value.
WO: Can you tell us anything about future projects?
TI: Hmm, I'm still very much in the R&D phase of my next novel and I'm not sure whether anything will come of it yet, so there's nothing really to say. I think, like a lot of creative people, the situation that has developed over the last two years (I'm avoiding using the 'C' word) has really left me wondering what on earth to say to people through my writing.
WO: Lastly, if you could choose one fictional animal/creature to be a pet or companion, who would it be and why?
TI: It would have to be Timothy, the dog from The Famous Five books. He's the perfect furry protector, endlessly loyal and unconditionally loving. What more does anyone need?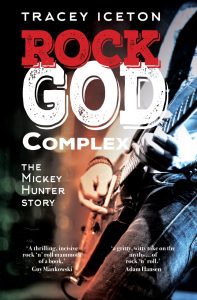 You can find out more about Tracey Iceton here: trywriting.co.uk and connect with her: traceyiceton@hotmail.co.uk. Rock God Complex is available to buy from: cinnamonpress.com/rock-god-complex/
*****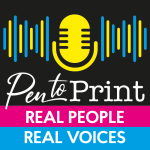 Issue 12 of  Write On! magazine is available now. You can find it here. 
Each edition of our Write On! Audio podcast features an exclusive interview. Find us on all major podcast platforms, including Apple and Google Podcasts and Spotify. Type Pen to Print into your browser and look for our logo or find us on Anchor FM.
Make the most of every opportunity that comes your way, whether that's to study writing, meet other writers, time to actually write, or chances to promote your writing. Don't let any relevant opportunity pass by.