Writer Of The Month: Claire Buckle
Introduced by Palak Tewary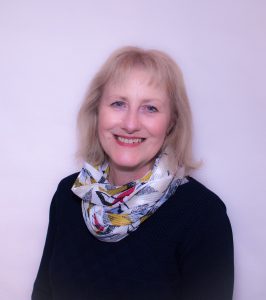 Claire is a short story writer who has been published in women's magazines such as The People's Friend, Woman's Weekly and My Weekly, small press journals, anthologies and annuals and has been shortlisted for and won competitions.
Born and raised in Romford, she now lives in Southend-on-Sea. Essex is where she has lived all her life, apart from three years in Coventry, where she studied for a degree in Social Science. She has, however, travelled widely and many of her short stories have been inspired by places she's visited as well as from personal experiences – not all of them pleasant!
Claire is also inspired by radio programmes and the experiences of others. Radio Four's Science Stories about Mary Montagu, who was a pioneer of a smallpox vaccination before Jenner, triggered a two-timeline story set in the present day and the 1700s. A friend of Claire's daughter worked on an oil rig – one of only two women on that rig – and this inspired a twist-in-the-tale story. An article about a woman foraging on a Cornish beach prompted a couple of different stories; one yet to be published, while the other appeared in My Weekly.
Last year, Claire hosted three workshops for Pen to Print, focusing on writing fiction for women's magazines, where she covered many subjects, including how to hook the reader, the importance of 'showing not telling' and where to find inspiration and ideas.
One of her favourite stories came about after she received an anonymous letter complaining about her dog barking. Upsetting though this was – and she never did discover the sender – the plot for a story evolved. The main character found out an elderly lady had written the letter, uncovered the reason why, befriended her and the story's rather boisterous dog was trained to behave by the elderly lady. A happy ending and a sale to Woman's Weekly!
Below is an extract:
CJ barked as the letterbox clattered and the post tumbled onto the doormat.
"OK, OK, that's enough," Jayne said with an indulgent smile, which did nothing to quieten the black and white cocker spaniel puppy. Jayne grabbed her magazine just in time before the dog had a chance to get hold of it, and picked up some junk mail, amongst which was a long white envelope with a typed label addressed to The Residents. She went into the kitchen, put the post on the table and let CJ into the garden where Charlie was in his element, cutting back the jungle of overgrown shrubs.
They'd been in their seaside bungalow for two months. The property, which needed updating, was Charlie's dream retirement project, although Jayne had been a little apprehensive about leaving their smart city apartment for the coast. But once she realised the large garden and nearby beach would be an ideal place for the dog she'd always dreamed of owning, she was on board with the idea. She laughed as she watched CJ running around with a branch in his mouth, dropping it at Charlie's feet and then barking until Charlie threw it for him to fetch.
Turning away, she picked up the envelope, slit it open and unfolded an A4 sheet. Her smile faded as she read the letter and her skin prickled. Impulsively, she screwed up the paper and held it in a clenched fist before sinking down onto a kitchen chair, smoothing out the page and re-reading the words.
*****
After completing a series of Pen to Print playwriting workshops, Claire wrote a short play, The Turning Tide, inspired by a retro postcard picturing a scene in Devon. The play was performed along with several others at Barking's Broadway theatre where the audience voted for their favourite and picked Claire's as the winner. Never one to miss an opportunity, she later adapted it into a short story, which was published in Scribble, a small press journal. The play tells the story of three characters on a short break in Devon. There's an overpowering daughter-in-law, Stella, who likes to control everyone and everything around her. Stella's seemingly demure mother-in-law, Irene, who, by the end of the play, shows she has more steeliness and control than Stella. Her husband, Brian, who doesn't make an appearance until near the end, is stunned when he walks in on his mother telling Stella what's going to happen for the rest of the holiday and beyond.
Here's an extract from the beginning of the play:
The Turning Tide
SETTING: A smart hotel bedroom. The night-time view from the window is Valley Of The Rocks Walk, Devon.
CHARACTERS:
STELLA – A well-groomed woman in her fifties
IRENE – A frail-looking lady in her late seventies
BRIAN– A weary-looking man in his fifties
STELLA is speaking on the phone whilst looking out of the window at the view.
STELLA: That's good. I'm glad they're behaving themselves – I know how they can get round their nan when I'm not there. (Sighs.) I know, Mum. (She continues in a sing-song voice.) They're nearly 18. (Back to normal voice with a hint of concern.) But if you weren't there keeping an eye on things, they'd be living off McDonald's and have God-knows -who round till all hours. (Pause as she listens to her mother.) Oh, I think I'll be looking after them for some time yet. I've convinced both of them that living at home instead of going away to university would save all of us a lot of money. (Slight pause and then continuing in an unenthusiastic voice.) Yes, the weather's lovely, perfect actually and the hotel's gorgeous — duck down pillows, spa bath, breathtaking view of the coast but… (Sighs and then more forcefully.) Well, to be honest, and I don't want to sound cross, but Brian's mum is just about getting me down. Nothing seems to please her. Poor Brian. He really thought it'd be a lovely birthday treat for her. (Stella comes away from the window and begins pacing, using her free hand expressively.) I mean, this afternoon, we had to dismiss two quite decent pubs because they were, according to Irene, too noisy, when really there was just a lively atmosphere and a bit of background jazz. I ask you! Hardly heavy metal! Then she moaned because we didn't sit on the sea wall and eat fish and chips. If we'd done that the bloody seagulls would've bombarded us. I can tell you, they're an absolute menace. (Giggles.) Not unlike Irene. (Slight pause.) I know I shouldn't, but we'd booked that lovely tapas restaurant… (Pauses to listen.) Yes, the one whose website I showed you. And then – can you believe this – she started to talk about how, when Brian was a lad, they used to picnic on the beach and watch the tide go out; as though we'd denied her that pleasure. (Pauses to listen) We couldn't possibly! If you'd seen the steep steps going down to that beach, you wouldn't even ask.
There's a soft knock at the door, which STELLA is oblivious to because of her ranting. An elderly lady enters. STELLA, with her back to her, doesn't notice. She continues in a louder voice.
STELLA: And now Brian's out on a mission to find indigestion medicine because the food obviously didn't agree with her. (STELLA impersonates IRENE clutching her chest.) You should've heard her. "Oh, my goodness, I have the most horrendous indigestion, I feel quite ill, I can hardly breathe." All put on for effect, of course, because it's all been delicious. We had divine eggs benedict for breakfast–
IRENE: Stella?
IRENE: Stella?
At the sound of a voice, STELLA turns quickly and is flustered.
*****
Settings have always prompted stories. A visit to Key West inspired a story about a bereaved prim English woman finding a connection with a Vietnam Veteran. A trip to Savannah in Georgia gave Claire the idea for a story about a young woman finding independence after a broken engagement. Both were published in Woman's Weekly. And, nearer to home, an afternoon tea in a London vintage cafe produced a time-slip story, As Time Goes By, which appeared in The People's Friend.
Below is an extract:
Betsy pushed open the oak panelled door of the Secret Vintage Tearoom and was greeted by a rush of warm air, the clattering of crockery and such a delicious smell of baking it would have made even Mary Berry's mouth water. Delight bubbled up inside her as In the Mood started to play; its upbeat tempo rising above the hum of the customers' conversation.
A homely -looking lady in a floral bibbed apron welcomed Betsy. "Afternoon, Miss. I'm Eileen. Table for one, is it?"
"Please," Betsy said, and glanced around in admiration. The once disused upstairs space of the King William pub had been transformed into an authentic 1940s interior. Red linoleum covered the floor, dazzling white tablecloths embroidered with riots of bright flowers hung in starched folds over round tables and a jumble of mismatched china vied for space on a battered mahogany dresser.
Among the framed film posters on the wall, were Citizen Kane, Holiday Inn and her favourite movie, Casablanca. Betsy had inherited her love of old films from her parents. She had happy memories of snuggling up with them on the sofa to watch a video and being captivated by the romance and style of past times.
Recently, the tearoom had been reviewed in the paper and after Betsy read the write-up, she knew she had to visit.
Actors stay in character to recreate the wartime era and customers become part of the performance. Should we review it under theatre or food? We couldn't decide, as both are outstanding. 5 stars!
Twenty-year-old Betsy loved vintage clothes. Today, she wore a belted costume of olive-green wool bought from her favourite stall in Portobello Road. She'd pinned up her blonde hair, tied a red turban scarf around her head and matched her lipstick to its colour. Not for the first time, it crossed her mind she'd been born decades too late.
Now, in the tearoom, she saw that others had entered into the spirit and dressed the part. One chap wore a big-shouldered suit; another, a grey wool V-necked tank top over a shirt and tie.
"I wonder, Miss," Eileen asked, breaking into Betsy's thoughts. "Would you mind sharing? There's a young lady bin 'ere a while now who looks like she could do wiv a bit of company." Betsy smiled at the old-fashioned, clipped cockney accent.
"I'd love to," Betsy replied.  She followed Eileen, who seated her opposite a young woman, similar in age to Betsy, wearing a tailored navy-blue two-piece.  Shoulder-length black hair rippled in shiny waves around unblemished, paper-white skin. Glossy scarlet lips pulled into a wobbly smile. Betsy wondered whether she was an actress or customer.
Eileen stood by the table and produced a small pad and pencil from the front pocket of her apron. "What can I get you both?"
"The afternoon special, please," Betsy said, remembering what was chalked on the blackboard outside.
"Just tea for me," her companion said.
Eileen bustled away with a cheery, "I'll be with you in a jiffy."
The young woman offered a white-gloved hand. "I'm Valerie."
Betsy briefly held the slim fingers. "Betsy-Lou. Have you been here before?"
"Yes." Valerie's voice wavered as she began removing her gloves. "I came with my fiancé before he was called up. Leonard's in the air force – a flight engineer."
Betsy smiled. So, the girl was an actress and part of the set-up.
"My boyfriend, Josh, is in the forces too: the army."
"The army? Oh, isn't it simply awful?"
"Well, yes, it's tough, but Josh loves it. He seems to thrive on the adrenalin. Not so easy on us, though, is it?"
Valerie's eyes filled with tears and her face crumpled. "I don't know how to cope; every day I think I'm going to hear bad news."
"Oh." Betsy gulped. Even though the newspaper had praised the skill of the actors, she didn't expect to be confronted by someone so convincing. It hit home that Josh had at least chosen his career, unlike so many during World War II.
*****
Claire is inspired by travel, personal experiences, radio programmes and the experiences of others.