Writer Of The Month: H. B. O'Neill
Introduced by Iesha Denize.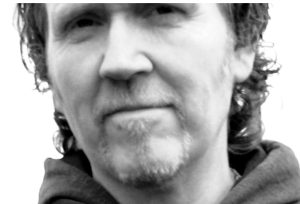 It's my pleasure to introduce Writer Of The Month, H. B. O'Neill, a local man on a global mission. A pensmith with a purpose. A scribe who knows his destiny. A man determined to win the Booker Prize and bring it home on an open-top bus to raucous reception through the hallowed streets of Barking and Dagenham. He writes voraciously about the locale and insists that: "You don't need me to tell you about the huge depth of character of the people living in Barking and Dagenham." If you know him, it's difficult to doubt him. He's exceptionally good at predicting the future; for example, for years he's been telling anyone who'll listen that Declan Rice has been sent from the Gods to captain England to a World Cup Final victory. Surely, we all share that belief?
London-born and proud Barking and Dagenham resident, H. B. O'Neill is a flagrant and unapologetic flaneur. He walks the city's streets with an eye to the sky and an ear to the ground. As a result, he has attended A and E regularly and would like to take this opportunity to thank the NHS for their patience, patchwork, and understanding.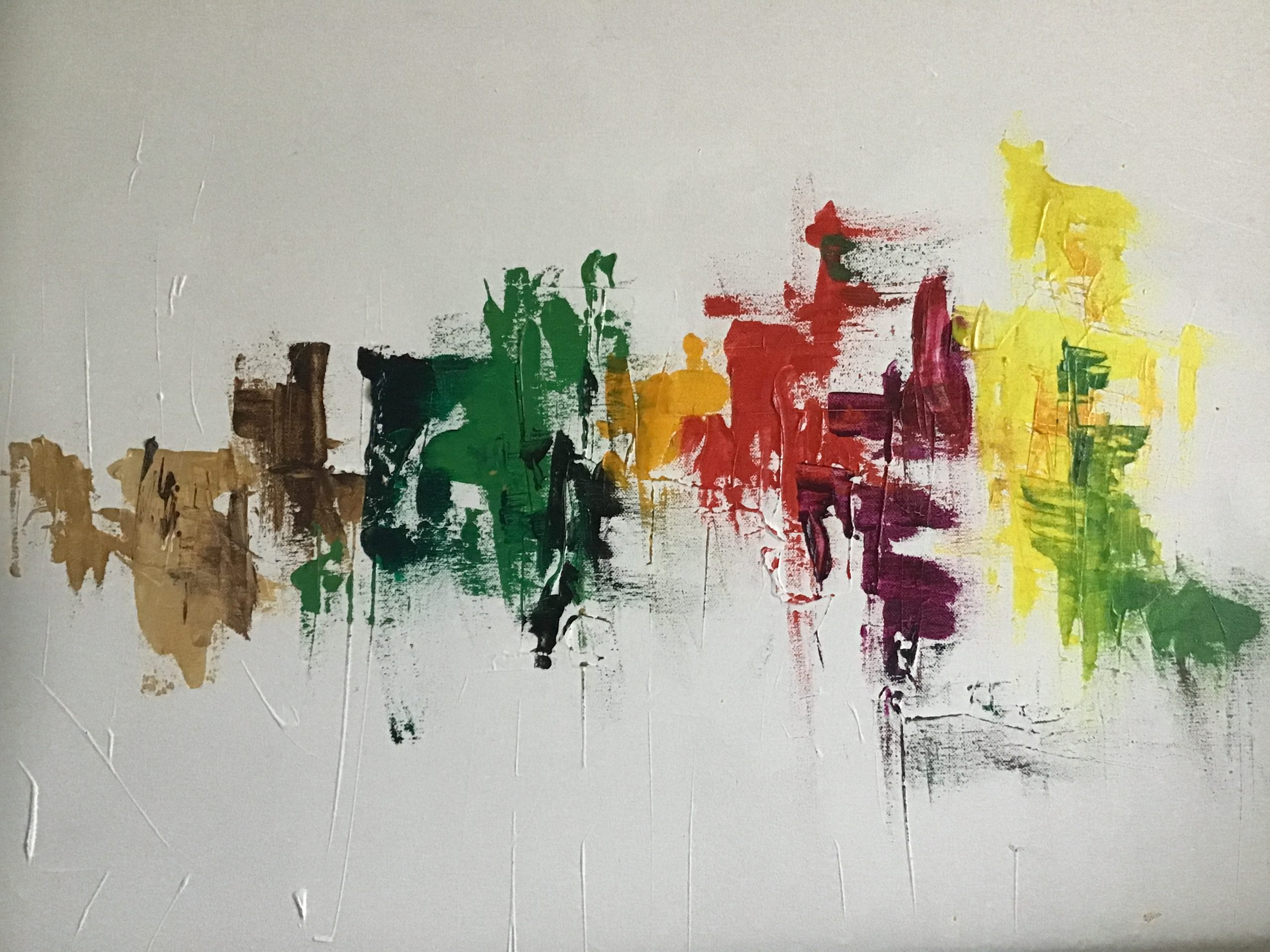 One of my paintings, inspired by one of H. B. O'Neill's poems.
He was the winner of the Pen to Print short story prize two years running and believes that he was cruelly robbed of the chance of a hat trick when the rules were changed to deny previous victors' entry into future competitions. Although a tragedy at the time, this, of course, has worked out well, as there is now a prominent gap on his mantlepiece for that Booker. An example of his short story prowess is revealed below, so that Pen to Print readers can revel in the early works of the soon-to-be Booker Prize winner, and Barking and Dagenham can enjoy basking in the glory before the rest of the world fully catches on.
An Evening With Eva
"Standard."
It was a fair answer to what he'd accurately judged to be a half-arsed query.
"How are you?"
He could have replied along the lines of, "Do you actually care?" Or, "Is it really relevant?" Or, "Well, actually, the fibrosis is worsening and I've had a fierce itchy dose of piles that's had me up all night nearly scratching me ring piece inside out." That would have been more truthful, but he was aware it would have left little leeway for the conversation or friendly neighbour nod-and-smile relationship to continue painlessly. So, instead, he'd replied with the standard answer, smiled the dutiful smile and continued on his way.
The graffiti on the wall by the park was new. It read:
Death, it starts in ice.
Oh for 15 twelve
"Standard."
It was an understandable mutter. It encapsulated a lack of surprise with a sigh of resignation. The heroic scribes of Chadwell Heath astounding all with their subtlety and tenderness. He hadn't expected to be heard so the trill of laughter made him start and look sharply to his left.
"Yes. Filthy graffiti. Bunch of ruffians ruining the landscape… I wonder what it means, though? I've been standing here trying to guess. I'm finding it rather exciting."
He didn't recognise her. And he would have remembered. She was fully his age, yet ageing far better. Her purple coat was velvet and fur-trimmed in white. Her smile was wide and her teeth appeared genuine.
"Probably just an idle threat. By an indolent halfwit."
Her smile relaxed into a frown. She seemed disappointed. That was standard too – he'd long since lost his enthusiasm for even appearing to be charming.
"No. No, it seems more than that to me…"
He felt a little uncomfortable now, looked down for a moment while he silently self-scolded. He noticed her shoes were purple too and that her ankle was rather dainty. Maybe it wouldn't hurt to try.
"Postcodes, perhaps? They'll fight over anything these days."
"Really?" She seemed genuinely surprised. Then there was that trill of laughter again.
"How wonderfully quaint."
He looked up again and noticed the jewels at her throat.
"You don't look like you're a local…"
"With money in the pocket one is at home anywhere."
He smiled. He knew that quote.
"Moll Flanders."
"Yes."
Daniel Defoe."
"Yes."
"So, you like literature?"
"I used to. It amused me for a while, taught me that all in life is metaphor. Which is great comfort to the dead."
It was his turn to frown. She was being far too cryptic for his liking and now the sky had suddenly darkened. His chest could sense the chill.
She was staring intently at him now.
"Your grandfather was on board; I'm sure you know that. And he was very chivalrous. Made sure I was safe. Told me to go and that he was prepared. I promised I would always be with him and his family. I would help lead the way when it was time. I've met your father, too."
His grandfather? His dad? What was she on about? His whole body could feel the cold now.
Suddenly, she clapped her hands. "Got it! There's always a sign. Just as he promised there always would be. That's a relief, I wouldn't want to make a mistake."
That trill of laughter again. Then she continued.
"Death, it starts in ice – The Titanic Disaster – you see? It's an anagram. 04-15-12 –see? The 15th of April 1912. The day he died."
"The day she sank."
"Yes."
The stranger held out her hand. Her smile was back. It suggested kindness and warmth. He reached for it. He guessed it was time. She leant forward and whispered in his ear.
"It always comes as a surprise."
He nodded his agreement. He'd presumed as much.
"Standard."
(c) H. B. O'Neill, 2022 
*****
Notes on the above:
Eva Miriam Hart MBE was a British woman who was one of the last remaining survivors of the sinking of RMS Titanic on 15 April 1912.
"I saw that ship sink," Hart said in a 1993 interview. "I never closed my eyes. I didn't sleep at all. I saw it, I heard it, and nobody could possibly forget it. I can remember the colours, the sounds, everything… The worst thing I can remember are the screams. It seemed as if once everybody had gone, drowned, finished, the whole world was standing still. There was nothing, just this deathly, terrible silence in the dark night with the stars overhead."
She died in Chadwell Heath on Valentine's Day, 1996.
*****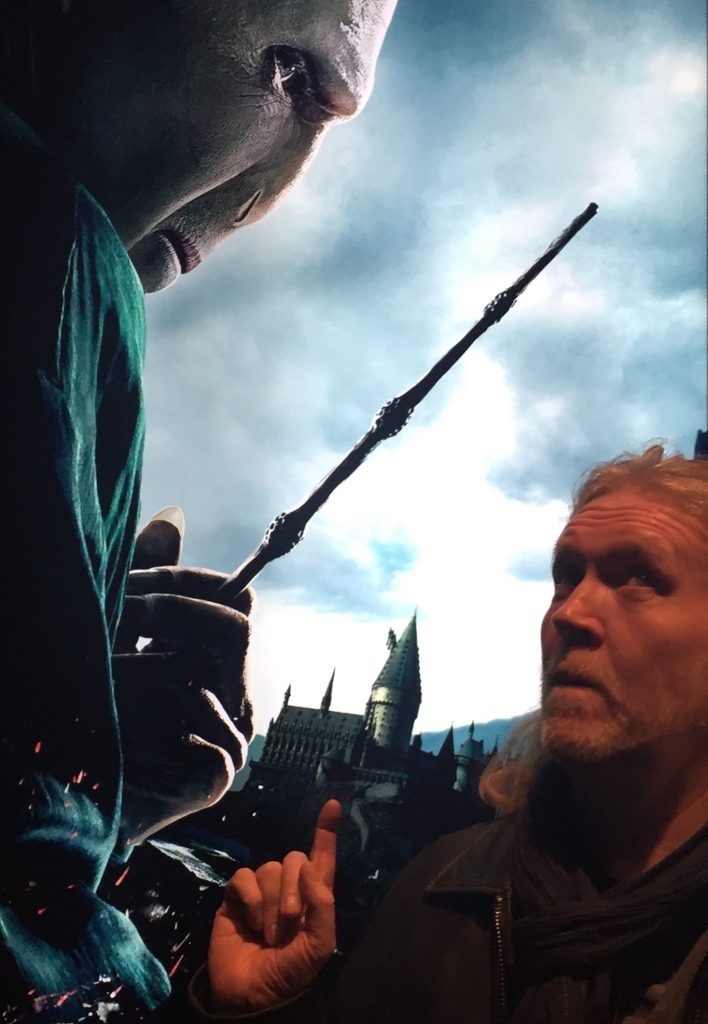 H. B. O'Neill – Speaking truth to power…
H. B. O'Neill writes the 'Local Flavour' column for Write On! magazine, but he first began working in the borough at the age of ten. Climbing chimneys was no longer a legal option, so, instead, every morning he pounded the streets delivering newspapers to the local denizens. Then, in the afternoons, he worked in a local bakery, icing buns and loading the dough machine for the creation of wondrous artisanal delights (that at the time were simply referred to as 'breads'). Now, he provides the borough (and all geographics beyond) sustenance of a literary nature.
He has won prizes and platitudes for his screen and playwrighting talents, has represented the borough in national poetry slams (causing one memorable fracas), and has collaborated on projects with musicians, artists and filmmakers. His recent poetry pamphlet Capital Journeys – a collection espousing the joys, terrors and humour experienced when travelling on London Transport–rapidly sold out, but he has promised an extended version will be available soon. For now, here's a couple of examples of the sort of verse to expect:
Thank You Driver
I have often wondered what a London Bus Driver would do if he won the lottery
Yes my friend, your Oyster Card is valid, but your attitude ain't
Maybe he'd turn up as normal, not letting on but now working with a whole new perspective
It's quite simple – if you're not going to be polite then you're not getting on
Maybe he'd finally find the job satisfaction that had eluded him for so many years
I can happily wait here all day mate – think of it as a case of please or hard cheese
Maybe he'd freely speak his mind and attempt to right wrongs where he saw them
I don't care what you usually do – today you'll form an orderly queue
Maybe he'd voice his opinions and find the courage to offer some heartfelt advice
Try a smile or a nod – maybe even a "good morning" – some acknowledgement as you board
Maybe he'd dismiss the conventions, not fear HR reprisals and proceed to lead by example
Push in front of that old lady again and I'll step forth from my booth and lay my fist upon you
Maybe he'd evolve into a shining light of new-age civility and be a beacon of best decorum
Yeah, respect, you're right Driver, we're all in this together, sorry Driver, thank you Driver
Hmm. He'd probably more likely just bin his uniform and buy a Merc
(c) H. B. O'Neill, 2022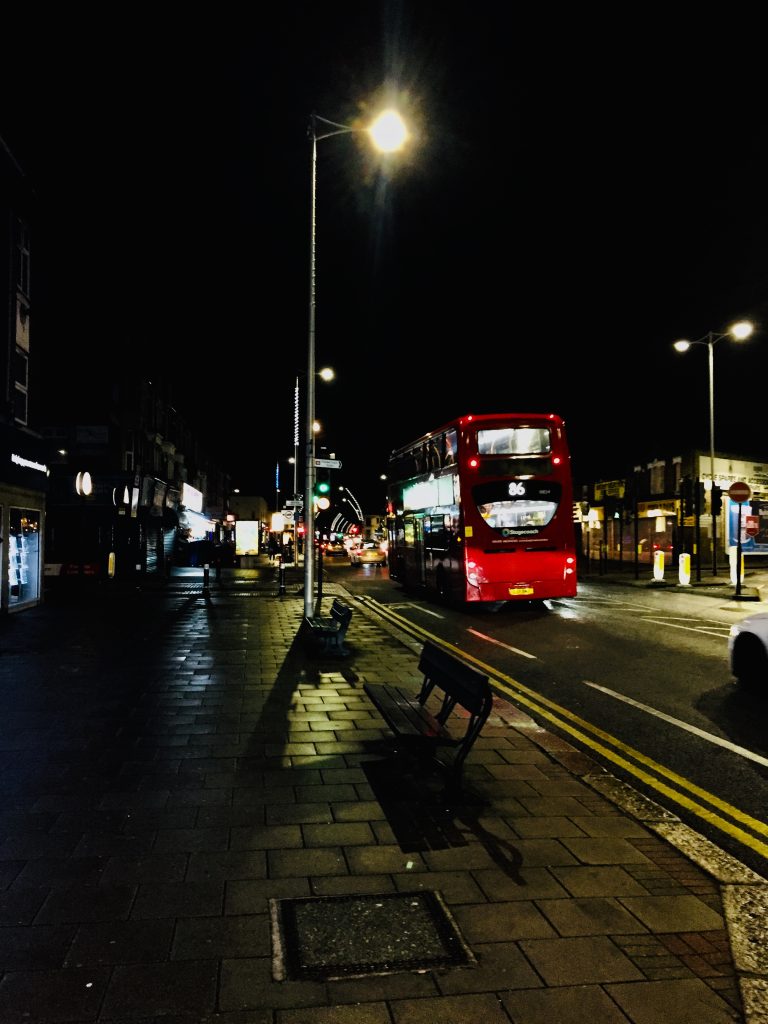 The Morning After The N25
There was a finesse-flawed fracas on the overpacked Night Bus last night
There so often is
Spatial awareness had been an immediate impediment for the aggressive inebriates
Combatants, pacifists, vociferous encouragers all tightly entwined in impromptu dance
Grapplers grasped and pawed in a pissed-up parody of a proper punch up
It left me completely dispirited
At the time
But now I was home, eating breakfast, wearing a suit, knocking back 2 ibuprofens, packing a lunch, preparing for a familiar commute and beginning to consider it all anew
Perhaps there had been benign beauty in the choreography – comedy in the caustic chaos
Intensity in the intimacy of intoxication – majesty in the muddle of mayhem
Perhaps I was privileged to have been witness? To have been awarded the chance to discover the fragments of art densely hidden in the dramatic unfolds of reckless savagery
But at the time a hangover had been hinting its imminent inexorable and devastating approach – I was an aesthetically-closed soul slumped in a tattered seat still hours from home
Facial flesh pressed against reinforced glass – inner rotor painfully pondering the impending prospect of scant-reward work – head hanging – half-drifting – wholly morose
Succumbing sadly to the heavy half nods of the more than half cut – Melancholy and its many mocking minions jostling in line on my pre-dawn periphery
But now, after vino the veritas?  Upon reflection cometh the insight? As likely as art is the answer so perhaps irony was the salve?
I hadn't been receptive – I'd not been in an open-minded mood – I had presumptuously dismissed every offered inkling – I'd been a photophobic cursing the light
Such visceral entertainment had not been desired and was surely not to be admired – so had assumed the self-pitying man with his artistic antenna addled to matchbox dimension
Yet the clues might still be clasped – maybe by being ajar enough to see creativity in the crass – I could find some purpose within the parameters of my daily morass?
I straightened my back as I knotted my tie. I felt slightly okay.
Bus Brawlers I salute you
(c) H. B. O'Neill, 2022 
*****
H. B. O'Neill has arguably the best writers' website in the world but has previously suffered from a chronic forgetfulness to post updates. (A shame, for when he does remember to share, it's whimsy of the highest order.) At the point of writing, he has assured me that a new leaf has been turned and rigid regularity is just around the corner. He has also promised his much-anticipated novel, According To Mark will be available for purchase soon.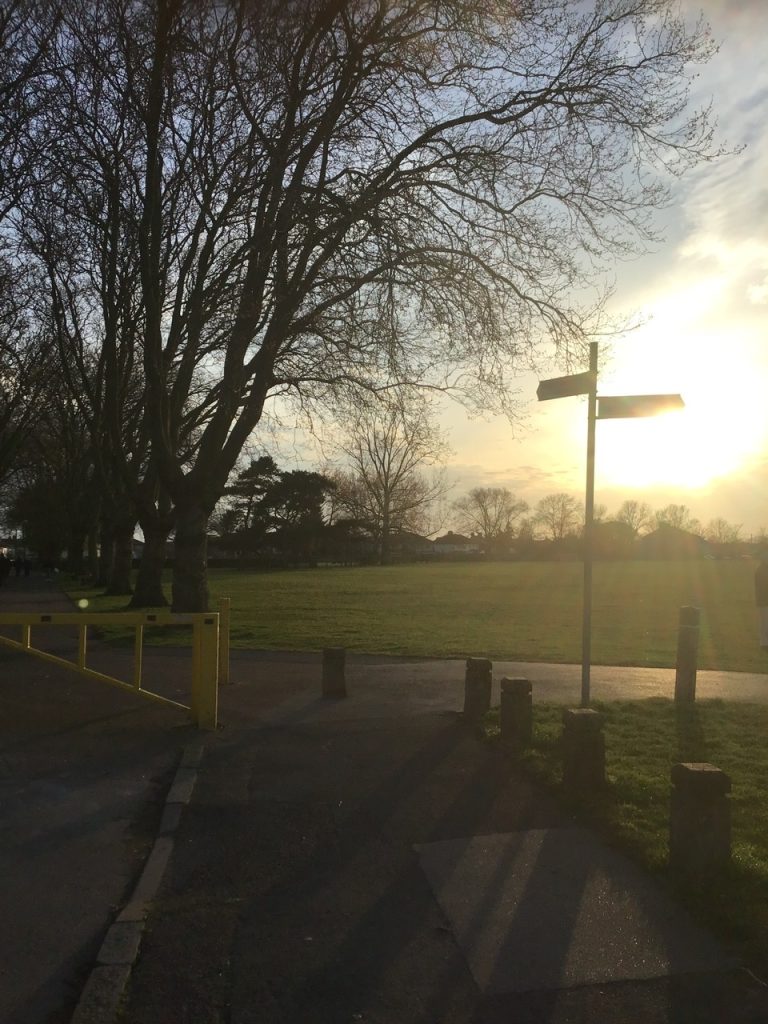 St Chad's Park, Chadwell Heath, where Eva Hart is honoured
H. B. O'Neill is a writer definitely going places: most imminently to Hay-on-Wye, to check out the opposition and sample literary life from the inside of a yurt. He declares his ongoing and number one aim is not to bore anyone with his writing and to hopefully along the way raise a smile, trigger a thought and perhaps lift a spirit or two. Check him out or don't. He won't judge you either way – it turns out his number two aim is to bear no grudges.
Connect with H. B. O'Neill on his website: www.hboneill.com and on Twitter: @hb_oneill
*****
A pensmith with a purpose. A scribe who knows his destiny. A man determined to win the Booker Prize and bring it home on an open-top bus to raucous reception through the hallowed streets of Barking and Dagenham.