Writer Of The Month: Ola Awonubi
Introduced by K.J. Quinn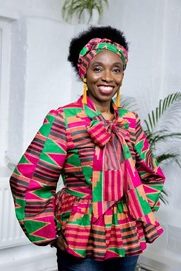 It's an honour to welcome Ola Awonubi as February's Writer Of The Month. Ola has been writing since 2008, when she studied for an MA in Creative Writing at the University Of East London. Since then, Ola has published three novels, two novellas, a book of short stories and a book of poems. Her most recent manuscript is a work of historical fiction, currently with her new publisher One More Chapter, an imprint of HarperCollins.
She manages this prolific output in addition to working a full-time job by staying disciplined; writing up to three hours a day or more after work every day. She also keeps a notebook of ideas, plots and plans and works her way through them. Her work is hugely influenced by her Nigerian heritage, being born in the UK to Nigerian parents and going to live in Nigeria when she was ten. During secondary school, Ola started reading books from the African Writers series that included literary giants such as Buchi Emecheta and Chinua Achebe and she became intrigued by themes of displacement, colonial history, social-political issues and culture,
The impact of her upbringing and interests can be seen in much of Ola's work, including The Pink House, a short story in Naija Love Stories, and winner of the 2008 National Words Of Colour Competition. I was instantly drawn into this story, told from the viewpoint of a young girl living on the 'decent' side of the street (according to her parents), who is curious about the pink house opposite her home and the variable numbers of women living in it.
The Pink House (excerpt):
The next and last person I saw cry in that house was The Jackson Girl. My parents had gone to a party and my aunt was looking after my baby brother upstairs, so I had the freedom to sit on our veranda and enjoy the cool early evening air. Several cars were parked outside the pink house and people were coming and going as usual. James Brown blared from the loudspeakers and the women were buying peppered chicken, soft drinks and beer from the street traders who set up their wares every night. I saw a car draw up and three people get out and walk towards the house – a man and a woman of about my parents' age dressed in traditional clothes and a younger man wearing shirt and trousers. They had to be visitors because I had never seen them before.
The young man knocked on the big, red door. One of the women came to open the door and the visitors pushed past her and went in. Then I heard shouting and screaming. Some of the men in the place rushed out, got into their cars and drove off. One was putting on his trousers. I saw The Jackson Girl run out of the house into the street screaming, pursued by the younger man who was carrying a big stick.
A woman stood outside the house shouting. "Prostitutes! You lot have corrupted my child. She was a good girl before she came to Lagos! If the police don't come and shut this den of iniquity down I will burn it to the ground myself! This place is worse than Sodom and Gomorrah!"
There was a crowd of petty traders, self-righteous housewives and jobless youths forming in front of the house.  The more educated peered through their curtains and shook their heads. I could sense this was going to be better than TV. The older man was holding the younger man with a stick, preventing him from going to The Jackson Girl who stood at a safe distance, hands folded across her chest.
"Leave me alone old man!" the young man cried. "I paid bride price on her head and a week after the engagement she runs to Lagos to sell herself! What about the money I paid for her to learn dressmaking? What about the money I gave your family for her dowry eh?"
"I am sorry.  Please, see my white hairs on my head and pity me. I'm not too proud to kneel before you. You are like my son. Forgive her and take her back." The old man sounded forlorn.
"Forgive?! How can you expect me to take back a woman that has probably slept with half of Lagos?  Everyone back home is laughing at me already. Do you think my family can survive any further shame?"
The crowd cheered and supported him.
"Yes Sah! Get your money back from the wicked girl!" someone yelled.
"Such a disgrace to her family!" a woman cried.
"She deserves to be stripped naked and made to walk down the street," suggested one man earnestly.
"Burn the evil place down!" a housewife shouted, rallying the crowd.
The Jackson Girl had stopped crying and was now laughing. "Hypocrites! If you were looking after your men do you think they would be coming to us?"
The crowd quietened and seeing that she had caught their attention, she became bolder. "As for him …," she pointed to the young man, "I came to Lagos after I found out he was sleeping with my best friend. I said to myself he likes her because she has pressed her hair, speaks better English and wears nice clothes.  I deserve better than a liar who would betray me with such a woman.  At least now I get paid for betrayal." She jeered and hissed at him.
Just as I thought the young man was going to chase after her again I felt a sharp slap on my shoulder. I turned around to see my aunt standing in front of me with her arms crossed.
"Get inside. NOW! If your mother…," She pulled me inside and sent me off to bed. I was annoyed at missing the rest of what had happened. When she came up a long time later to check on us, I had just one question.
"What does prostitute mean?"
'Go to sleep' was apparently the answer.
I tried again. "So, what happened outside?" I could not see my aunt's face because the light was dim.
Her voice was laced with a hint of finality. "The police came but they were too late. Now go to bed."
(c) Ola Awonubi, 2008
*****
Part of Ola's talent is her straightforward approach to dealing with sensitive topics, including domestic violence and emotional abuse.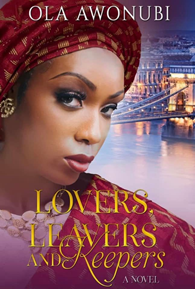 These issues and more are deftly handled in her most recent novel, Lovers, Leavers And Keepers, which follows the story of Lola, a woman in a toxic relationship with her husband Tunde.
Lovers, Leavers And Keepers (excerpt):
A week later something happened that put things in a different perspective for her. They were driving back from some party of one of the many ambassadors that her husband was friends with. She was bored with all these parties but when he was in the mood to dress her up to play the dutiful Bambi-eyed and happy wifey, he would drag her along to play her part. Tonight, he had insisted she wear a sleek, emerald green catsuit with matching costume jewellery he had got her on a recent trip to New York. Her hair lay sleekly on her shoulders. Thank God for foundation, she thought to herself as she stared out the window. When applied in the right amount, it covered tears, wrinkles, pimples, bruises, cuts and the usual expressions of regret, pain and disappointment. She felt it was essential for unhappily married women like herself when they had to put on their 'going out' mask and bright crimson lipstick.
Her husband was on his phone talking to a client. She was glad she didn't have to force herself to make small talk. They ate together, argued together, slept together and went to parties together but rarely talked. She had tried but he was seldom interested in anything she had to say about politics, what she had watched on TV or read in a book. He would just change the subject to what there was to eat or initiate a conversation that would lead to the bedroom – and he wouldn't take 'no' or 'I am tired' for an answer.
In the little time they had been married she had come to the conclusion that hers was not going to be a marriage of hearts and minds. The kind she had longed for. The kind he had led her to believe she might have with him. Tunde was like a well-executed political campaign; full of so much promise but empty when it came to actual delivery.
Suddenly, the car lurched forward, and they were both jolted out of their self-imposed silence. There was a group of policemen standing in front of the car, using their whips and sticks to gesture at them to park the car over to the side.
She stared at Tunde. "What's happening?"
"Don't mind them. The driver will sort it out." He nodded to Olu and pressed some notes into his hand. "They are probably looking for some bribe. This should sort them out."
She couldn't help noticing how the usual ebullient Olu was looking very reluctant about facing the police. "Oga abeg you fit follow me? When dey see you eh – dem no fit give me any wahala."
Tunde dismissed him with a flick of his hand. "Are you okay? That's what I pay you for, to sort out things like this."
Olu dragged himself out of the car and went over to the policemen and Lola saw them gesticulating, seeming deep in conversation.
Tunde, unconcerned, went back to his phone call so she picked up a magazine and began to flick through it. However, when the minutes began to tick by and Olu hadn't returned, she looked up and saw him on his knees receiving punches from the policemen. Lola grabbed her husband.
"Tunde, see what the police are doing to Olu!"
Tunde looked up and shook his head. "Didn't he give them the money I gave him? Maybe he was rude. I've told him before that you have to talk with wisdom to these people. Mi o raiye oro Olopa sin!"
Lola looked exasperated. "Aren't you going to go out there and talk to them? If not, you will have to drive yourself home today!"
To her surprise she saw on Tunde's face the same look she had seen in Olu's. Sheer, unadulterated fear of the police. He hesitated slightly and then she saw the usual swagger come back to him before he opened the door and walked over to meet the police, hitching his agbada over one shoulder as he did.
A few minutes later and he was back with a limping Olu whose eyes were bloodshot, his face lacerated with wounds. Tunde was back to his usual surly mood.
"O ni common sense ni? Why did you take that turning, eh? The officer said they were signalling for you to move to the left and you kept on as if you didn't see them. You know these people are crazy." He got in the driver's seat and Olu sat in the passenger seat without saying a word.
Lola reached into her handbag and handed Olu some tissue paper to clean the blood that was dripping from a cut on his cheek.
"Thank you, ma."
Lola went back to her magazine, but her mind was anywhere but its glossy pages. She was irritated and indignant but had learnt that it was easier to rein it all in. Her husband who was never shy of being physically abusive to her was hesitant when it came to him showing his macho side to other men. He was also fearful of the police roughing him up despite the fact that his status as a big man ought to be enough to incite deference and respect. They wouldn't dare touch him as that would mean roughing up their source of a few thousand naira – the inevitable bribe. He was okay to let them beat up Olu because he didn't want to face the same fate. He didn't even have guts to save his 'spy' and 'confidante'.
Today she had seen her husband for the coward he really was. A man who was only brave using his fists against the supposedly weaker sex but ready to cower behind his driver when the chips were down. She could never fear him again.
(c.) Ola Awonubi, 2021
You can explore Ola's full output at:  amazon.com/Ola-Awonubi/e/B0714H3H7Y
Visit her website: olanubi.com and follow Ola on Twitter: @createandwrite, Facebook: facebook.com/Olawritesfiction-250186395001192 and Instagram: @olaawonubi
*****
Issue 11 of Write On! Magazine is out now. See it here.
Write On! Audio Podcast Contributor Giveaway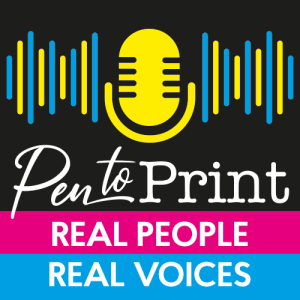 Get involved with Write On! Audio. As a contributor, you could win A Writer's Journal Workbook by Lucy van Smit. All Write On! Audio submissions (creative or opinion pieces up to six minutes, inspirational moments one to two mins – a short poem for example and why it inspires you – submitted before 20th February) will be considered eligible. The first two pieces chosen for broadcast will receive a book. Submit on: pentoprint.org/get-involved/submit-to-write-on/.
Visit anchor.fm/pentoprint to listen to the Write On! Podcast and get inspired.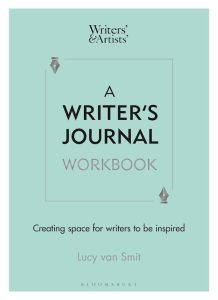 Published by Bloomsbury, A Writer's Journal Workbook is packed with creative tasks, goals and advice. As an added bonus, you can also purchase it directly with this special discount code: AWJW25
Part of Ola's talent is her straightforward approach to dealing with sensitive topics, including domestic violence and emotional abuse.