Friday Feature: Men Writing Romance
By Jean Fullerton
Men Writing Romance. Can they? Should they?
There's a commonly-held belief that, in general, men aren't as romantic as women. However, I would suggest that many of the lyrics written by the likes of Ed Sheeran would belie that argument.  I think men are just as romantic as women, but the difference lies in the way they express it.
In fact, there have been many successful male authors who have written romance. For example, Bill Spence wrote over 20 sagas as Jessica Blair and Roger Sanderson, under his wife's name of Gill Sanderson, was Mills & Boon's most prolific writer for the medical romance imprint. However, like many writers, they changed their names to fit the genre.
The acclaimed novelBirdsongby Sebastian Faulks was a romance andOne Dayby David Nicholls could easily stand alongside Jojo Moyes'Me Before Youas a bittersweet romance. And what is Vikram Seth'sA Suitable Boyif not a saga along the lines of Catherine Cookson'sThe Mallen Streak?  However, heads would roll in the publicity department of their respective publishing houses if they were labelled such in the press. Why is this? After all, many novels marketed and promoted as crime, historical and sci-fi have a romance running through them.
Much of it is to do with the outdated perception of what constitutes a romantic novel. Unfortunately, although it is a multi-million-pound genre, when the media discusses romantic novels, they fall back on using lazy phrases such as 'bodice rippers' and 'chick-lit'.
Romance is often criticised for being unrealistic and giving women a false image of the world. However, I would suggest more readers of all fiction genres have fallen in love than thwarted an international spy ring!
As the vast majority of writers of romantic fiction are women, this sneering attitude towards them implies their books are of lesser value, and is another reason why publishers bend over backwards to avoid having the romance label on their male authors' work.
I think it's worth pointing out that one of the main problems men have when writing romance is that they aren't women, and therefore crucially think and view the world differently.
While it's true that 20th-century readers of romance are everything from members of parliament to cleaners, as with readers of fiction, they are reading for escapism into another place and time. In that regard, they are no different from gamers who take on another identity in a virtual world. It's about the hope of what life and love could be.
Quite rightly, all authors strive to write something different each time they start a book, but all genres have unwritten rules. These are dictated by the reader's expectations: for example, in a crime novel, you expect there to be a robbery or murder, whereby the central character will  follow clues, overcome dangers to find out the truth and bring the perpetrator to justice. A sci-fi novel will have some alien threat, either of our own making or external, whereby the main character has to find the resolution – and so on and so forth with other genres.
Whatever century or location your romantic novel is set in, the heroine must be the central character. The action revolves around her and her hopes and dreams, and there must be a hero who proves himself worthy of her love. Although romance implies it's all about love, it would be a very dull book if it was just a diary of two people meeting and falling in love. However, the action and emotions must be played out with subtle encounters that support the growing feeling of both lead characters. Each scene must move the relationship towards them coming together at the end.
If you want to see this done successfully, look no further than Jane Austen's Pride and Prejudice, which is a classic romantic set-up. Mr Darcy isn't the archetypal romantic hero because he's tall, dark and handsome. No: he is the hero of many women's dreams because, through his love of Lizzy Bennet, he makes an emotional journey from pride to humility. In addition, for her sake and against his own interests, he acts decisively – and in secret so as not to curry favour – when her sister is seduced by Mr Wickham.
To write successfully for the romantic market, the author, whoever they are, has to understand romance readers and fulfil their expectations.
Although writing characters through a deeply emotional journey is challenging, because of the perception that romantic fiction is easy to write, some novice writers embark on writing a romantic story without having first read any!
Ninety-five per cent of romantic fiction across all sub-genres is bought by women. Therefore, if you want to break into this very lucrative market, start by getting to know what your readers expect from a romance novel.
While I've got your attention, can I tell you that, for unpublished authors who write romance, the Romantic Novelists' Association 2021 bursary scheme has just opened.  This offers writers in financial difficulties and writers from under-represented groups in publishing grants covering with the cost of RNA membership. To apply, follow the link: https://romanticnovelistsassociation.org/membership/#link_tab-1542203950809-3-6
Retired district nurse and university lecturer, Jean is a true cockney, born and bred in East London, where all 15 of her novels are set. Her first series was a mid-1800s family saga featuring the Nolan family. The second jumped forward a hundred years to post-war, pre-NHS district nurses Britain, featuring Millie Sullivan and Connie Byrne. Jean is currently writing the last book in her Ration Book Series, focussing on the boisterous Brogan family during the dark days of WW2. In addition, she leads writing workshops and is a regular guest speaker at WIs, U3As and on cruise ships.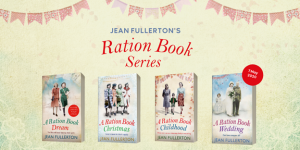 Website: http://jeanfullerton.com/
Facebook: https://www.facebook.com/Jean-Fullerton-202631736433230/?ref=bookmarks
A Ration Book Wedding: In the darkest days of the Blitz, love is more important than ever.
https://www.amazon.co.uk/gp/product/B081DDLWQD/ref=dbs_a_def_rwt_bibl_vppi_i1
*****
Read the latest issue of Write On! magazine online.
Our First Line Generator Competition Is Now Open. The best two 'first lines' submitted will win a copy of The Organised Writer by Antony Johnston.
I think men are just as romantic as women, but the difference lies in the way they express it.