Friday Feature: A Story From Sweden To Lighten A Serious Summer
by Kirsten Åkerman
It's been an unusual summer in this altogether different year. One that has been dense and incomprehensible in some ways, and feather-light and intuitive in others. What follows here is a light summer 'trifle' to amuse; certainly nothing for the deep thinker.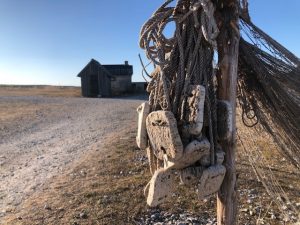 After a shaky start to the season, the island of Gotland, in the middle of the Baltic Sea, has started filling with people keen to spend their free time here. As we depend heavily on tourism, us locals are very grateful.
The restrictions on travel and gathering in groups over 50 people forced us to shut down most events, including this year's 'Almedalen Week'. This is an event with a history going back to the 60s when the then Prime Minister, Olof Palme, got up on the back of a lorry to give an inspiring speech. Since then, we have gathered: politicians, the business community, research and education institutions, NGOs and everyone else who has something to add to the public debate. Same week, same place, every summer. The cancellation of this event has had a huge impact on the economy. So naturally, when restrictions were eased we celebrated, letting tourists in smaller numbers find their way here again; corona-safety-style, of course.
As I pull in to the last parking spot behind the town mall, I reflect on this with a smile. It's wonderful that even in this time of unrest, people want to come to Gotland.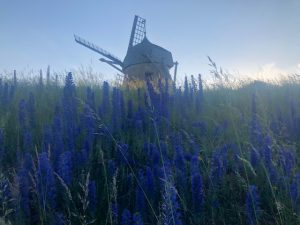 Something really valuable, in fact. For today, I'm just running a few quick errands in town and then whizzing back to my garden in Slite. There, my little world spins in slow motion around flowered butterfly bushes and leaky old toilets.
I smile at the 150-metre-long outdoor queue for Systemet, the place to buy beer and wine in our country and keep smiling when a woman screams at me, making corona-induced shooing motions when I try to help her with the things she has dropped on the floor at the department store. The smile even stays in place when one of the lenses drops out of my reading glasses and I have to hold it up like Professor Calculus in Tintin to find the right cat deworming agent at the pharmacy. However, even my resilient smile slides off when I get back to the parking lot.
The cause? In the distance, I see that I have received a parking ticket, the yellow note fluttering angrily in the August breeze; and this in a perfectly legal parking lot! What the f***? My 'being understanding and caring for democracy smile' changes to a Michael Douglas 'losing it'  face in half a second. I gallop towards the car, flip-flops barely hanging on to my feet, and tear open the door.
A man is sitting in the driver's seat, hiding behind a large hamburger. He looks up. He's very surprised, eyes round like the moon in March. An anxious drop of mayonnaise trembles at the corner of his moustache. I stare back. Inside my head, whoever is in charge of synapses makes a desperate attempt to ignite my thinking.  The man stutters: "What's happened?" He's looking scared now.
I realise this is not my car. My gaze flicks over the seat. I desperately try to find something – anything – to justify the fact I've just scared this fast-food munching Volvo XC70 owner half to death!
My "so sorries" come out too slow and my embarrassment makes them sound like a seagull's screech. Following this unwanted intrusion, I can't imagine he'll be coming back to our beautiful island any time soon.
I find my own car a few rows down and flip-flop my way to it, fumes of embarrassment wafting behind me in the summer breeze.
I'm an idiot, true. But a pretty happy one, at least;  grateful to be here trying my best in the summer of 2020.
Read the latest issue of Write On! magazine online.
ReadFest is going Digital this year. Check out our 2020 programme and book your FREE tickets online: https://pentoprint.org/readfest/
It's been an unusual summer in this altogether different year. One that has been dense and incomprehensible in some ways, and feather-light and intuitive in others.