Saturday Spotlight: Latest Book Releases w/c 12 September
by Claire Buss, Deputy Editor, Write On! 
At Write On! and Pen to Print we want to help connect authors and readers, so we've created a Spotlight page every Saturday, showcasing some of the exciting new reads available. The list has been curated by Lisa Rouiller and myself, based on books that you send us, so if you're an author and you'd like your book in the spotlight, reach out to Lisa at pentoprint@lbbd.gov.uk. Whether you're an indie author, with a small press or mainstream publisher, we'd love to hear from you and shine a light on your new novel.
Write On! offers other opportunities for writers as well. If you'd like us to feature an extract from your book or a short story, please send the extract, book cover and blurb to pentoprint@lbbd.gov.uk with the subject Write On! Showcase (ensuring you have your publisher's permission, of course).
Pen to Print are also looking for short videos from people reading a passage from their favourite book, or authors reading extracts from their own books. These videos will be featured on the Pen to Print YouTube channel and across our social media. Please send in your videos or links to pentoprint@lbbd.gov.uk with the subject 'Video Stories'.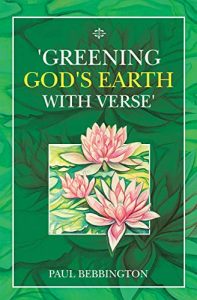 It's invaluable to relax and spend time with people of different generations. When it comes to our world's future, teenagers need to be challenged in different ways.
Poetry has helped me reminisce about favourite places and memories. In this selection, I have included three poems about Italy..
A recent painful season (bereavement of my mother) also focused me to compose Lotus Lily in her memory; a poem deeply emotive to me.
David (the Biblical king), found himself expressing many raw feelings to God, recalled for us in the book of Psalms, from which I have drawn much inspiration.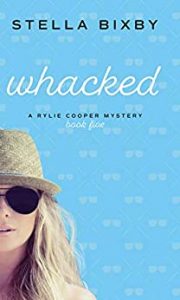 Rylie is staying out of it. No more investigating, no more drama, no more danger.
She has enough on her plate training the woman who completely upended her life.
But when someone is brutally attacked, Rylie is conflicted.
Surely, the police can handle the investigation. They have the experience, the training, the knowledge. And Rylie not only has a job to keep, but friends she doesn't want to let down… again.
Until she realises she may have been the target of the attack and the woman she's training—her nemesis—may have been the attacker.
Will Rylie be able to let the police handle the investigation, or will she put her own life at risk to bring the attacker to justice?
Available to buy here
Connect with Stella Bixby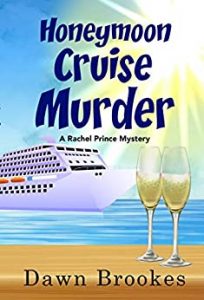 When Rachel Prince cruises it's no honeymoon!
With wedding plans up and down, Rachel and Carlos have finally managed to tie the knot and head off on a Mediterranean cruise. Their honeymoon spirals out of control when murder interrupts marital bliss and Carlos receives a mysterious phone call from an old flame.
Sarah is struggling to come to terms with the death of her cousin, while she and the medical team are battling with the abrasive new junior doctor who wants to make her mark.
Will Rachel find the killer and hold on to her new husband with chaos all around? Murder and mayhem are never far away when Rachel takes a cruise!
Available to buy here
Connect with Dawn Brookes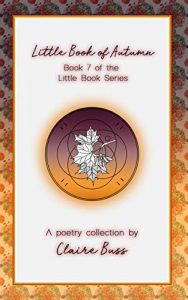 Autumn is a poetic marvel.
All the beautiful colour changes, the weather morphing from summer to winter and a sense of an ending approaching. Join Claire Buss on this seasonal journey through pumpkin spice and crunchy leaves, hibernating hedgehogs and hot chocolate by the bonfire.
Take a moment to appreciate the warmth of fall with this collection of 25 autumnal poems.
Little Book Of Autumn is the seventh poetry collection in the Little Book Series.
Available to buy here
Connect with Claire Buss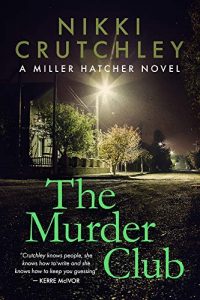 A dead body. An anonymous letter. This is only the beginning.
Not all evil, on the surface, is ugly and menacing. It doesn't always lurk in city centres after dark. It mows your lawns, frequents your local pub, takes its kids to school and contributes to communities.
When the first letter arrives saying Tonight it begins, journalist Miller Hatcher ignores it. But then the body of a murdered woman is discovered, strangled, a scarf around her neck.
Cassie Hughes has always vowed to find the man who murdered her mother. She knows he's out there and wants him to pay, and Miller agrees to bring the cold case back into the public eye.
Ever since his sister was murdered 30 years ago, Logan Dodds has been obsessed with true crime. He has turned his obsession into a career and has created the 'True Crime Enthusiasts Club' and his newest venture, 'True Crime Tours'.
The lives of Miller, Cassie and Logan – all affected differently by murder – become entwined as 'The Scarf Killer', desperate for infamy and Miller's attention, makes his mark on the small town of Lentford.
Available to buy here
Connect with Nikki Crutchley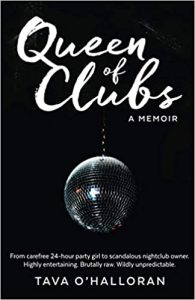 A white-knuckled, true tale of a girl versus the Universe. Heady secrets of her self-made mini-empire of nightclubs, kaleidoscopic drug addiction and the quest for Hollywood-f*cking-amazing-love.
Queen of Clubs spans an electric thirteen-year period, set in the heart of East London when the most sensible in the city are sleeping. Step into the secretive and dark world of clubland and the humorous journey from a carefree 24-hour party girl to an accidental nightclub entrepreneur. Smashing the glass ceiling in a male-dominated industry, creating subcultural waves – hurtling through the giddy, glittering highs of success – rapidly expanding to three award-winning nightclubs. Fighting through gritty 'knee-grazing' lows, down into the seedier depths of the night, a large scale theft ring, international fraud, drugs, police corruption. A David-and-Goliath legal battle with a billion-dollar corporation, a multi-millionaire property developer, and the ultimate deceit of the century.
Intertwined with a roaring cocaine addiction and a once-in-a-lifetime love affair.
What happens to a girl who builds her life around the night?
Remember, if you're an author and you'd like to see your book in our Saturday Spotlight, email: pentoprint@lbbd.gov.uk and send us the details of your new novel. 
Further Links

For details of Penguin RandomHouse new releases, visit their website here.
For details of Hachette new releases, visit their website here.
For details of HarperCollins new releases, visit their website here.
For details of PanMacmillan new releases, visit their website here.
For details of Simon & Schuster new releases, visit their website here.
Disclaimer: Amazon links are given for ease but please remember there are a number of other online retailers operating, including hive (which helps to support independent book shops), Kobo, Apple Books, Google Play and Nook as well as online stores for bookstores like Waterstones, Barnes & Noble and WHSmiths. Given the current situation, though, please check first.
Read the latest issue of Write On! magazine online here
ReadFest is going Digital this year. Check out our 2020 programme and book your FREE tickets online: https://pentoprint.org/readfest/
We want to help connect authors and readers, so we've decided to create a spotlight page every Saturday, showcasing some of the exciting new reads available.