Thursday Connectors: The Resolve To Be Resilient
by Farzana Hakim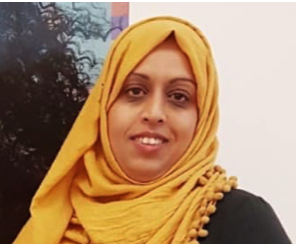 Hi, all. It's Farzana, with another interesting and thought-provoking 'Thursday Connectors'. This week, we're exploring our resilient natures. Continuing on from my article a fortnight back, the idea of 'Resilience' is certainly relevant where the 'Gender Agenda' is concerned. I'll therefore be expanding upon the women's perspective.
To do so, I'll be connecting with Salamah, a poet from Nigeria, who shares a short piece with us from her collection of poetry. I'll also be connecting with Claire Buss, from Southend, our Deputy Editor, who is much closer to home. She's written a beautiful tribute to her mother's resilience. Finally, we'll be taking a journey to Iraq with an extract from our Editor Madeleine's interview with Suaad Allami: human rights lawyer and recipient of the UN's 'Women Of Courage' award.  (This was originally published in Nina Magazine.)
*****
It's a jam-packed week, so let's head straight to Nigeria for some great poetry.
Hi, Salamah. Let's connect:
DON'T CALL ME A WRITER
Even though I write and talk
Don't call me a writer or a speaker
And even though you find me trustworthy
Don't call me a friend
Cause my whole being
Is a mass of contradicting angles and ideas
And my halo mind itself
Is a complete antithesis
Pray! read what I write
For the pen I possess
Is filled with a golden ink that fades
Each line being erased as soon as it comes
Listen when I talk
For my stutters, hiccups and stammers
Are like the "meows" of a strangled tiger
Defeated yet desperate to survive
And believe when I trust
For my trust is like the soft wind
Invisible and ephemeral
But real nevertheless
So, until I find my ethereal form
Until I secure a safe space
Until I know my name
Don't call me a writer!
(C) Salamah Jimoh Mopelola, 2020
Thank you, Salamah, that was a super poem! You can connect with Salamah on Facebook and Instagram: @salamah_jimoh.
*****
If somebody were to ask me who is the most resilient person I know, without a shadow of a doubt, I'd say my mum. And, I'm sure if anyone were to ask my young adult sons this question, they would, in turn, say I am the most resilient person they know. I'm not just saying this for the sake of this article; it's the absolute truth. Now in her mid-sixties, my mum is the strongest person I know. Over the years, she's suffered so much heartbreak, bereavement and grief. It's hard to imagine how she coped with it all. Yet, there was never a day when my siblings and I went without food and every day, our clothes were washed and ironed. Neither did we ever take a day off school. Even now, when I turn up at her doorstep unannounced (and I often do!), Mum will have a fresh meal and a huge bubble of pampering and warmth ready for me. She truly is the best mum.
As for me, where do I even begin? Since the age of 23, I've undergone regular major surgery. In fact, it has marked every decade of my life. This ordeal leaves me severely traumatised; for months – years, even. A rare autoimmune disorder has lead to these daily health struggles. However, even though it has left me weaker physically,  on the inside, my levels of resilience have soared to ever greater heights.
Us mums are made from the toughest of materials. How do we even manage to do so much? Over the course of our lives, we juggle our homes, our children, husbands or partners and our families, as well as social pressures and upheavals brought to bear by the communities we belong to. Set this alongside our ever-changing bodies and health and we find truly extraordinary resilience. The Queen ought to call us around to hers for an evening and hand us all MBEs! Seriously, us mums are soldiers.
*****
This is the perfect time to connect with Claire Buss, who tells us why her mum is her hero and the epitome of resilience.
Hi, Claire. Let's connect:
Rock Solid
When I think of resilience, the first person that comes to mind is my mum. In my opinion, there isn't a stronger person in the world and it may be a cliche to say it, but when I'm struggling, my mum is the person who pushes me forward. We're British, so we handle the stiff upper lip well. We don't talk about our feelings and we're certainly not big huggers. Indeed, "I'm fine" is the standard response. The last thing I want to do is burden her with my problems. But what makes my mum, out of all the other people I know, the embodiment of resilience?
When I became a new mum, I was absolutely paralysed by the fear that my little boy would die, because that is what happened to both my brothers when they were babies. I was only two-years-old at the time, so I couldn't really give my mum the emotional support she needed. But, she often says that she probably wouldn't be here if I hadn't been there. I take comfort from that. Now, with two healthy children of my own, I can't imagine the pain, the loss, the unbearable despair of losing one of my children, let alone two. These days, I can only marvel at her strength in carrying on. One day at a time.
This, in itself, could be resilience enough. However, my mum's strength doesn't stop there. At six-foot-one, with dark brown hair, Mum stood out in the crowd. You could always find her. She was a nurse and, later in her career, was training to be a midwife, a dream she'd long held. A simple house call, though, totally transformed her life. My mum fell down the stairs and broke her leg. It happened to be the leg she'd had a knee replacement for in her twenties. It was utterly trashed. Surgery after infection after surgery after infection followed: ultimately resulting in the loss of one of Mum's legs and a near-death experience. But this didn't stop her. She refocused her life, learnt to walk with crutches and one leg. Remained fiercely independent. Resilient.
The universe it seemed, though, wasn't finished testing Mum's mettle. Further complications arose and a deadly infection grew in the remaining leg until there was no choice but to remove that one as well. No legs meant my proud, tall mum was now forever confined to a wheelchair. That could have been the end of hope, but it wasn't. She re-learned to drive a converted van, so is now completely independent and able to do her own shopping. She even drives to visit me, a near-400-mile round trip. She bakes, cooks, takes her dog for a walk, knits and goes to a knitting club, gardens, plays the piano and regularly looks after her grandkids, even doing the school run. Nothing stops her. She is pure willpower and drive. She is awesome. She's my mum.
Connect with Claire at: clairebuss.co.uk and on Twitter: @grashopper2407.
*****
Oh, Claire, what a great tribute this piece is for your mum. Good on her! I wish her all the best of health and I hope her resolve to be resilient never wavers.
And now from one resilient woman to another. For the first time on my page, I'm extracting snippets from an interview I recently read. A few years ago, Madeleine White spoke with Suaad Allami, a human rights lawyer in Iraq, who received the 'Women Of Courage' award from Hillary Clinton and Michelle Obama in 2009. What struck me while I was reading the interview, was that a lot of what Suaad was talking about related to things I've come across here in London. For example, her mother's influence: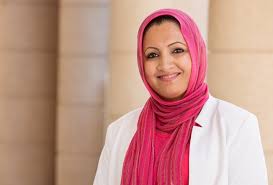 " You ask about my mother and her influence on me. As you know she was illiterate, as indeed was my father. My mother, though, was very strong in her views about what this meant to her. She always told me not to be like a blind person. That's what it meant to her to be uneducated. Both my parents were illiterate and both were determined my three sisters and I should have a good education.
As I got older, I recognised that, even though my parents were blind in one way, their values were incredibly strong. These values and morals underpinned our education because they gave us the understanding of what vision means. Their desire to help us 'see' everything, contextualised our education in a way that inspired greater depth. Their ambition for us reached beyond the academic into the human. This shaped my learning and my work."
This on leadership:
"All women leaders I have met can't become true leaders without the support of their family."
We discuss this statement. Why women leaders in particular; surely this is all leaders?
" I am isolated much of the time, making decisions that can have far-reaching consequences with little support at the fundamental, strategic level. Added to this, often my achievements go unrecognised; the little ones, my day-to-day successes. My parents and my sisters fill this void. My mum is more proud of my achievements than I am! This pride is a mirror to me, giving me strength, even when I feel I have nothing left to give. I also continue to learn from them. I do think social norms mean that women leaders feel more alone than their male counterparts. This is why family support is particularly important to us. We women still need to learn to be more supportive of each other also; especially in leadership roles."
This next bit was another part of the interview I could relate to. Suaad speaks about the power of a good education, contextualising it as a tool for women:
"Formal education is the only way out for women. Maybe 'escape' is an even better word.  I live in Sadr City, a suburb of Baghdad and one of the poorest tribal areas of Iraq. It is taboo for women to go and work. So women are trapped by circumstances in vicious circles of domestic violence – they cannot leave; where else would they go? They are trapped by the fact they have no knowledge or understanding of the world beyond their four walls.
Added to this, for an estimated 1.6 million widows in Iraq – not to mention the numbers of divorcees – the picture is even bleaker. Widows have no social status and, if they have no means to support themselves, they can end up starving. It is the same for women who are divorced. If she is alone, maybe returning to her family, the woman has no idea of how to access information and help that might be able to change her situation.
If a woman has no capacity to make money, she has no security. Even if she is married, her husband will value her less, she will be less willing to speak up for herself. So, I say again; education is power for women. Without education I am trapped, I stay at home. This does not just hold true for Iraq. I believe it is a consideration for the entire region."
The next snippets are about the resilience that comes naturally to women in Iraq, after being destroyed by war, poverty and domestic violence:
"I need to work with women who are trapped in the house for reasons of culture and confidence – but then, I also need to ensure that I am able to provide the backing and support they need when they are able to make that move out. When I started in 2007, I had a very clear idea of wanting to work towards a strong civil society by providing legal aid for women. However, as you start unpicking one thing, another ten emerge!
Other than achieving my initial goal, therefore, the thing I am most proud of is that I have helped give those without a voice a way of expressing themselves. We have started breaking the silence of women. Access to rights and justice give the women we work with confidence. This then leads to a virtuous circle, with many of our beneficiaries finding work and opportunities in the long term which, of course, supports Iraq as a nation."
I'm sure you enjoyed these snippets and if, like me, you're interested in women's empowerment, you can read the full interview by clicking on this link:  https://www.iraq-businessnews.com/2014/07/21/suaad-allami-a-vital-voice-of-leadership-for-iraq/
*****
That's it for today. I hope you found our resilience stories interesting!  See you again soon for some more important 'Connectors'. In the meantime, take care and keep well.
Click here to read Issue 5 of Write On! Magazine.
ReadFest is going Digital this year. Check out our 2020 programme and book your FREE tickets online: https://pentoprint.org/readfest/
Nothing stops her. She is pure willpower and drive. She is awesome. She's my mum.