Friday Features: What A ReadFest!
By Lena Smith and Lisa Rouiller
Alongside the publication of our TENTH issue of Write On! Magazine on 15 September, Online ReadFest 202, was held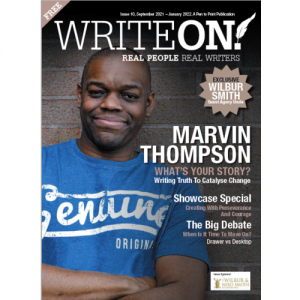 between 6 and 24 September. Our TENTH Barking & Dagenham book festival, ReadFest is our celebration of literature, normally held in our local libraries. This year's ReadFest remained an online festival, as so many others have been this year. Online ReadFest 2021 reached audiences and guests from across the world, with local and self-published authors, industry experts and guest speakers sharing their experiences, knowledge and creativeness with our communities.
Seeing our regular participants along with audiences joining us for the first time, gaining new skills, growing in confidence and enjoying the free workshops and performances, we can reflect fondly on a memorable ReadFest Anniversary for years to come!
A real treat, local 'Girl' Maria Ferguson launched the festival with a reading of her, soo- to-be released material. Sonia Quintero partnered with the East End Women's Museum to create poetry. Later that day, Lucinda Hawksley spoke about three powerful women artists from the 19th Century. Silé Edwards gave an insight to working in publishing, with advice and tips on different roles in the industry.
ReadFest was delighted that our Pen to Print poetry class lead, Anna Robinson, launched her third poetry collection. Sharing the digital platform with poets from her regular Advanced Class of 2020-21, each read from their own, recently published, poetry pamphlets. All supported by Pen to Print!
Jaspreet Kaur and Rahat Ismail shared their sensitive and inspirational stories about overcoming the challenges they have encountered as women of colour; opening a window onto their own activism, whilst sharing their personal journeys.
With a successful Write On! day held at ReadFest 2020, two whole days were included in 2021's programme, with eight workshops hosted by Write On! volunteers along with industry experts. Write On! Editor, Madeleine, kicked off the events with an Introduction To Write On! publications. Following on from this was a taster of Short Story Writing, an Insight To The Editing world, and three authors sharing their different Publishing And Writing Journeys. The second day featured an informative talk on What To Include in a Funding Bid and how to Manage Your Money as an independent writer. Followed by Slow Selfie Art: quick-timed self-illustration. Then we had a powerful conversation about The Authentic Voice, rounding off with how the pandemic changed the Perspective Of Audio And Broadcasting. An amazing way to showcase our writing magazine and highlighting the talented voices behind the scenes.
Focusing the following week on an 'International' theme, our partners, Love Letters To The World started their third season of A Year In Postcards, a successful poetry project being held throughout 2021.
An Online ReadFest 2021 highlight must be Lemn Sissay OBE. Lemn joined us from Italy, mid-festival, with his acclaimed autobiography, My Name Is Why. Lemn was an absolute pleasure, captivating us with his poetry and reading from his book, which focusses on his difficult childhood growing up in the care system. Lemn answered lots of questions – too many to get through on the night! It was such an honour to welcome Lemn to be part of ReadFest, sharing his memoirs and we hope to welcome him back in the future.
Dina Begum spoke about her influences that led her to write The Brick Lane Cookbook and we look forward to working with Dina on an exciting Pen to Print project coming soon! Holly Watt was joined by Georgina Brown from the Wilbur & Niso Smith Foundation who discussed the nature of International Storytelling and setting authenticity in novels. Lucy Popescu joined us with an author panel featuring Martina Evans, Claire Adam and Siya Turabi to share the experiences that influenced them to write their novels, set around the world. The talk was left on a cliff-hanger – on the right to write with an authentic voice – which we hope to return to in an event next year, so join us then for a lively debate!
Starting the final week of writing workshops, Patrice Lawrence OBE made everyone hungry, encouraging participants to write about food and how this can be incorporated in your novel, for a whole two hours! We were glad we could turn off the camera and nibble on a snack whilst writing! One of our newest partnerships is with Alternative Stories, led by Chris Gregory, who hosted a workshop for anyone wanting to develop their first Audio Drama. Do check out details of the Audio Drama Competition on our website and our newly launched Write On! Audio podcast, created in partnership with Chris and Alternative Stories. We were also enthralled by the long-anticipated event with Scott Pack, who successfully published a book 'LIVE' on Amazon Kindle Direct Publishing (KDP)! It was a real-time step-by-step session and the Pen to Print team came away with lots of new hints and tips for formatting your book, pricing guides and information on international sales.
Inspired by Becontree Forever, the celebration of the 100th Anniversary of the Becontree Estate here in Dagenham, we invited Nick Barlay and Sarah Tinsley, who held Family History and Life Writing workshops. Most participants signed up for both workshops, as the two went hand in hand, encouraging participants to create memoirs, diaries and written accounts of their own lives. In partnership with Writers & Artists Yearbook, author William Ryan created a plan for a novel featuring fictional characters Lisa and Habib, plotting the novel in one and a half hours, with ideas coming from the participants. We are all looking forward to the next top ten bestsellers coming soon!  One of our most popular authors, Claire Buss, who started her journey with Pen to Print, began her series of workshops to help build confidence in self-publishing your book, which  leads us into October.
The Becontree estate is home to Pen to Print and we wanted to be part of the year-long celebrations. The estate was notable for being the largest social housing estate in Europe. It took over ten years to complete, and is the hometown of many celebrities, musicians, sportspeople and writers. So, for our traditional Readers Afternoon, we continued to celebrate Becontree Forever, inviting authors Sylvia Kent, Elaine Spires and Farzana Hakim, all well known for writing about east London, Dagenham and the Becontree Estate. Along with the audience, the panel shared their childhood stories and memories of our locality and spoke about how their experiences have fed into their writing.
Our new programme of free regular classes started during ReadFest and will continue throughout the year, encouraging new writers to take part in Beginners classes and those with more experience to join our Advanced classes in Poetry, Playwriting, Screenwriting, Comic Book Creation and, of course, Creative Writing.
Inviting guests we have worked with at previous festivals and at our regular events, whilst partnering with many new writers and experts, we are now planning ReadFest 2022! If you want to take part as a guest, or as an audience member, visit pentoprint.org/readfest to find out how. Meanwhile, to check out what other free opportunities Pen to Print and Barking & Dagenham Libraries have to offer, go to pentoprint.org and explore!
*****
Connect on Twitter with our ReadFest Participants:
Maria Ferguson @kerdonk
Sonia Quintero @Sonesquin
East End Women's Museum @EEWomensMuseum
Lucinda Hawksley @lucindahawksley
Silé Edwards @sileloquies
Jaspreet Kaur @behindthenetra
Rahat Ismail @010Rahat
Lemn Sissay @lemnsissay
Dina Begum @dinasfoodstory
Holly Watt  @holly_watt
Wilbur & Niso Smith Foundation @Wilbur_Niso_Fdn
Lucy Popescu @lucyjpop
Martina Evans @MartinaEvans6
Claire Adam @Claire_Trini
Patrice Lawrence @LawrencePatrice
Alternative Stories @StoriesAlt
Scott Pack @meandmybigmouth
Sarah Tinsley @sarahtinsleyuk
Writers & Artists @Writers_Artists
William Ryan @WilliamRyan_
Claire Buss @Grasshopper2407
Sylvia Kent @sylviaakent
Elaine Spires @ElaineSWriter
Farzana Hakim @farzanahakim
Pen to Print @Pen_to_Print
*****
Connect on Twitter with the Write On! team and their event guests:
Madeleine White @madeleinefwhite
Eithne Cullen @eithne_cullen
Claire Buckle @ClaireBuckle
Sue Moorcroft @SueMoorcroft
Howard Linskey @HowardLinskey
Juneha Chowdhury @JunehaChowdhury
Holly King @kinghols
Palak Tewary @palaktewary
Emma Dennis-Edwards @whatemmadidnext
Leo Ulph @WakeUpLeo
*****
Online ReadFest 2021 reached audiences and guests from across the world, with local and self-published authors, industry experts and guest speakers sharing their experiences, knowledge and creativeness with our communities.