Write On! Audio: Launching Today
Write On! Audio: Storytelling From East London To The World 
From today, an engaged, global Write On! readership can take part in a new kind of journey – that of listeners. The launch of Write On! Audio, the new podcast 'For Writers Everywhere' connects emerging and established writers to each other, the publishing industry and a wider audience in an audio celebration of diversity, originality and excellence!
Created in partnership with the award-winning Alternative Stories podcast, Write On! Audio gives listeners the opportunities to come together as a creative community. With interviews, readings, advice and industry insights,  this new audio experience offers both immediacy and accessibility.
Our pilot podcast features an interview with the poet Jenny Wong, some 'how to' tips with reference to recording poetry, as well as the mechanics of how to best record yourself. You can also enjoy a couple of fabulous poems and meet our page editors. Quite enough, in fact, to give you a flavour of what is to come!
Each new podcast will be aired towards the end of the calendar month, allowing us to share material that has been featured in Write On! Extra, while also looking forward to showcasing up-and-coming ideas and events that might interest you.
We'll be actively looking for new contributors to our podcast, with a Listeners Contributor Slot open for submissions. Please follow our submission guidelines, ensuring that any recorded material is sent to pentoprint@lbbd.gov.uk by 10th of each month. (For more information on our themes etc see the Editor's Introduction, and you can find the T&Cs here.)  If you have an idea you and want to check with us before sending, please do so! Just email us in plenty of time, making your request to Write On! Audio submissions. Please do also get in touch to us to let us know what you think about this pilot episode. We'd love to hear from you. It will help us shape Write On! Audio into a firm podcast favourite for writers.
Looking forward to October's edition, artist and writer Iesha Denise will be reflecting on Black History Month as our first 'Listener Contributor.' We'll also be offering some content from Holly King's Monday Moments page. Other content will include an extract from a chat with Ben Aaronovitch and more poetry and short stories. We'll also be bringing you listener tips and advice.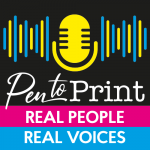 You can find us on all major podcast platforms including Apple Podcasts, Google Podcasts, Spotify, Stitcher, Podchaser and many more. Just type pen to print into your browser and look for our logo. Alternatively, find us via our Anchor FM hosting site, which links you to our content on a variety of podcast platforms.