In the first of our 'As A…' series, Lynda Shepherd interviews crime writer Ian Ayris.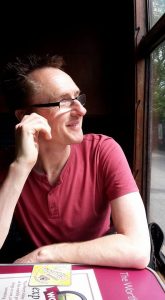 No stranger to Pen to Print, Ian has been a mentor to Book Challengers, as well as running a series of writing workshops for budding writers. He was born in Dagenham, Essex, having spent most of his childhood more interested in kicking a tennis ball about the school playground with his mates than actually learning anything, he managed to leave the public education system with two O' Levels and a handful of C.S.E.'s. And a love of writing.  
Ian's love of writing resurfaced late in his thirties, in the guise of short stories. He has since had approximately fifty short stories published both in print and online.  
He is the author of three novels (The John Sissons Trilogy) and a novella (One Day in the Life of Jason Dean).  
Ian lives in Romford and is a lifelong Dagenham & Redbridge supporter.  
LS: How would you describe your writing to someone new to it? 
IA: Readers have described my writing as authentic, raw, funny, unafraid and emotional. I would describe my writing as the words spoken by the characters that live inside my head. All I do is write them down. 
LS: Can you tell us a bit about your latest book, Everybody Hurts? 
IA: Everybody Hurts (Fahrenheit Press, 2019) is the final book in the John Sissons Trilogy – the other two books being Abide With Me (Fahrenheit Press, 2019) and April Skies (Fahrenheit Press, 2019). These novels follow the life of John Sissons – an East End lad obsessed with West Ham, deeply immersed in the culture of his area – and his attempts to make sense of the world around him. 
LS: What inspired you to write in the first place, and what inspires you now? 
IA: I wrote my first short story at the age of forty-one, without any intention to write another. I have been very fortunate over the last nine years to have had approximately fifty short stories published, three novels and a novella. I write now purely as a way of making sense of myself. And I guess the fact my writings seem to strike a chord with readers is something that inspires me to continue my quest to understand myself. Something like that, anyway. 
LS: The current issue of Write On! explores the theme of "Roots on Routes", can you tell us a bit about your background as a writer and how you got published?  
IA: When I wrote my first short story I had no intention of writing any more. That short story was seen online by a publisher who said he would like to publish it. He asked me if I had written anything else. I said no. He said write something else. So I did. I wrote three more, and he published all of those. I then thought I'd try my hand at a novel. Unsure how to go about it – having no formal writing training whatsoever – I just started writing a chapter at a time, having no idea at the end of each chapter what the next one would be about. For some advice, I was sending each completed chapter to a great writing mate of mine – Nick Quantrill. What I didn't realise was Nick was forwarding each chapter I sent him onto his publisher – Caffeine Nights. Some months later, the book completed, together with a new title – Abide With Me (thanks to my friend, Sue), I received an email from Darren Laws at Caffeine Nights asking me if he could publish Abide With Me in paperback, Kindle and audiobook. 
And that, by total accident, was how my first novel was published. 
LS: What one piece of advice would you give an aspiring writer? 
IA: The one piece of advice I give aspiring writers, coming from my own experience, is never write with publication as your sole intention. Write, submit – if you want – then let it go. It will land where it will. Now go and write something else. 
LS: Can you tell us anything about future projects? 
IA: The Pen to Print Book Challenge mentoring is taking all my time up at the moment, but with a clear schedule next year, I'm hope to knock out at least one novel, a novella, plus a load of short stories. Having been editing solid for almost a year, I can feel all those little people inside my head just itching to get a word in. There's been a scuffle or two, as well, so I reckon the quicker I get to it the better. What might come out, I have absolutely no idea. But that's half the fun of it, eh. 
LS: Lastly, if you could choose one fictional animal/creature to be a pet or companion, who would it be and why? 
IA: I thought of Winnie the Pooh – thinking we could just sit for a while and talk about honey, then sit some more. But I think he'd get on my nerves after a few days. Dobby would too, as would Frodo. I would definitely end up chucking Benjamin Bunny in a Tesco bag and throwing him off a bridge. I'm thinking the one I would settle down best with is Buck from Jack London's 'The Call of the Wild'. I love that book.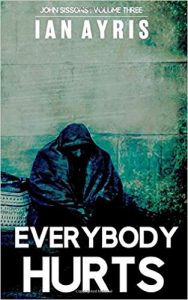 You can find out more about Ian and his books on his website ianayris.org or connect with him on Twitter @ianayris.  
Everybody Hurts and the rest of The John Sissons Trilogy are available to buy direct from Farenheit Press and Amazon.
Lynda Shepherd is a short fiction and non fiction writer. If you would like to follow her work, contact her via Twitter @loneshepherdess 
Write, submit – if you want – then let it go. It will land where it will. Now go and write something else.