Saturday Spotlight: Latest Book Releases
Introduced by Claire Buss, Deputy Editor, Write On! 
The printing press may be on hiatus but that doesn't mean writers stop writing or readers stop reading. Digital and audio downloads are growing ever more popular as an insatiable global appetite for a good story manifests itself. At Write On! and Pen to Print we want to help connect authors and readers, so we've decided to create a spotlight page every Saturday, showcasing some of the exciting new reads available. The list has been curated by Lisa Rouiller and myself, based on books that you send us, so if you're an author and you'd like your book in the spotlight, reach out to Lisa at pentoprint@lbbd.gov.uk. Whether you're an indie author, with a small press or mainstream publisher, we'd love to hear from you and shine a light on your new novel.
Write On! offers other opportunities for writers as well. If you'd like us to feature an extract from your book or a short story, please send the extract, book cover and blurb to pentoprint@lbbd.gov.uk with the subject Write On! Showcase (ensuring you have your publisher's permission, of course).
Pen to Print are looking for short videos from people reading a passage from their favourite book or authors reading extracts from their own books. These videos will be featured on the Pen to Print YouTube channel and across our social media. Please send in your videos or links to pentoprint@lbbd.gov.uk with the subject Video Stories.
For the first time ever, all 3 books in Ian Ayris' stunning John Sissons trilogy in one stunning volume. Weighing in at a mighty 560 pages and with a new introduction by the author, this beautiful volume is definitely one to treasure.
Abide With Me
1975. Eight year old John Sissons watches his beloved West Ham win the FA cup just as his friend Kenny tumbles out the front door of the house opposite, blood all over his face. Fourteen years later, we find both boys, their childhoods ripped apart by the unforgiving streets of London's East End, in a showdown with local gangster Ronnie Swordfish. The stakes couldn't be higher and the decisions they make might just cast a shadow over their lives forever.
April Skies
1991. John Sissons is a young man struggling to emerge from a violent past that threatens him and those he cares about. Every fibre in his body is telling him to run. But John has had a lifetime of running. Running is no longer an option. His past is exploding in front of his eyes. He'll be lucky if he makes it out alive but he won't be going down without a fight. Not this time.
Everybody Hurts
The last few years have been tough ones for John Sissons and in this 3rd book of the series he's struggling under the emotional weight. Even as he does his best to keep his head above water and deal with the everyday pressures of life, he's forced to revisit the events of his past and emotional repercussions which never seem too far from the surface. With his parents gone, his relationship in difficulty and his job hanging by a thread, John must rely on the love and support of those closest to him to steer himself back from a dangerous place.
Available to buy here
Connect with Ian Ayris
The Gaia Collection is the complete trilogy of all three hopeful dystopian, climate-fiction Gaia books together in one volume.
The books are set 200 years in the future. Most of the planet and the human race have been decimated during The Event when the world went to war with high-energy radiation weapons. Those who are left live in isolated cities across the globe, thinking themselves safe and secure from threat.
In The Gaia Effect, Kira and Jed Jenkins – a young couple who were recently allocated a child – together with their closest friends, discover Corporation have been deliberately lying to them and forcing them to remain sterile. With help from Gaia, the spirit of the Earth, the group of friends begin to fight back against Corporation, eventually winning and taking over the governance of City 42.
In The Gaia Project, Corporation fight back under a new, more terrifying organization called New Corp and Kira, Jed and their friends end up fleeing for their lives, trying to find a safe place to live. They travel to City 36 and City 9 in vain and must go further afield.
In the final book, The Gaia Solution, the main characters have ended up with the Resistance and not only do they have to deal with surviving against New Corp, but an extinction environmental event is looming on the horizon and they're running out of time to save what's left of the human race.
Available to buy here
Connect with Claire Buss
Some people say to never trust a spy. Aboard Hydra Station, Halazar wakes up to the news of the death of her commanding officer. The Manderian militia appoints her to unmask who's responsible. As if the investigation wasn't going to be hard enough already, she's been saddled with an agent from the secret service, who has complete authority over the investigation. A suspect disappears along with his family. Innocent lives are at stake, and Halazar must choose between duty and justice. A dangerous murder. A scientific discovery that may change the course of history. A woman in a glass tank with no memory. Three parallel destinies entwine in a war-raging galaxy.
Available to buy here
Connect with Keyla Damaer
Rebecca Crow's four-year-old son is dead, and her husband is missing.
Divers find her husband's car at the bottom of a canal with their son's small, lifeless body inside. The police have no suspects and nothing to go on but a passing mention of a man driving a van. Guilt and grief cloud Rebecca's thoughts as she stumbles towards her only mission: Revenge.
James Porter knows exactly what happened to them, but he'll do anything to keep it a secret.
James didn't plan to kill Rebecca's son, but he's not too broken up about it, either. There are more important things for him to worry about. He needs money, and his increasing appetite for murder is catching the attention of a nosy detective.
Available to buy here
Connect with Holly Rae Garcia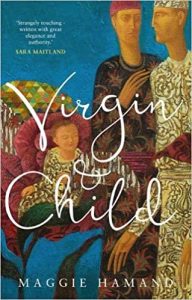 A genre-busting, gender-bending Vatican thriller. What happens when everything you know is thrown into doubt – and you're the Pope? The recently elected Irish Pope Patrick has plans for his future Church. Then he is attacked in St Peter's Square. Cardinals turn against him. Shocking revelations threaten his traditional status and his faith. In this novel, where nothing is as it seems, Catholicism and modern morality are held in tension. Pope Patrick has to face challenges and make choices he could never have imagined.
Signed copies available from the author at maggie.hamand@gmail.com
Ebooks available to buy here
WHO DO YOU TRUST IN A WORLD BUILT ON LIES?
Rebecca Dawson lives a life that many women want: married to wealthy, handsome businessman Jamie and new mum to beautiful daughter, Ella, she thinks nothing can burst her bubble. Until a series of sinister events leaves Rebecca convinced that she is being stalked. While her only priority is keeping Ella safe, Rebecca knows that this might be more than coincidence, and fears that her past is back to haunt her. Because somebody knows what she did. They are watching her, tormenting her and soon they are going to make her pay.
While she hides her past, Rebecca finds herself unable to trust anyone, not even her husband, Jamie. Because Jamie is keeping secrets too. Is Jamie gaslighting Rebecca into thinking she is going mad, in a bid to cover up his own sordid lies? Or is someone more sinister seeking their revenge?
Available to buy here
Connect with Casey Kelleher
The Pizzeria Vesuvio looks like any other Italian restaurant in London – with a few small differences. The chefs who make the pizza fiorentinas are Sri Lankan, and half the kitchen staff are illegal immigrants.
At the centre is Tuli, the restaurant's charismatic proprietor and resident Robin Hood, who promises to help anyone in need. Nineteen-year-old Nia, haunted by her troubled past in Wales, is running from her family. Shan, having fled the Sri Lankan civil war, is desperate to find his.
But when Tuli's guidance leads them all into dangerous territory, and the extent of his mysterious operation unravels, each is faced with an impossible moral choice.
In a world where the law is against you, how far would you be willing to lie for a chance to live?
Available to buy here
Connect with Nikita Lalwani
The future depends on reconnecting to our past…
"Mother of Floods transfixes. We lose ourselves in the characters' exceptional stories. Powerful and thought provoking, I was left wondering what could be. An internet with a soul, just imagine!"
Rabia Siddique is the best-selling author of Equal Justice: My Journey As A Woman, A Soldier And A Muslim
We are drawn from the current-day theme of digital overload and capitalist greed into a semi-fantasy world where everything becomes connected; the interaction of six women morphing into a natural-world story of the survival of mankind.
Does this mythical Age of Downfall offer new beginnings, or are we held by what was? In the vein of Coehlo, Mother of Floods taps into the courage within, propelling us past the end of the world as we know it into something new.
"The resonance and synchronicity of the messages in these unprecedented times is unbelievable." Goodreads
"A strong debut. Dense, intelligent and contains smart prose." Netgalley
Available to buy here
Connect with Madeleine White
Perverse is an eclectic collection of short, snatched memories and random ideas.'Perversity', is an obstinate urge or contrary behaviour; a wilful desire to not conform. That made me think. Life can sometimes be perverse: full of contradictions, disappointments, grief and sheer bloody-mindedness. But through it all, our sense of what is right and our submission to the rule of law, provides a counter balance that somehow gets us through. I hope you enjoy this collection of verse and prose: a pastiche of my life, a hope for better days, reflections on the good and bad times, a celebration of life and all its riches.
Available to buy here
Connect with Tim Walker
A drug-fuelled dark comedy based on true events. After being told she has one year to live, Flic and her three friends Javan, Len and Jenkies are on a mission to make 2018 the best year ever. One night, while experimenting with drugs, they witness a horrendous murder. Soon, hallucinations are their only hope of discovering the truth of what really happened that dreadful night.
Available to buy here
Connect with Isobel Wycherley
Remember, if you're an author and you'd like to see your book in our Saturday Spotlight, email pentoprint@lbbd.gov.uk and send us the details of your new novel. 
Further Links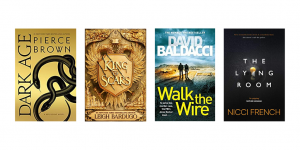 For details of Penguin RandomHouse new releases, visit their website here.
For details of Hachette new releases, visit their website here.
For details of HarperCollins new releases, visit their website here.
For details of PanMacmillan new releases, visit their website here.
For details of Simon & Schuster new releases, visit their website here.
Disclaimer: Amazon links are given for ease but please remember there are a number of other online retailers operating, including hive (which helps to support independent book shops), Kobo, Apple Books, Google Play and Nook as well as online stores for bookstores like Waterstones, Barnes & Noble and WHSmiths. Given the current situation though, please check first.
We want to help connect authors and readers so we've decided to create a spotlight page every Saturday showcasing some of the exciting new reads available