Monday Moments: Crossing The Veil
Introduced by Holly King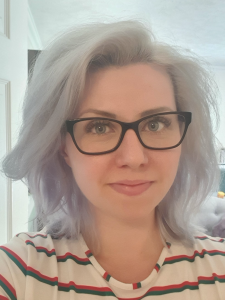 Boo! Welcome to a particularly scary Monday edition of Write On! Extra, as we lead up to Halloween. Although, haven't we had enough to be frightened of already this year?
Still, we're taking a detour from horrifying reality and moving towards the spooky fascination we have with the supernatural in this week's theme of 'Crossing The Veil'. Halloween is one of my favourite celebrations: it's the holiday that focuses most on stories, creativity, dressing up and having some fun.
When I was a child, I, of course, dressed up and went trick-or-treating (although it wasn't popular then, but has become a tradition in recent years). When I was a teenager, people would joke it was my holiday because I was known for being into things a little spooky, a little different, a little darker.
One of my favourite aspects of Halloween was watching The Halloween Tree on Cartoon Network. This wasn't only because Ray Bradbury himself narrated it, or that Leonard Nimoy voiced the character Mr Moundshroud; but because it taught me something. Oh no, I hear you say, not something educational? Yes, it was. It's based on our ignorance of what Hallows Eve means, and where the traditions come from. Moundshroud takes a group of children who are dressed up in iconic Halloween costumes (a mummy, a monster, a witch, a skeleton) to each of the places their costumes represent and explains why these costumes are representative of Halloween traditions.
For example, he takes them to ancient Egypt and shows them that Egyptians used to sit the mummified corpses of their dead relatives at the dinner table with their family, or leave food offerings out on the doorstep for their ghosts! Sounds a bit gory, but the sentiment is that the day is spent celebrating and remembering those who have passed, while being grateful we're still alive.
I think (particularly Western) culture has tried to banish death to the outskirts of our vision, where we can only imagine it happening to extremely old relatives who are dressed in white, lying in a crisp hospital bed and slowly letting the heart monitor beep less and less as they fade away into their final slumber from a sterile hospital room – not something that will happen to any of us for a long time. In reality, death is far closer, more visceral, and one of the only certainties in life. I don't think it should be feared, regardless of what you do or don't believe in afterwards. If we accept it as a fact of life, talk about it, even allow ourselves to think about it from time to time, then the terrifying veil will be removed and we will perhaps be less afraid, less anxious and fight less against what is ultimately inevitable. Perhaps we could even sit around the table at some point and reminisce, in a bittersweet way, about those who are no longer with us. Perhaps accepting death more would allow us to live more fully?
All we can do is try to learn from the past, take the best parts and replicate them, while becoming aware of what not to bring with us into tomorrow. Other than that, there's nothing wrong with trying to scare a loved one every now and again by jumping out of a wardrobe, or tapping on their bedroom door when they think they're alone in the house…
Speaking of the terrifying unknown, Halloween 2020 is looking pretty up in arms, isn't it? In our first feature, Lynda Shepherd asks the Write On! team about their traditions, and shares her own:
Halloween: Did You Know?
As we approach Halloween or All Hallows Eve 2020, I read something unexpected on social media. Cranham – the village I've called home for, er, shall we just say a number of years featuring a 'four' and another number I won't mention – was known in ancient times as 'Craohv'; meaning 'Spur of land inhabited by Crows'.
This led me to wonder about the history attached to the various objects, creatures and characters we associate with the day: pumpkins, sweets, trick or treating, witches, bonfires, cats, haunted houses, a full moon, owls, ravens and crows. How, for instance, did pumpkins become linked to 31st October? It depends on what you read or who you ask. Although, for the majority, the carving of pumpkins is regarded as nothing more now than a fun activity, folklore suggests the original purpose was to ward off evil spirits from entering our homes; the gifting of sweets an evolution of a tradition. I have learnt Halloween was initially celebrated with home-made or homegrown treats such as pies, nuts and caramel apples. Sounds familiar; we still enjoy variations on the latter sweet treat today, known commonly as a toffee apple. I remember enjoying chocolate covered apples with a disc of hundreds and thousands on top. Business has largely taken over, packets or tubs of sweets are now conveniently packaged for us to buy and then hand out should young witches, wizards and warlocks come a-knocking.
Owls are mythically believed to be the messengers of witches, and the ravens who call the history-encrusted Tower of London home are said to protect the monarchy. Should these sharp-eyed birds flee, it is said grave harm will ensue. Let's hope they never do!
Returning to the ever-shifting patterns of the current day, I put the question of what new traditions we could start this year, or might some of us even attempt to bring about the return of old traditions, known to the Write On! editors:
Madeleine: I think this year my aim is just to be truly grateful for those who have gone before. My two grandmothers, Lilian and Agnes, had such strength and courage! I hope that has passed through me and will pass through my daughters as well. So, not just remembering those who have gone before, but being truly grateful for the lessons they have taught me.
Claire B: I never celebrated Halloween as a child; we were never allowed to go trick or treating and never carved a pumpkin. So naturally, when I moved out, carving a pumpkin every year became a tradition. I've tried lots of different things, including painting the pumpkin in sparkly paints, using cookie cutters to make patterns all the way around and carving an image into the rind, as well as the usual scary face.
Eithne: This year, I won't feel mean for not opening the door to trick or treaters as I have done previously, because I forgot to buy treats. I also won't be worrying about the sounds of fireworks, quite so much. They used to terrify my mum when she was alive. I haven't a clue how Christmas will turn out this year; I'm usually thinking about who'll be here and what we'll be doing about this time. And I usually make my Christmas cake about now. I'll certainly still be doing that, as my mother and grandmother would have done.
Farzana: Thinking back to my childhood, my now late grandmother used to be such a busybody; not in a bad sense but a positive one. She was very sociable, no matter the weather. Always out and about, seeing if her friends were OK and always inviting people over, sharing food and treats with the neighbours, who all knew and loved her! She was forever giving charity and making sure everybody she knew was doing OK. With lockdown, and where my life has generally taken me, I've realised just how unsociable and reserved I've become. It's high time I put on those wellies and put up my brolly more often; facing the never-ending dark, cloudy, blustery rainy days, which I've started cowering from, with aplomb rather than fear.
Holly: I will continue my tradition of watching The Halloween Tree and reading something spooky. A new tradition I began a few years ago was to save my syringes and decorate a pumpkin with them; signifying how scary diabetes is, while creating something fun and personal with items I would otherwise throw away. I like to call this one my Pinhead Pumpkin: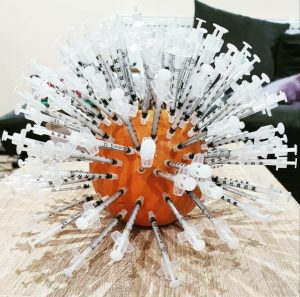 *****
Next, we have an unnerving poem by Ilias Tsagas:
Keep Quiet 
It started with the heat.
I opened the windows and
the main door for the airflow
but the door refuses to shut
the windows won't close.
I'm left with my apartment wide
open to the passers-by
and a permanent feeling
of intrusion.
(c) Ilias Tsagas, 2020
*****
Next, I'd like to showcase some beautiful art from the young artists who were inspired by our theme: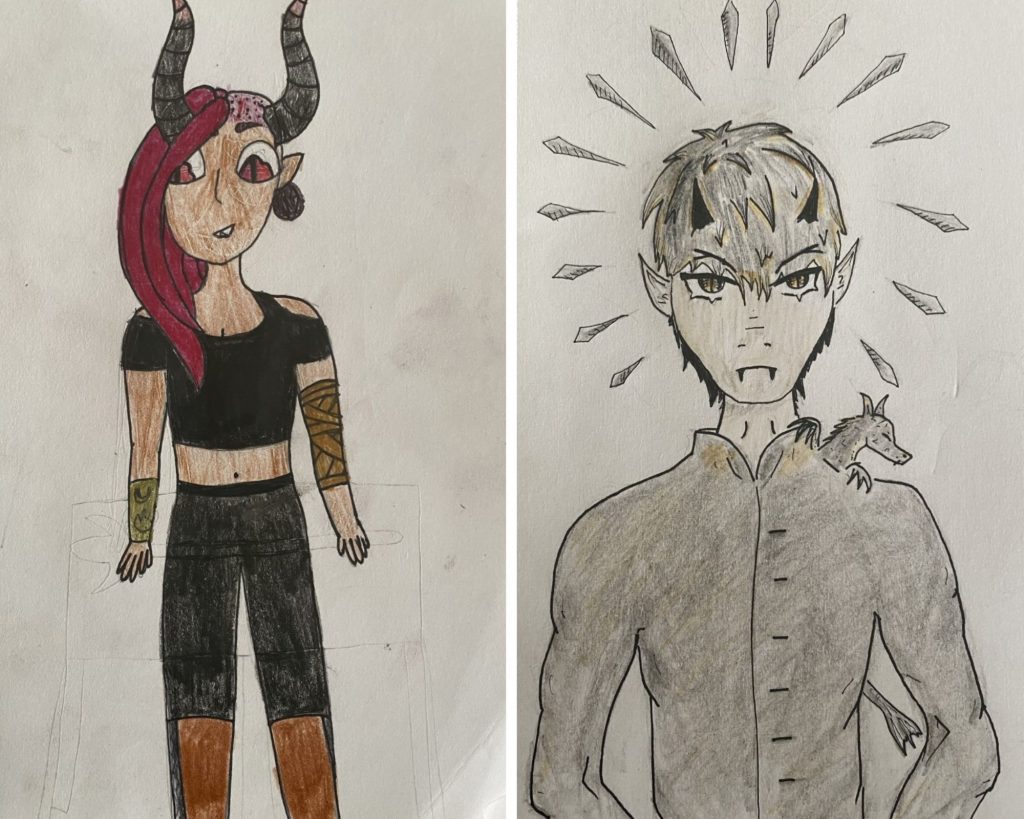 Demon by Lauren Callis (age 12) and Wolf Boy by Isla Callis (age 14)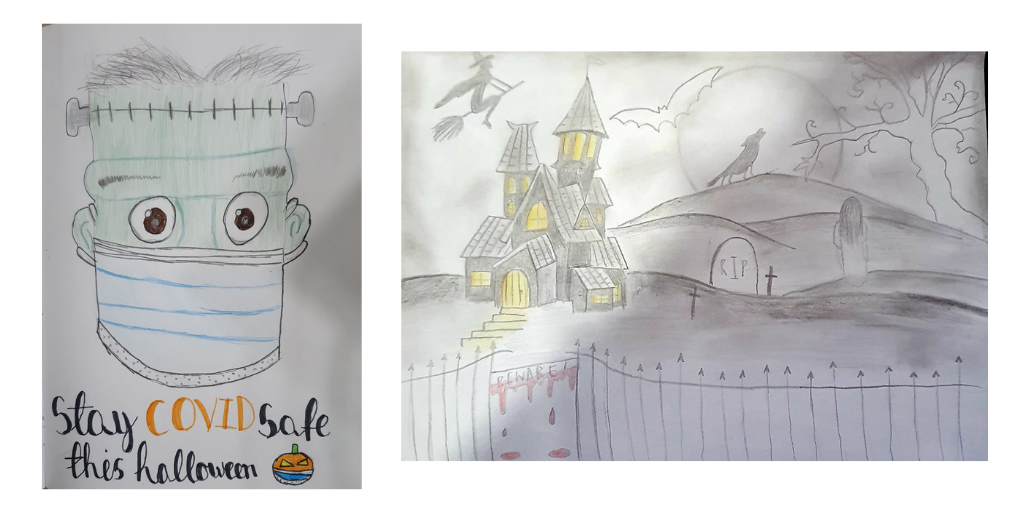 Stay COVID Safe This Halloween by Saniya Iqbal (age 12) and Halloween Scene by Zahra Chowdhury (age 13)
We finish our Monday by returning to what is going on around us and how that sets the creative mind in motion. Autumn and Winter are the colder, darker months, but you can still find beauty, colour and inspiration in them if you look, as Danny Fenn has:
Autumn
All that was summer green
Is now tinged with autumn's gold
But autumn like the magpie
Has a secret to be told
The nights are drawing in
Morning bursts with grace
The sun may not have his hat on
But he still has a smile upon his face
What once flourished has been and gone
Fresh roots prepare for spring
Underground they feast and nourish
Ready for the delights they will bring
The leaves begin to fall
Hats and scarves reappear
For some it brings trepidation
But I so love this time of year
There is a crispness in the air
But it rejuvenates the soul
I admire and observe the wildlife
As I amble and I stroll
A spider's web glistens brightly
Morning dew enhances each thread
Swifts and swallows prepare to depart
In their masses overhead
The hedgehogs are ready to hibernate
But chrysanthemum soon flower
Autumn just like all the seasons
Has its own unique power
Our life is full of change
Each new season is a blessing
As we glance at nature's beauty
Its glorious window dressing
So smile at autumns gold
Welcome it back with open arms
It's full of life and beauty
Treasures and golden charms
(c) Danny Fenn, The Boleyn Poet, 2020
*****
Were those moments spooky enough for your Monday? How will you be celebrating Halloween this year? Let us know via Twitter: @pen_to_print or Instagram: @officialpentoprint.
Next month, we're changing things at WriteOn! Extra, with our overarching Season 3 Theme of 'Hope'. Our themes will be monthly and based on what is special in that month. For me, November is special because it is Diabetes Awareness Month, so look out for my page, which explores how creativity helps us navigate this condition, as well as introducing some furry friends who keep us safe!
Halloween is one of my favourite celebrations: it's the holiday that focuses most on stories, creativity, dressing up and having some fun.