Monday Moments: Share A Story Month
Introduced By Holly King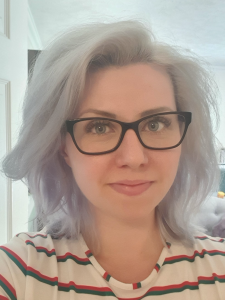 May is National Share a Story Month. Setup by The Federation of Children's Book Groups, this month encourages you to share a story with a child and celebrate all things books with competitions, blogs and giveaways. This year the theme is Myths, Magic and Mayhem, and here on Monday Moments, we will be kicking off May with a lot of alliteration and a page dedicated to mysteries, magical tales and myths.
Myths are one of the oldest forms of storytelling and, immediately, my mind goes to the classic Greek myths: heads full of snakes, a minotaur raging around a maze and a hero with a particularly weak ankle.
Magic has also been around for millennia, from the legend of St George and the Dragon to the witch trials in the 1600s and, the much more recent success, of the Harry Potter series.
And mystery stories snuck into mainstream popularity with characters like Sherlock Holmes, whose adventures have been retold for over 130 years. From the countless crime novels to The Famous Five, we love a story that leaves us guessing until the very end.
All of these types of storytelling involve a lot of imagination. But did you know that there is a theory our brains cannot create faces but, instead, they use fragments of faces we've already seen? If that's true, where did inspiration for dragons, aliens and centaurs come from?
Perhaps our first feature can offer some insight. Lyndsey Croal is a Scottish science fiction and fantasy writer based in Edinburgh. She received a Scottish Book Trust New Writers Award for 2020 and is working on her debut novel. Her work has been published or is forthcoming in a number of magazines and anthologies, including Folkways Press, MookyChick and Cunning Folk Magazine. Her debut audio drama drawing on Scottish Folklore was recently produced by the Alternative Stories and Fake Realities podcast.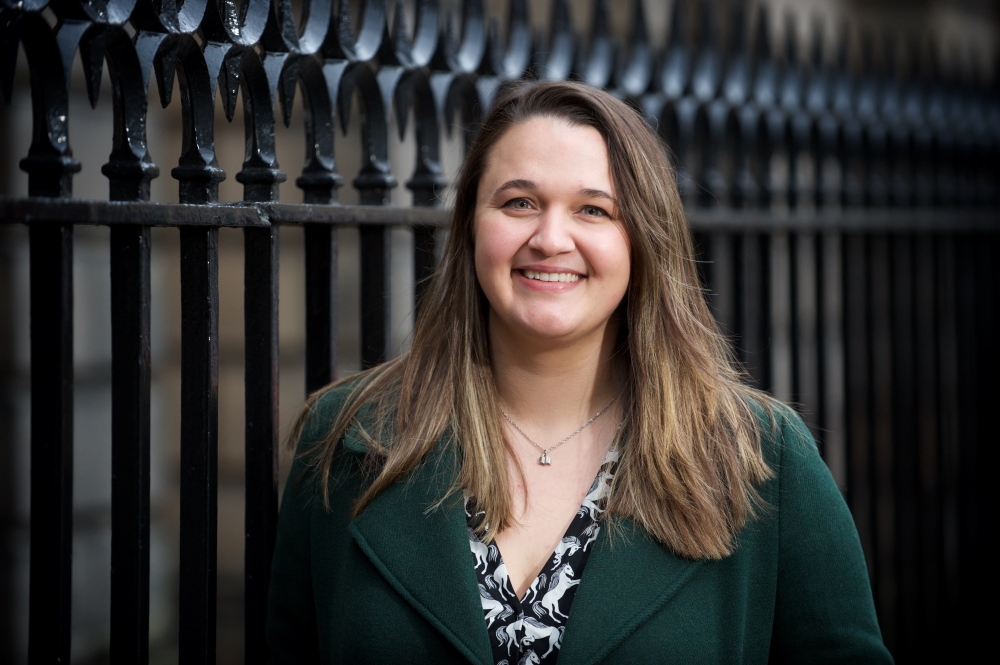 Writing Inspiration from Folklore and Myth
Folklore and mythology can offer vibrant inspiration for creative writing. In particular, because these stories often having a close connection to place, they can tell us a lot about our local history, politics, culture, or even the natural environment. Looking at folklore in Scotland, for instance, the number of stories that centre around water and the sea can give us an insight into the history of seafaring, treacherous weather and environmental conditions, and creatures or phenomenon that may have once been mistaken for mythological beasts. Exploring folklore in creative practice can, therefore, offer rich worlds to draw from while providing an opportunity to celebrate and connect with our own culture and history.
A few years ago, I started delving more deeply into Scottish folklore, using it as inspiration for a young adult fantasy novel. Initially, I wanted to write a story based around the well-known Greek myth of Persephone and Demeter, but then learned of a similar story in Scotland which had an interesting crossover: the tale of Bride and Cailleach Bheur, both central characters to Scotland's seasonal legends, representing spring and winter, respectively. It was while doing research on this area of folklore that I came across the work of 20th Century folklorist Donald Alexander Mackenzie. In his version of the story, Bride was kept captive under Ben Nevis by the Cailleach. When free, the seasons changed. Exploring these stories altered both the course of my novel and inspired me to write my debut audio drama, Daughter of Fire and Water, which was released with the Alternative Stories and Fake Realities Podcast. While writing, I engaged with the folklore and story archetypes, but then subverted them a little to include modern themes; I wanted to explore climate change, so drawing on seasonal folklore felt like a natural link.
Through working on these two projects, I became hooked on researching folklore further to use in my writing. I took an excellent course run by author Sandra Ireland and, then, actively started following #FolkloreThursday on Twitter. The popular account provides weekly themes and prompts, and fellow folklore enthusiasts can share stories from folklore, fairy tales, myths and legends. It has quickly become a highlight of my Twitter writing community week, and I love sharing snippets of stories (mostly from Scottish folklore) while reading about other tales from around the world.
It has been by delving more deeply into folklore that I came to appreciate that it really wasn't new to me. I've been absorbing folklore my whole life: in popular books and stories, from The Hobbit to Narnia; in movies, from Star Wars to Disney animations; and even in other popular media, like music or video games. Growing up, I was also always hearing Scottish tales centred around magic — one of my earliest writing memories, for instance, was leaving letters and stories out for the fairies. As I got older, I became familiar with tales of the Loch Ness Monster, Selkies and Kelpies. Then, creatures like werewolves and vampires, which are rooted in folklore from around the world, became mainstays in my young adult life in books, TV shows and films. Now, in my writing, I love to learn the origins of these popular myths, as well as explore lesser-known ones.
Over the past few years, folklore and myth have been central to enriching my writing and providing inspiration for new ideas. So, here I share some top tips for writing inspired by folklore and myth:
Do your research – even if you're planning to interpret the story differently, research will help you think about how or why you might subvert the idea, or how you might incorporate contemporary themes into your work.
Think local –  learn about your local area and its folklore. Even better, try to get out and about to the locations in the stories, or find and speak to local experts.
Don't panic if you see other retellings of a story you want to explore. So many of the same stories have been written from different angles. Just look at the number of retellings of Greek and Roman mythology! Or even the number of fairy-tale-inspired stories with very different interpretations. The main thing to think about here is what can you offer that's new? It could be subverting the point of view, changing who the important character is, or looking at the story through a modern lens.
Read, read, read folklore and myth-inspired work! Folklore, myths and fairy tales often follow certain archetypes and/or have a three-act structure, so reading retellings can be a great way to enhance the writing craft.
Experiment with genre – when thinking about retelling and subverting stories, you can add a twist simply by bringing in genre elements to the story. What about a favourite fairy tale set in space, or a creature from folklore that solves murder mysteries?
Finally, enjoy the process – and if you can, connect with other writers or readers of folklore and myth. I've found the online community of folklore writers and academics hugely welcoming and friendly in particular. Below I share some of my favourite resources of podcasts and blogs.
Podcasts:
Alternative Stories and Fake Realities
Myth, Legend & Lore Podcast
History and Folklore Podcast
The Folklore Podcast
Let's Talk About Myths, Baby!
Fabulous Folklore with Icy
Folklore, Food and Fairy tales
Websites and blogs:
What about books, you ask? There are just far too many to name here, but I often look at the great lists compiled on the Folklore Thursday website here as a good place to start.
© Lyndsey Croal, 2021
Find Lyndsey on Twitter: @writerlynds or on her Website: lyndseycroal.co.uk.
*****
Now, we hear from Michelle Sutton, who tells us about the importance of myth, magic and mayhem in her writing. This theme also features in her art — some which she has shared with us — including featuring the well-known Merlin: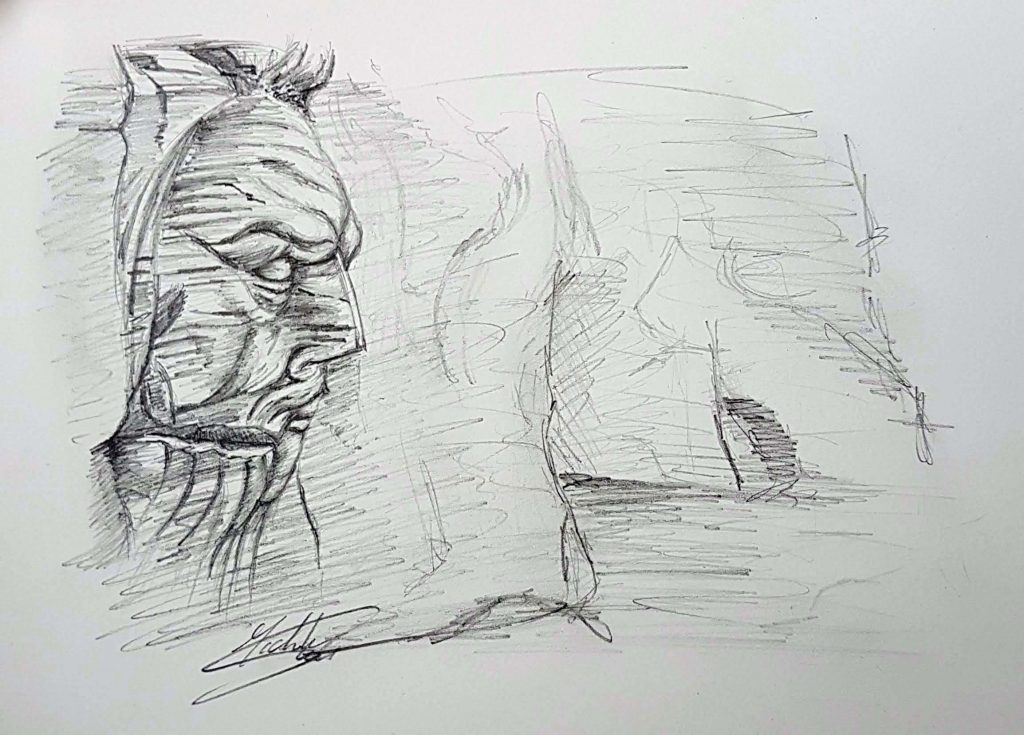 Michelle tells us: "As a SFF writing partnership (L M Towton), mythology and magic feature heavily in almost everything we write. Between us, we own many books about the mythologies of the world but, when it came to thinking up the setting of Soul Caller, Cornwall became an obvious choice.
Around the time Cleo (our main character) waltzed into Lauren's head, I was on holiday in Cornwall. More specifically, I was lying on my back on some grass in the middle of Tintagel Island, when she texted me about this new idea. Surrounded by ancient ruins and Arthurian legend, my brain began to whir and, several texts later, we had a basic plot, characters and, most important, a powerful setting. A setting that could allow magic and myth to still exist even in our current time. That's the feeling I always get when visiting Cornwall; I become completely detached from my 'real life' and immersed in 'what-ifs' and 'could bes'.
The last time I visited Tintagel Castle, two controversial sculptures had been installed. One of Arthur overlooking the castle ruins, and a carving of Merlin in the rocks near the so-called Merlin's Cave. Merlin could well be worn away by the sea by now, but this (above) sketch I did was how it looked when I saw it last. While Tintagel and Cornwall have such wonderful histories and folklore, Arthurian legend still continues to inspire and intrigue, and Tintagel will always mean something to us. We even have a slate with 'L.M. Towton was inspired here' written on it as part of the new bridge."
As a bonus, Michelle has also given us her detailed drawing of a dragon: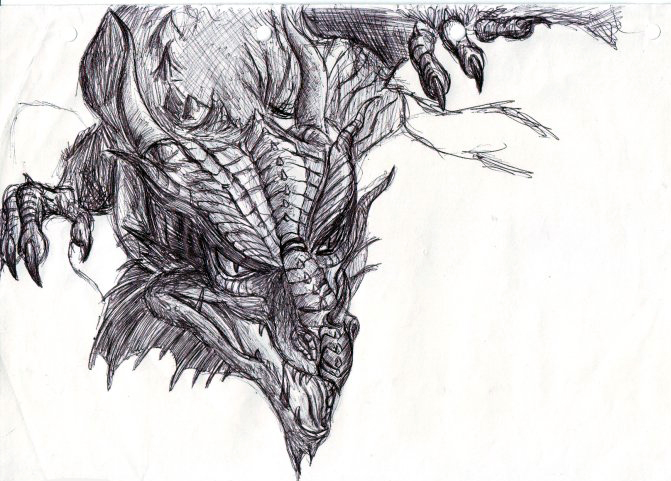 © Michelle Sutton
Connect with Michelle on Twitter for her art: @MSuttonArt and writing partnership: @LM_Towton
*****
So, what story will you be sharing this month? It's a mystery I hope you'll solve for us by telling us on Twitter @Pen_to_Print. If you want to learn more about National Share a Story Month, check out The Federation of Children's Book Groups' website: fcbg.org.uk/national-share-a-story-month-2021
Don't forget that Issue 8 is out on the theme of Growth including feature interview with poet Jennifer Wong. You can read it here pentoprint.org/product/see-write-on-edition-8-here
Myths, Magic & Mayhem involve a lot of imagination, but did you know that there is a theory our brains cannot create faces but, instead, they use fragments of faces we've already seen? If that's true, where did inspiration for dragons, aliens and centaurs come from?