Showcase: Barking To Southend + Two Tree Island
Hello,
I'm Claire Buckle and I'd like to offer you a warm, springtime welcome to my first May Showcase, where I'll be featuring writing on the theme of 'Transformation' as viewed through the lens of 'journey.' I'm a short story writer (you may have seen my work in some of your favourite magazines), and with May being 'National Tell A Story Month', as well, I'll be featuring several over the next few weeks.
We've all been on quite a journey since the start of the pandemic. Last March, the majority of my writing was confined to short stories for women's magazines. But, as it became essential to communicate more often using online platforms, new opportunities cropped up and led me down unknown paths. Not without some trepidation, as all were 'firsts' for me. I taught online workshops for Pen to Print on magazine fiction, penned several articles and am now delighted to be editing Showcase this month.
What has your journey been like? I'd be interested to know. Have you transformed, adapted, been stifled, inspired or blocked with the days drifting into each other? Some days, I've likened myself to a sailboat bobbing about on the ocean, getting nowhere. Yet, other times, I've set off with the wind in my sails, quickly reaching my destination and typing The End.
Today, I've chosen two pieces of writing about walking. During the various lockdowns, the simple pleasure of walking was elevated to an everyday essential for many people. Stretching our legs became vital. Striding to the station or running for the bus, going on the treadmill at the gym or swimming lengths of the sports centre pool became mere memories and other means of exercise took precedence. Going for a walk was cherished like never before.
Keep writing!
Claire.
*****
The following piece by Brian Rudge takes us back in time to an unforgettable walk he undertook in the early 1960s. His journey from Barking to Southend certainly didn't end in the way he expected!
The Barking To Southend Charity Walk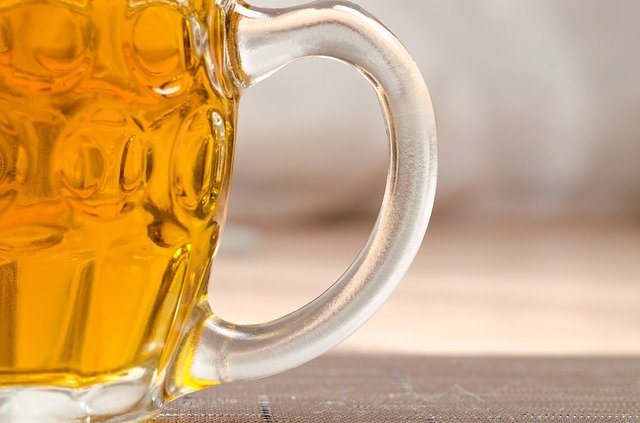 It was spring, 1963. I was 24 and my younger brother, 16 (years later he would receive a bravery award from the High Sheriff of London for saving a man's life). We were born in Barking, East London and had entered a charity walk organised by our local newspaper, The Barking Advertiser.
The walk was from Barking to Southend-on-Sea, approximately 28 miles. We were both fairly fit, having started working from a young age for our father's household removal business, 'Abbey Removals.' The walk started from outside Barking Town Hall. By now, I had two children and lived in Seven Kings and thought I was fitter than I actually was, for I had merely walked to and from work about half a dozen times (approx four miles). Mind you, I quite often walked six or seven miles at work each day, and for half that distance I'd be carrying furniture, boxes etc. including up and down stairs.
Our dad had offered The Advertiser a removal van to cover the route and pick up any worn-out stragglers. I was very aware that my younger, fit, strong brother would try and upstage me and beat me to Southend.
It was a fine sunny day and we were both wearing our brand new Abbey removals white T-shirts and milling about with around 200 other walkers. It was billed as a walk, but most of the young men, including me, were keen on making a race of it and there were a number of prizes for the first few ladies and men to complete the course.
I started talking to a very fit-looking young man, a rugby player called Neal. I decided I would try and keep on his shoulder, as he looked the likely winner to me. A horn sounded and off we went at a jog. As the miles passed, most people, including my brother Phil, were starting to lag behind. I was pleased with the good pace we were setting and we were extending our lead.
As we approached the Five Bells roundabout (which was probably about 20 miles from Barking), I realised I had stupidly not brought any water with me and felt very thirsty. So, urging Neal to keep up his cracking pace, I ran into the pub. Luckily, I had some money with me and ordered a pint of shandy that was gone in about 15 seconds, so I asked for another, which I also wolfed down. And guess what? Yes, you've got it. I asked for yet another! Having downed that one as well, I decided it was time to rejoin the walk/race.
Not surprisingly, Neal had long disappeared into the distance. I initially felt better but, with three pints of shandy in my belly and no pacesetter, I realised I was moving considerably slower. The next couple of miles were a lot harder and then I noticed a pain growing in my stomach. I was now on the early upward slope of Bread and Cheese Hill (I think the name comes from weeds/grasses that grow there). The slope gets considerably steeper as you go up the hill and, as I climbed, the stitch pains became unbearable. The pain was now excruciating.
About halfway up were two houses on the left. I pitched over onto my side in the long grass by the houses, on the edge of passing out from the pain. I thought I heard a car engine starting up and then getting louder and suddenly realised I might be on an overgrown drive, with the car heading straight for me. The driver was most likely unaware I was there because the long grass was hiding me. I started scrabbling to get out of the way, when I heard a lorry pull up near me, start hooting, a door open and shut and shouting. I felt strong arms lifting me.
At that moment, I realised it was my dad. Being higher up in the lorry's cab, he'd spotted my white 'Abbey Removals' T-shirt.
"You silly sod," he said. "I offered myself and the van to pick up stragglers and people who couldn't cope.  I didn't expect you to be one of them!"
Neal did go on to win. My brother, Phil, unlike me, finished the walk. I trained harder for the next walk, took water with me, had no shandy and came third.
What did I win? A pewter beer mug! I often look towards the house when driving up Bread and Cheese Hill and smile.
© Brian Rudge, 2021
Considering Brian's walk took place almost 60 years ago, it clearly had quite an impact on him. How encouraging, that he was able to transform it from an experience into a piece of creative writing!
*****
The following piece of prose takes us on a far more restful walk around a nature reserve in Leigh-on-Sea, just a few miles from Southend-on-Sea. Gloria Maloney reminds us just how transformative the power of nature can be if we allow ourselves time to absorb and connect with our senses.
Two Tree Island Nature Reserve Walk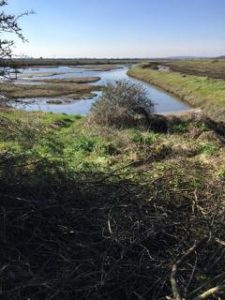 The estuary is shrouded in early-morning fog: silent, expectant, waiting.
The haunting sound of the curlew penetrates the fog, announcing his presence.
I breathe in the crisp salty air and with each passing breath, calmness settles around my breast and a warm glow embraces my heart.
The rays of the sun slowly penetrate the fog; at first, gently teasing, skirting around edges, flitting in and out and then lifting up the blanket and shaking her off, revealing the reed marshes in their glorious amber colours.
The estuary becomes a moving story, each page in harmony with my steps. I watch a murmuration of oystercatchers, showing off their white underbellies as they flock to the best feeding grounds and the godwit with her long proboscis dipping gracefully into the mud. Dappled brown sandpipers bob backwards and forwards on wobbly legs. The estuary is teeming with life and sounds.
For a few minutes, the sun catches the ruins of Hadleigh Castle perched high up on the hill and bathes her walls in brilliant white. She looks magnificent!
The egret takes flight, the sun catching her wings; a dazzling white streak passes above me. For a fleeting moment, I sense my spirit soaring up to hers, a joyous meeting, free of encumbrances.
I walk on, my steps in harmony with the landscape. Not as an intruder but part of it, shaking off my urban shackles.
(c) Gloria Maloney, 2021
If you get the chance, I hope you'll be tempted to visit Two Tree Island and, like Gloria, experience the meditative atmosphere.
See you next time, when we'll continue with more journeys.
*****
Don't forget issue 8 of Write On! magazine is out. Read it online here.
If you'd like to get in touch with me or see your writing appear in the Write On! 'Showcase', please send your short stories, poetry or novel extracts to: pentoprint@lbbd.gov.uk.