Open Call for Writer in Residence in Rabbits Road Institute Library
We are looking for writers, aspiring writers, or artists working with writing in their work, to be writer in residence for five months in Rabbits Road Institute Library.
Applications are welcome from those who live or work in Barking & Dagenham and neighbouring boroughs of Redbridge, Newham and Havering, especially encouraging writing by underrepresented artists and writers.
What is Rabbits Road Institute Library?
Rabbits Road Institute Library is a project by artist collaboration The Alternative School of Economics (Ruth Beale & Amy Feneck). Originally developed in Manor Park, Newham, the Library is touring to Barking & Dagenham and hosted by Company Drinks Pavilion in Barking Park during 2020. The Alternative School of Economics  (ASE) will be working with local people, inviting them to engage with the Library in different ways, including through a partnership with Pen to Print.
The Library is a community collection of books nominated by 150 friends, collaborators & people local to Manor Park. Its contents reach into many facets of life in the UK today, from immigration to regeneration, British Asian & Black identity to class, social history, economics & democracy. Organised into three categories: People & Place, Making it Happen & The Future, the books include fiction, non-fiction & poetry.
See www.oldmanorparklibrary.org/library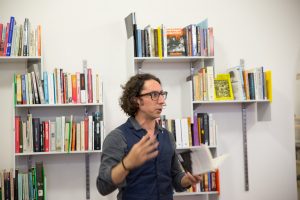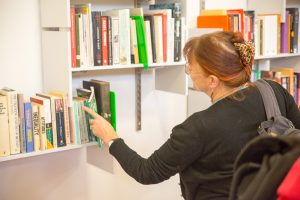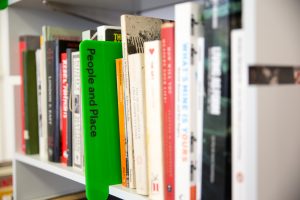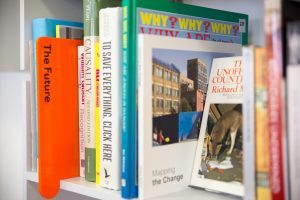 The Residency: July-November 2020
The residency is a chance to creatively explore Rabbits Road Institute Library and develop new writing in response. We are interested in critical and creative approaches that engage with the Library. This might include responding to individual books or authors, exploring specific ideas or themes found in the collection, or the concept of the Library as a collectively made artwork. The resident will have autonomy to work on new writing of their choice, and to allocate their time as necessary. They are not expected to physically occupy the Library unless this is part of their project.
Alongside new writing, the resident will also lead one writing workshop in a public library in Barking & Dagenham, and one public event celebrating/showing the new work made during the residency. Support will be available if required from ASE and Pen to Print to produce a publication or another printed outcome and deliver the events. There will be opportunities for the resident to connect with other archives & libraries, and to participate or attend other activities that are part of Rabbits Road Institute Library project. The resident will be expected to attend at least one evaluation meeting.
The resident will receive:
• A fee of £1,500
• Regular access to the Library collection at Company Drinks Pavilion (former Outdoor Bowls Pavilion, Barking Park, IG11 8TA
• Barking Park, IG11 8TA
• 3 mentoring sessions & creative support from artists Ruth Beale & Amy Feneck
• A budget for print outcome of £1,000
• A fee for the workshop of £300
• Help with marketing their event, workshop and their project as a whole
Timeline:
15 June, 5pm Deadline for applications
22-26 June Interviews
1 July Residency commence
October Workshop in local Barking & Dagenham library
November Celebration event
31 November Conclusion of residency
If Covid-19 restrictions are in place during the specified residency period, we will work with the resident to enable access to the books, find creative solutions, or if necessary or draw up a new timeline. Applicants do not need to address this in their applications.
Access:
Candidates who face cultural, social, physical or economic barriers to applying for opportunities in the arts are particularly encouraged to apply – with our assessors understanding our commitment to equality and diversity. Regarding physical access, Company Drinks Pavilion is a single story building in the centre of Barking Park, with ramp access and a disabled toilet.
Please email mail@alternativeschoolofeconomics.org with any queries.
Selection process:
The resident will be selected by a panel of assessors including representatives of The Alternative School of Economics, Pen to Print, and Creative Barking & Dagenham Cultural Connectors. Shortlisted applications will be invited to an informal interview during the week of 22 June. If Covid-19 restrictions are in place at the time, interviews will take place via video call. Details of the interview, including the interview panel, will be emailed to shortlisted applicants. We will aim to notify all applicants of the outcome, but due to the anticipated volume of applications, unfortunately we cannot give feedback on every application.
To apply:
Email your application by 5pm on Monday 15 June to mail@alternativeschoolofeconomics.org
Unfortunately, we cannot accept postal applications.
Please include:
1. Name, address & contact details
2. Biography – A short description of your work/practice, including any recent projects. (max 300 words)
3. What you want to do – Tell us your starting point or general idea for your residency and how you intend to use the Library, and how often, e.g. once a week/month, or during a specific time period. Tell us how this might fit with a workshop and public event. Please also tell us why this this residency is interesting useful or important to your/your work at this time. (max 500 words)
4. An example of your writing – Examples can be poetry, prose, script writing or experimental writing, and can include images alongside text. Please indicate if it is a complete work or excerpt. (max 750 words, text/image examples max 3 pages, 12 point, with a double line space. Images PDF, TIFF, GIF or JPEG format, max size per attachment 2MB)
More information:
Please direct questions to mail@alternativeschoolofeconomics.org and we will be happy to respond by email or organise a short phone call.
________________________________________________________________________________
The Alternative School of Economics
The Alternative School of Economics is a collaboration between artists Ruth Beale and Amy Feneck, initiated in 2012. We link artists' practice with self education as a way to study economics and economies. We are interested in reciprocal modes of learning and making, and our projects with communities create a framework for investigating political, social and cultural issues. We work with people on long-term projects and make artworks such as books, films and installations. Individually, we have extensive experience in writing, editing and self-publishing.
www.alternativeschoolofeconomics.org
Company Drinks & The Centre for Plausible Economies
Rabbits Road Institute Library is installed at Company Drinks Pavilion, as a guest of The Centre for Plausible Economies.
Company Drinks links the history of East Londoners 'going hop picking' in Kent to the formation of a new community enterprise, which brings people together to pick, process and produce drinks in east London today. www.companydrinks.info/about/
The Centre for Plausible Economies brings together artistic action and critical thinking to reclaim the economy. It is as a new platform for mapping and reimagining economic systems, in the arts and beyond. www.companydrinks.info/whats-on/economy/
Pen to Print
Pen to Print is a not for profit library organisation, born in Barking& Dagenham Libraries it is run in conjunction with an Advisory Board of local people, founder members and industry experts. It is committed to developing writing talent & networks through accessible events, classes, festivals, competitions, self-publishing & Write On! magazine. www.pentoprint.org
To apply:
Email your application by 5pm on Monday 15 June