#ReadFest22 Begins Tomorrow: What's On This Week?
Tomorrow, Barking and Dagenham's only annual literary festival, ReadFest, returns – prepare yourself for three blockbuster weeks of free events running from 5th September through to the 23rd September.
This is our eleventh year running this festival, bringing you a wide-ranging selection of local, national and internationally acclaimed writers to entertain and inform.
This first week of ReadFest, we're all about local writers. As a project born out of a motivation to shine a light on literary talent in Barking & Dagenham, we will always look to our East London community first.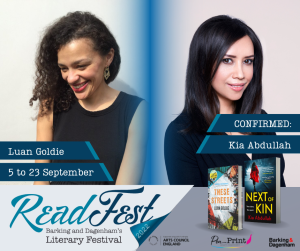 Tomorrow, 5th September at 6.30pm, award-winning East London authors Luan Goldie & Kia Abdullah will be in conversation at Dagenham Library, discussing their critically praised collection of past and upcoming novels, from the Nightingale Point to Next of Kin.
We're thrilled to begin ReadFest with an in-person event; something we know you missed when we hosted events online was the option to meet authors in person, shake their hands, and get a signed copy of their book.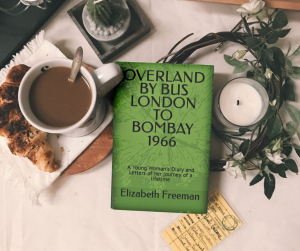 On Tuesday 6th September, we will be at Valence Library hearing about a journey that 'cannot be done today' from author Elizabeth Freeman. She will be discussing her debut book, 'Overland by Bus London to Bombay 1966' – a roadbook/memoir that covers an adventure she undertook across Europe and Asia when she was 25 and on a shoestring budget. You don't want to miss out on this unbelievably true tale, which includes attempted kidnapping in Syria, Elizabeth almost being sold in Baghdad and a cholera quarantine.
Elizabeth came to us as a Pen to Print class attendee, often dropping by our free poetry classes, and through attending our workshops, she managed to publish this book. Overland By Bus London to Bombay 1966 is only the first book in her 'Share My Journey' series. We can't wait to see what else Elizabeth does.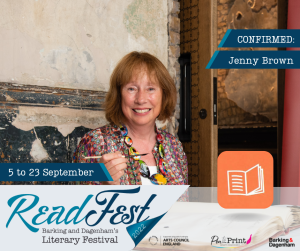 Tuesday evening, we will be online with literary agent & founder of Jenny Brown associates, Jenny Brown, in a partnered event with the Wilbur Niso Smith Foundation. Jenny Brown will be uncovering what the publishing industry looks like Behind The Scene, sharing the insights she gained throughout her broad career in literature and discussing the wider literary ecosystem today.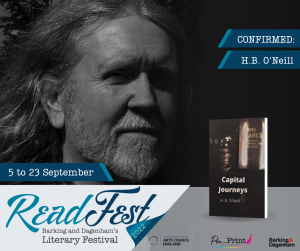 On Thursday evening, H.B.O'Neill, local writer, poet, screenwriter, playwright, novelist (and more) will be bringing his workshop series, 'Master of All Trades – Jack of None' to an end with an online showcase. Over the past eight weeks, H.B.O'Neill has been helping writers find their creative niche through taster workshops. Having now found their favourite style of writing, the writers have come together to bring a variety of genres to this showcase. Whatever your favourite is, join H.B.O'Neill and the writers for a selection of work that spans from poetry to comedy writing.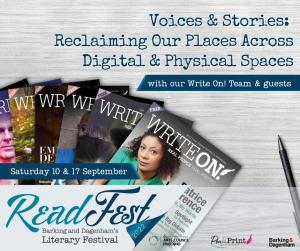 Last but certainly not least, Saturday is our first Write On! Day out of two. We have a day full of online events featuring our talented Write On! Volunteer team and guests. This year's theme is Voices and Stories: Reclaiming Our Place Across Digital and Physical Spaces, beginning at 10.30 with an Editor's Introduction to Write On! Magazine with Lena Smith and Madeleine White. We have a range of events featuring guest authors, Patricia Lawrence, Emily Inkpen, Brigid Mansfield and much more.
As always, tickets are free and they are live now! If you haven't secured your space to an event, book today to avoid disappointment. Click right here to book your ticket and to browse through the full ReadFest programme.
See you at ReadFest!