Saturday Spotlight: Latest Book Releases w/c 22 August
by Claire Buss, Deputy Editor, Write On! 
At Write On! and Pen to Print we want to help connect authors and readers, so we've created a Spotlight page every Saturday, showcasing some of the exciting new reads available. The list has been curated by Lisa Rouiller and myself, based on books that you send us, so if you're an author and you'd like your book in the spotlight, reach out to Lisa at pentoprint@lbbd.gov.uk. Whether you're an indie author, with a small press or mainstream publisher, we'd love to hear from you and shine a light on your new novel.
Write On! offers other opportunities for writers as well. If you'd like us to feature an extract from your book or a short story, please send the extract, book cover and blurb to pentoprint@lbbd.gov.uk with the subject Write On! Showcase (ensuring you have your publisher's permission, of course).
Pen to Print are also looking for short videos from people reading a passage from their favourite book, or authors reading extracts from their own books. These videos will be featured on the Pen to Print YouTube channel and across our social media. Please send in your videos or links to pentoprint@lbbd.gov.uk with the subject 'Video Stories'.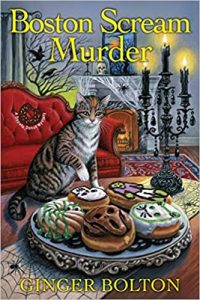 Halloween in the small town of Fallingbrook, Wisconsin, is the perfect season for Deputy Donut owner Emily Westhill to unmask a killer.

October 31 is just around the corner and Emily Westhill's Boston cream donuts, carved with a scream, have made an indelible impression on local eccentric Rich Royalson. So much so, he's ordered three dozen, with no screaming faces and twice the fudge frosting, for his 70th birthday – a special event in more ways than one. It's to be held on fog-shrouded Lake Fleekom where, 20 years ago, his wife mysteriously drowned.
The next day, when Emily arrives with her Boston cream donuts, she stumbles upon Rich's corpse. The poor guy wanted a unique birthday bash, just not one to the side of his skull! With a guest list of possible perpetrators left at the scene, Emily soon discovers that the Royalson closet is rattling with skeletons. As the fog thickens, motives mount, and the tricks outnumber the treats. Emily fears that Rich may not be the last one in Fallingbrook to go out screaming…
Available to buy here
Connect with Ginger Bolton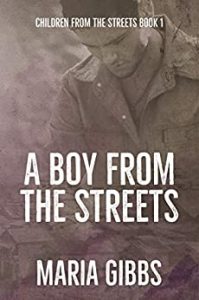 Twins separated at birth. Shaped by different destinies. 
Pedro dreams of being more than Rio's best pick-pocket, but there are few opportunities for a boy who lives in a shop doorway. Staying alive is hard enough. Jose is a kind and sensitive boy. After learning he was adopted and has a twin, he runs away, hell-bent on finding him.
However, the streets of Rio are not safe for a boy used to luxury. Thrown together by a twist of fate, the brothers struggle to bond. When Pedro hatches a plan to return Jose to his adoptive parents, will temptation cause him to betray his twin and take that life for himself? Jose is forced to open his eyes to the brutal life of a street urchin but, despite the horrors, he discovers acceptance and love. Can he go back to his old life, when the price to pay will be the loss of his twin?
A Boy From The Streets is the heart-breaking first novel in The Children From The Streets family saga. If you like a gripping page-turner, with twists, turns and realistic characters who will tug at your heart-strings, you'll love Maria Gibbs' inspiring series.
Buy now to find out whether the boys survive the deception, betrayal and hidden truths that haunt their family.
Available to buy here
Connect with Maria Gibbs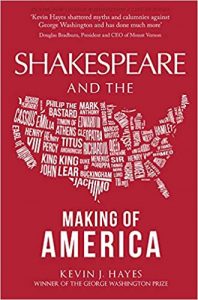 In Shakespeare And The Making Of America, Kevin J. Hayes tells a story that has never been told before.
He traces the history of reading Shakespeare in British North America during the eighteenth century, a story that goes from Drury Lane Theatre in London to the backwoods of South Carolina, to the back alleys of Boston to Independence Hall in Philadelphia. The most prominent figures in the story are the Founding Fathers of the United States of America: John Adams, Benjamin Franklin, Alexander Hamilton, Thomas Jefferson, James Madison and George Washington. Hayes looks at how these men read, understood and applied the words of Shakespeare to suit a new nation. Shakespeare's plays were not just read for entertainment value; they were also appreciated for their insights into the human condition.
When it came time to assert American rights to liberty and freedom in the face of British tyranny, the words of Shakespeare were always handy to make a point or seal an argument. American writers quoted Shakespeare to justify their actions during the French and Indian War, the Stamp Act crisis and the Revolutionary War. Echoes of Shakespeare can be heard in some of the most fundamental documents in American history: The Declaration Of Independence and The U.S. Constitution.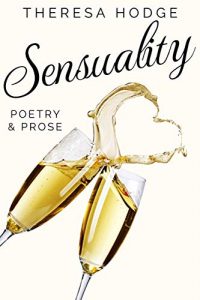 Let me take you on a journey through my private thoughts that lie within the sensuous perceptions of my mind. There is love, passion and explicit sensuousness that abide in the deep recesses of my being.
Take this ride of pleasure with me and explore a side of me I have fought to retain.
I have released this side with some trepidation. Like a caterpillar, I have evolved into the passionate butterfly I am today. Now, I am free to explore.
Will you explore with me?
*This book is for Adult Readers only*
Available to buy here
Connect with Theresa Hodge
Avni goes to a rave party with her boyfriend Jeevak and another couple. What happened to her there remains a secret, until she discovers the ugly truth some time later. How is Avni going to deal with this and, does Jeevak have anything to do with it?
Available to buy here
Connect with Kamini Kusum
A million years of evolution made Xhosa tough – but was it enough?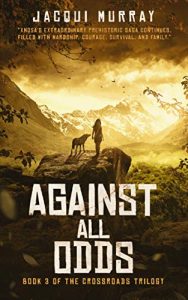 She and her people finally reach their destination: a glorious land of tall grasses, few predators, and an abundance that seems limitless. However, an enemy greater than any they have met so far threatens to end their dreams. If Xhosa can't stop this one, she and her people must flee once more.
The Crossroads trilogy is set 850,000 years ago; a time in prehistory when man populated most of Eurasia. A violent species, he was fully capable of addressing the many hardships that threatened his survival except for one: future man, a smarter version of himself, one destined to obliterate all those who came before.
From prehistoric fiction author Jacqui Murray comes the unforgettable saga of a courageous woman who questions assumptions, searches for truth and does what she must, despite daunting opposition. Read the final chapter of the People's long search for freedom, safety, and a new home.
A perfect book for fans of Jean Auel and the Gears!
Available to buy here
Connect with Jacqui Murray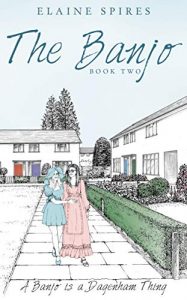 The 1970s. Zany fashions brought 'The Decade That Taste Forgot'. Change is in the air.
Decimal currency, the Common Market, widespread strikes, 'The Winter Of Discontent', IRA bombings, the sale of Council houses and quickie divorces make their mark on the whole country, including the community of the Banjo. The eight households who live in Cromwell Close experience births, deaths, marriages, shocks and surprises but, as the 70s become the 80s and beyond, Dagenham undergoes great transformation. The once close-knit community is changing.
Available to buy here
Connect with Elaine Spires
Remember, if you're an author and you'd like to see your book in our Saturday Spotlight, email: pentoprint@lbbd.gov.uk and send us the details of your new novel. 
Further Links

For details of Penguin RandomHouse new releases, visit their website here.
For details of Hachette new releases, visit their website here.
For details of HarperCollins new releases, visit their website here.
For details of PanMacmillan new releases, visit their website here.
For details of Simon & Schuster new releases, visit their website here.
Disclaimer: Amazon links are given for ease but please remember there are a number of other online retailers operating, including hive (which helps to support independent book shops), Kobo, Apple Books, Google Play and Nook as well as online stores for bookstores like Waterstones, Barnes & Noble and WHSmiths. Given the current situation, though, please check first.
We want to help connect authors and readers, so we've decided to create a spotlight page every Saturday, showcasing some of the exciting new reads available.