As A… Podcaster: Chris Gregory
Alternative Stories And Fake Realities Podcast: Alternative Stories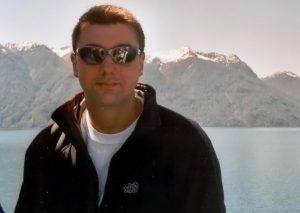 This week, Write On! chats with Chris Gregory, founder and director of 'Alternative Stories And Fake Realities',  a podcast and production company making audio drama, audio fiction and poetry podcasts.  'Alternative Stories' work with writers and actors from both sides of the Atlantic but they're based in the East Midlands.  They've provided content to BBC Radio and to North American broadcasters, appeared on the Radio 4 podcast show 'Podcast Radio Hour', been nominated for a number of AudioVerse awards and were selected to represent the United Kingdom at the 2020 International Radio Drama Festival.
WO: How would you describe 'Alternative Stories And Fake Realities' to someone new to it?
AS:  'Alternative Stories And Fake Realities' is a podcast producing and presenting the work of writers through audio drama, poetry and audio fiction. We're a broad church in terms of subjects and genres.  We've done pieces inspired by folklore and mythology, we've done science fiction, historical fiction, a vast range of poetry, comedy and latterly interviews with our writers and actors.  Basically, we think that, if you enjoy books, you'll enjoy our podcast.
WO: Can you tell us about your latest episode?
AS: We release an episode each week and often two per week, so I'm not sure what the latest one will be by the time you read this. Recently, though, we've worked with science fiction author Emily Inkpen, to produce an audio drama based on the prequel to her Blood Road novel series called The Bomb, we've featured poet Jennifer Wong with poems from her recent collection Letters Home, we've done a collaborative drama called Out Of The Darkness, capturing the reflections of a group of friends in London travelling to meet up for the first time since lockdown was eased.  We're proud to have worked with poets like Sarah Corbett and Peter Finch and to have brought the work of writers to larger global audiences through our output.
WO: What inspired you to set up 'Alternative Stories And Fake Realities'?
AS: I am a writer myself, having undertaken a creative writing course at Birkbeck College, I was becoming increasingly interested in writing drama a couple of years ago and looking for an outlet for this.  I realised, with changes to technology (cheaper, better microphones, the ability to share large files online and to edit them in a digital audio workstation), it was perfectly possible to create audio versions of plays and that there was an outlet for these to be more widely heard via podcasting.  I just needed to find some actors to work with and I used online freelancing sites like Fiverr and casting sites such as Casting Call to recruit a few.  Once we find an actor we like, we tend to work with them on multiple productions and it becomes a mutually beneficial relationship.
WO: The current issue of Write On! explores the theme of  'A Kaleidoscope Of Colours'. The idea is that life at the moment is like looking through a kaleidoscope: ever-changing, ever-swirling patterns we must interpret and adapt to. Can you tell us a bit about how you've been adapting to the shifting landscape of this fairly challenging present?
AS: Without sounding too flippant, because lockdown has been very hard for many people, most of the changes for us have been positive.  As many more people have had extra time to listen to podcasts, we've seen the opportunity to reach more listeners and, since March, have more than doubled our audience.  A huge positive has been the range of actors we've been able to work with. With theatres, film and TV studios and even traditional radio studios closed down, we've been able to recruit actors we could never have dreamed of working with before. A case in point has been Amy Forrest.  You may have seen Amy appearing as Mrs Ryder in the recent National Theatre production of Small Island which was one of their NT 'At Home' productions during lockdown.  Amy has been fantastic, setting herself up with a home studio and appearing in a number of drama, poetry and other podcasts for us.
We've also worked with a number of the crop of 2020 drama school graduates who weren't able to complete their courses due to the crisis and offered them the opportunity to do some paid acting from their homes.  This has given them something to put on their CVs, proper experience and the possibility of working alongside experienced actors like Amy.
Most of our drama is recorded asynchronously, meaning the actors record separately rather than all together in a studio. This has meant we've been able to work as normal, unaffected by the restrictions COVID-19 imposed on the rest of the arts sector.
WO: What one piece of advice would you give an aspiring podcaster?
AS: Try to find a niche area or subject matter that you do well and that few others are doing.  For literary podcasts, you need to think about working with the best writers you can (they'll be happy to work with you!) and great actors who are able to bring the work to life.  Our unique selling point is our combination of poetry and music. We tend to create musical soundscapes around poems to make them more of an immersive experience for our listeners, whereas most poetry podcasts and the BBC tend to produce poems against a background of silence. There's a place for both, of course, but poets seem to really love what we do.
If you're starting a podcast, find that niche, be prepared for it to be a slow burn (it will seem no one is listening to start with!), use social media to market your show and choose some guests or collaborators that bring their own audience to boost your numbers. Most importantly, do it for the love of it. It's incredibly rewarding.
WO: Can you tell us anything about future episodes?
AS:  Our autumn season will kick off with a collaborative drama about hares, inspired by music from the new album by British folk singer, Fay Hield. Fay has tapped into a tradition of folk stories and songs about women able to change themselves into hares. There are two such songs on her new record, and she approached us to ask if we'd like to work with her to do something connected with these stories on the podcast.  We decided we would try to tell a story through a collaborative audio drama, with different characters written by different writers and poets.  We have Terri Windling, Sarah Hesketh and Sarra Culleno writing for us, as well as Fay herself . We're aiming to release the drama in early September, around the time of the release of Fay's album and we'll feature music from the album as part of the soundtrack. 
We'll also be featuring poetry from Phoebe Stuckes and her new collection Platinum Blonde, an audio drama based on the science fiction novel Black Box by Kevan Manwaring and we'll have writer prompts, to inspire new authors to join our team and work with us. Subscribe to learn more; we'd love to work with some Write On! readers on the podcast!
WO: Lastly, just for fun, if you could choose one fictional animal/creature to be a pet or companion, who would it be and why?
AS:  Not sure if a daemon counts, but I would choose Pantalaimon, Lyra's Daemon from Philip Pullman's His Dark Materials and The Book Of Dust trilogies.  Pan is able to chat and talk back, which could become a problem, but you're never alone with a daemon! Daemons change their form until their human reaches a certain age. Pan settles in the form of a pine marten.
You can find out more about 'Alternative Stories' here: https://www.buzzsprout.com/411730 or type 'Alternative Stories And Fake Realities' in your favourite podcast browser to find us.  You can also listen on music streaming services such as Spotify.  We're completely free, and if you  subscribe, you'll get access to all our previous content, with new episodes delivered to you the day they are released.
Connect with them on Twitter: @StoriesAlt and on Instagram:  @stories.alt/
You can write to us and submit manuscripts and proposals at: office@alternativestories.com
Don't forget you can check out Issue 5 of Write On! magazine online by clicking here.
As many more people have had extra time to listen to podcasts, we've seen the opportunity to reach more listeners and, since March, have more than doubled our audience. A huge positive has been the range of actors we've been able to work with.