Saturday Spotlight: New Book Releases August 2022
By Claire Buss, Deputy Editor, Write On! 
At Write On! and Pen to Print, we want to help connect authors and readers, playwrights and audiences, so we've created a Spotlight page on the last Saturday of the month, showcasing some of the exciting new reads and plays available. The curated list is based on books and plays that you send us, so if you're an author or a playwright and you'd like your book or play in the spotlight, reach out to us at pentoprint@lbbd.gov.uk. Whether you're an indie author, with a small press or mainstream publisher, established or brand new playwright, we'd love to hear from you and shine a light on your new work.
Write On! offers other opportunities for writers as well. If you'd like us to feature an extract from your book or a short story, please send the extract, book cover and blurb to pentoprint@lbbd.gov.uk with the subject: Write On! Showcase (ensuring you have your publisher's permission, of course).
Pen to Print are also looking for short videos from people reading a passage from their favourite book, or authors reading extracts from their own books. These videos will be featured on the Pen to Print YouTube channel and across our social media. Please send in your videos or links to pentoprint@lbbd.gov.uk with the subject: Video Stories.
*****
Brainstoryum Podcast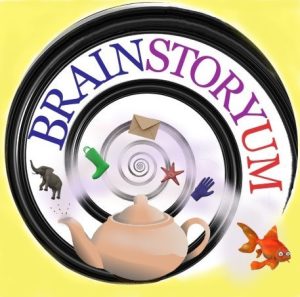 What is inspiration? Can we learn to become more inspired?
Anna Tizard explores the enigma of inspiration, mixing profound, insightful ideas with zany humour.
The Surrealist word game of Exquisite Corpse creates bizarre sentences for great creative writing prompts. Send words on the Play Exquisite Corpse page, and hear what happens when your entries are mixed with other people's and pulled out of… The Socks Of Destiny!
Listen, join in, be inspired – and roll about laughing.
This is the summer of fun. And we're here to celebrate.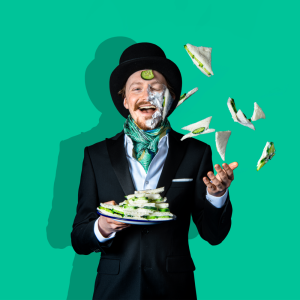 We're serving up classic tales with an untraditional twist, bringing theatre to anyone and everyone with a pinch of naughtiness and lashings of atmosphere.
This isn't about reverence and snobbiness, it's about having a good time and a good laugh with the people we know and love. And it's been long enough…
Slapstick Picnic comes to you from the mad minds that created the award-winning touring company, The HandleBards, and after ten years of Shakespearean touring under our belts, we know how to party.
Find out more about the team below, or check out our full menu of dates from July to September on our tickets page.
See you at the Picnic!
*****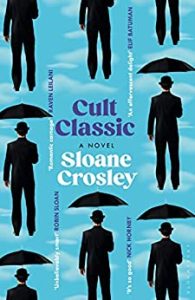 One night in New York City's Chinatown, Lola is at a dinner with former colleagues when she excuses herself to buy a pack of cigarettes. On her way back, she runs into a former boyfriend. The next night, she runs into another ex. And then… another. The city has become awash with ghosts of heartbreaks past.
What might have passed for coincidence becomes something far stranger when the recently engaged Lola must contend not only with the viability of her current relationship, but the fact that her best friend and her former boss – a magazine editor turned mystical guru – might have an unhealthy investment in its outcome. As memories of the past swirl and converge, Lola is forced to decide if she will surrender herself to the conspirings of one very contemporary cult.
A smart, sharp and hugely entertaining tale of luck and love, Cult Classic asks: is it possible to have a happy ending in an age when the past is ever at your fingertips and sanity is for sale?
Available to buy here
Connect with Sloane Crosley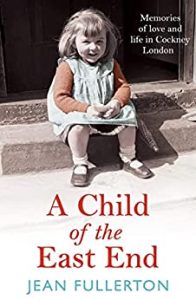 Life in Cockney London was tough in the post-war years. The government's broken promises had led to a chronic housing shortage, rampant crime and families living in squalor.
But one thing prevailed: the unbeatable spirit of the East End, a tight-knit community who pulled through the dark times with humour and heart.
Drawing on both family history and her own memories of growing up in the 1950s and '60s, as well as her working life as a district nurse and local police officer, Jean Fullerton vividly depicts this fascinating part of London: from tin baths, to jellied eels, to tigers in a Wapping warehouse.
Available to buy here
Connect with Jean Fullerton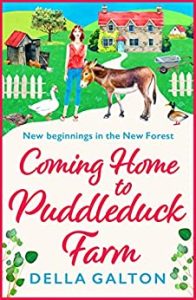 When your heart's broken, all roads lead home…
London City Vet, Phoebe Dashwood, finds her partner Hugh and their boss in a passionate clinch beneath the mistletoe at their works Christmas party.
Heartbroken, she bolts to the New Forest, her childhood home, to regroup and soul search.
Being home gives Phoebe the chance to reconnect with friends and family and, especially, with her fiercely independent gran, widower Maggie Crowther, owner of Puddleduck Farm and makeshift animal shelter New Forest Neddies.
Deciding not to return to London, Phoebe hunts for work locally, hoping she can also help Maggie, who's clearly swamped and not coping. But will Maggie accept Phoebe's help?
Her quest is hampered by stubborn grandmothers, meddling mums, an attractive childhood friend, a real-life Lord, a remorseful ex, and a best friend who's determined to play matchmaker.
Can Phoebe find happiness professionally and personally in the place she calls home, surrounded by those she loves, or does fate have other plans for Phoebe?

Available to buy here
Connect with Della Galton
Becca and Charlie have known each other since university.
Becca and Charlie have also hated each other since university.
Until now. Until Ally's bucket list. The death of their loved one should mean they can go their separate ways and not look back. But completing the list is something neither of them can walk away from.
And sometimes, those who bring out the worst in you, also bring out the very best…
Over the course of ten years, Becca and Charlie's paths collide as they deal with grief, love and life after Ally.
Available to buy here
Connect with Pernille Hughes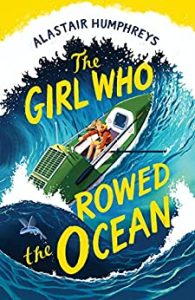 Lucy wants to explore the world, and do something daring and difficult. But people laugh at her when she hatches a plan to row across the Atlantic Ocean.
Her family rallies round to help prepare for the journey, loading her boat with supplies for 3,000 miles of rowing. Her school friends follow her from afar, learning about the ocean, its wildlife and pollution.
Alone at sea, Lucy faces seasickness, storms and a very sore bottom, not to mention close encounters with ships and a humpback whale. Yet there are also the joys of wandering seabirds, shooting stars and magical sunsets, as she finds she is capable of more than she ever imagined.
Step aboard and join Lucy on her life-changing adventure to become the girl who rowed the ocean.
Available to buy here
Connect with Alastair Humphreys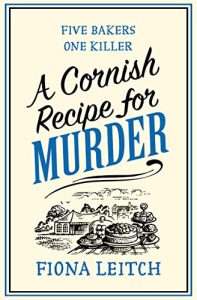 When popular TV baking contest and national institution 'The Best of British Baking Roadshow' rolls into town and sets up camp in the grounds of Boskern House, a historic stately home near Penstowan, former police officer Jodie 'Nosey' Parker finds herself competing to represent Cornwall in the grand final.
But with a fellow contestant who will stop at nothing to win and a drag queen host with secrets of their own, Jodie discovers the roadshow doesn't just have the ingredients for the perfect showstopper cake, but also for the perfect murder…
And when a body is found in the grounds of the house, Jodie is drawn into another high-stakes case, along with local DCI Nathan Withers.
Can Jodie expose the culprit? Or will the murderer become the real showstopper?
Available to buy here
Connect with Fiona Leitch

One turkey farm, five wild colleagues and a barn full of mystery.
When jilted crime writer August Saunders returns from London to her roots in rural Wiltshire, she feels lost and lacking in inspiration. Determined to reignite her writing mojo, she responds to an advert for a shared workspace in a converted barn.
At The Hub, with its ill-equipped gym, inedible catering and motley array of fellow users, including a matchmaker more interested in her own conquests and a TikToker with a dodgy nocturnal sideline, August is confronted with a real-life mystery to solve.
Why is Max Ronson, the handsome but volatile owner of The Hub, so evasive about his past? And who or what is he hiding on the premises? She is determined to find out – but will her curiosity snuff out the spark of romance?
Available to buy here
Connect with Nicola May
When a woman with trust issues and her commitment-shy nemesis are forced together, their fake relationship is guaranteed to end smoothly – right?
The day Mara Ramos married the man of her dreams, she could never have imagined she'd be divorced in less than a year. Now she knows that even the sweetest of men can't be trusted and is focussing all her energy and money on the one thing that brings her joy – her nursery. But no matter how hard she works, her accounts are a mess and her debt isn't going away. Then she backs her car into Tae Joon Park's. She has no choice but to ask they settle privately, even though he reminds her of her ex-husband and is one of the most arrogant, rude and unfeeling men she's ever met.
Tae Joon's number one priority is becoming the best neurosurgeon in the world; better than his father, who abandoned him before he was born. When he clashes with his father and tells him he has a steady girlfriend, there's no way he can reveal the truth. So he needs a girlfriend, one who isn't going to be clingy after the charade is over. And the only person who fits the bill is Mara. She hates him  – zero chance of falling for him, and needs his help – and has a reason to return the favour.
But as they play loving sweethearts, sparks begin to fly and a complication arises. Can they keep their hearts safe and not hurt the people they love?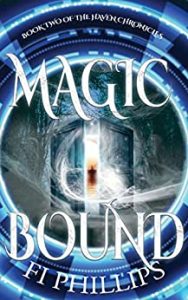 The magic returns.
When Hartley Keg and Blessing go missing, Steve Haven, the young heir to the Haven Robotics Corporation, once again finds himself plunged back into the chaos of Darkacre.
Teaming up with the Darkling, he finds himself on the run from the Council and their enforcers, the Hidden, as he seeks to keep safe those he holds most dear.
Things are complicated further when a new player emerges: the Parity, who are far too keen in the Haven Corporation, and the magical device which nearly led to its destruction.
What follows is a race not only against time but through a series of worlds, each more fantastical and dangerous than the last, as Steve and his friends try to keep one step ahead of their pursuers.
"This book holds the secrets of the universe. But you must learn how to read it …"
With its leaf-green leather cover and gold lettering, the book looks like a collection of Grimm's fairytales. And it seems to be following Huxley around. Wherever Huxley goes, the book turns up. On his bed, in his school desk … everywhere.
To everyone else, the book's pages are blank. So why does Huxley sees a red-caped woman and a ferocious wolf?
Legend has it that only magical people can read the book. But Huxley doesn't believe in magic. Not until he meets two children who show him magic is real.
And things are about to get even stranger …
A red-caped woman is making dark magic in the woods. Huxley and his new friends must solve the mystery. Or a ferocious wolf will rise and devour the sun …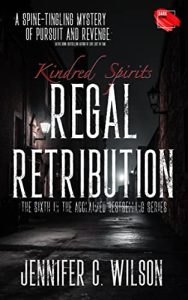 One right royal visitor on a shadowy quest…
A visit to London's West End sends an already angry ghost into a fury, vowing revenge on those he believes have wronged him in life (and in death).
Soon, the attacks begin – across the city and beyond – revealing that rarest of beings: haunted ghosts.
When a pattern starts to emerge, a council is established to formulate a plan, but can they work out who is behind the hauntings? As the severity escalates, can the combined force stop the avenging spirit, before the worst happens?
Bringing together the ghostly communities of the Tower of London, Westminster Abbey and other places, discover friendships and feuding in the race to retaliation.
Remember, if you're an author and you'd like to see your book in our Saturday Spotlight, email: pentoprint@lbbd.gov.uk and send us the details of your new novel.

Further Links
For details of Penguin RandomHouse new releases, visit their website here.
For details of Hachette new releases, visit their website here.
For details of HarperCollins new releases, visit their website here.
For details of PanMacmillan new releases, visit their website here.
For details of Simon & Schuster new releases, visit their website here.
Disclaimer: Amazon links are given for ease but please remember there are a number of other online retailers operating, including hive (which helps to support independent book shops), Kobo, Apple Books, Google Play and Nook as well as online stores for bookstores such as Waterstones, Barnes & Noble and WHSmiths. 
We want to help connect authors and readers, so our Saturday Spotlight page showcases some of the exciting new reads available each month.