Saturday Spotlight: New Book Releases May 2022
By Claire Buss, Deputy Editor, Write On! 
At Write On! and Pen to Print, we want to help connect authors and readers, playwrights and audiences, so we've created a Spotlight page on the last Saturday of the month, showcasing some of the exciting new reads and plays available. The curated list is based on books and plays that you send us, so if you're an author or a playwright and you'd like your book or play in the spotlight, reach out to us at pentoprint@lbbd.gov.uk. Whether you're an indie author, with a small press or mainstream publisher, established or brand new playwright, we'd love to hear from you and shine a light on your new work.
Write On! offers other opportunities for writers as well. If you'd like us to feature an extract from your book or a short story, please send the extract, book cover and blurb to pentoprint@lbbd.gov.uk with the subject: Write On! Showcase (ensuring you have your publisher's permission, of course).
Pen to Print are also looking for short videos from people reading a passage from their favourite book, or authors reading extracts from their own books. These videos will be featured on the Pen to Print YouTube channel and across our social media. Please send in your videos or links to pentoprint@lbbd.gov.uk with the subject: Video Stories.
*****
Punchdrunk The Burnt City

Widely recognised as the explosive spark which ignited the immersive entertainment industry, Punchdrunk creates work that disrupts the theatrical norm and places audiences at the very heart of the action.
The Burnt City
Amidst the moments surrounding the fall of Troy, a mythical world of gods and mortals rises from the ashes.
As Greece teeters on the brink of victory, the neon backstreets of Downtown Troy give way to a sprawling labyrinth, hiding secrets even the prophecies could not foretell.
In this colossal playground, the furies look on as mortals play out their fate. And, as night falls, the city comes alive.
One last time.
Get your tickets here!
*****
Breaking The Glass Slipper Podcast

An intelligent must-listen podcast exploring genre's attitude to women.
This podcast series was inspired by writer Juliet McKenna, who recently commented on her blog about the many so-called 'best-of' genre fiction lists that were conspicuously lacking in entries written by women. Science fiction, fantasy and horror are genres created and loved by women as much as men, and yet the majority of the dialogue surrounding them still suggests that women are in the minority. 'Breaking The Glass Slipper' is here to prove to all genre lovers that there is a place for female writers and great female characters amongst the menfolk!
*****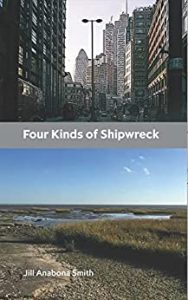 With a successful career in the City and a great love life, she had everything.
Then she got married. What happened?
Her husband knows… and he won't say.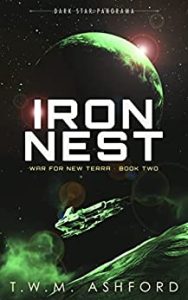 No matter how many times you stomp on them, the bugs keep coming back.
Twelve months have passed since humanity's invasion of New Terra began. Following Sigma's success at Rhinegarde, most of the planet's major bug nests have been destroyed. However, full colonisation cannot safely commence until every last roach has been exterminated.
Ginger, Duke and Ghost are sent far north to investigate a mysterious industrial facility in the icy tundra. But what starts as a routine operation quickly descends into something far deadlier. There's more to the Iron Nest than meets the eye.
Fireteam Sigma were sent to end the war with the bugs for good. Can they make it through this battle alive?
Available to buy here
Connect with T.W.M. Ashford
"The rocks are all in my head!"
Gertcha Cowson, AKA Gertcha the Disabled Poet, is a working-class poet who belongs to no one genre; yet, has a hand in all!
Originally using his scribbles as a self-therapeutic exercise, Gertcha has written over 100-odd poems, pieces of prose, etc. and is finally ready to share them with the hoi polloi and all and sundry. Introduced by the poet himself, his works cover mental health, living with physical disabilities and constant pain. He also touches on the environment, life and social observations, discrimination, the oppressive nature of Babylon and his love for all things.
This book has a quasi-autobiography running through it, as 'The Adventures Of Bipolar Boy,' from birth to now – albeit in a comic book-style narrative!
Available to buy here
Connect with Gertcha Cowson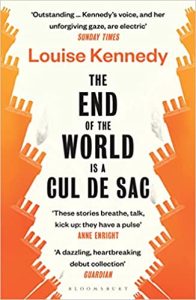 The secrets people kept. The lies they told.
In these visceral, stunningly crafted stories, people are effortlessly cruel to one another and the natural world is a primitive salve. Here, women are domestically trapped by predatorial men, Ireland's folklore and politics loom large, and poverty – material, emotional, sexual – seeps through every crack.
A wife is abandoned by her new husband in a ghost estate, with blood on her hands; a young woman is tormented by visions of the man murdered by her brother during the Troubles; a pregnant mother fears the worst as her husband grows illegal cannabis with the help of a vulnerable teenage girl; a woman struggles to forgive herself after an abortion threatens to destroy her marriage.
Announcing a major new voice in literary fiction for the 21st century, these sharp shocks of stories offer flashes of beauty, and even humour, amidst the harshest of truths.
Available to buy here
Connect with Louise Kennedy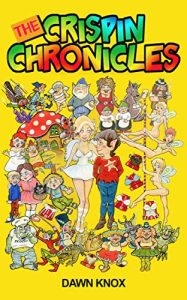 Join Crispin, the Marble Elf, in Her Ladyship's secret, fantastical garden, where Gnomes, Cockney Leprechauns, Cherubs, Trolls and Pole-Dancing Fairies live, love and laugh.
But watch out for The Shed Of No Return – the clue is in the name! And keep upwind of the begonias, where Gusty Bob the flatulent Toad is usually found. Oh, and don't trip over the Wooden Robin; he's likely to stop at short notice to pull up his socks.
Available to buy here
Connect with Dawn Knox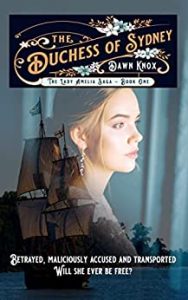 Betrayed, maliciously accused and transported. Will she ever be free?
Betrayed by her family and convicted of a crime she did not commit, Georgiana is sent halfway around the world to the penal colony of Sydney, New South Wales. Aboard the transport ship, 'The Lady Amelia', Lieutenant Francis Brooks, the ship's agent, becomes her protector, taking her as his 'sea-wife', not because he has any interest in her, but because he has been tasked with the duty.
Despite their mutual distrust, the attraction between them grows. But life has not played fair with Georgiana. She is bound by family secrets and lies. Will she ever be free again – free to be herself and free to love?
Available to buy here
Connect with Dawn Knox
Wendy Wooldridge has a perfectly lovely ordinary life, but as birthdays take her ever nearer to the 'big six-0' she wants something more. An online course promises to help her find her 'essential adventurous self.'
With encouragement from her course guru, Melody Skyhorse, Wendy takes up hula hooping, just before two momentous events change her life forever.
One firms her resolve to become the woman she wants to be. The other provides the means.
Her new hooping class chums – an ex-circus performer, a vegan eco-warrior, a group of teachers and a male ballet dancer – hilariously introduce Wendy to new ideas, lifestyles and ways of thinking. Even in the context of a life changed beyond all recognition and through both the happiest and saddest of times, Wendy's new friends help her to thrive more than she could ever have imagined.
Available to buy here
Connect with LF Meleyal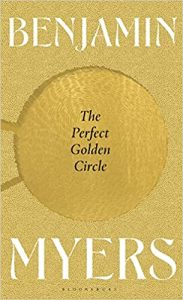 England, 1989. Over the course of a burning hot summer, two very different men – traumatised Falklands veteran Calvert, and affable, chaotic Redbone – set out nightly in a clapped-out camper van to undertake an extraordinary project.
Under cover of darkness, the two men traverse the fields of rural England in secret, forming crop circles in elaborate and mysterious patterns. As the summer wears on, and their designs grow ever more ambitious, the two men find that their work has become a cult international sensation and that an unlikely and beautiful friendship has taken root, as the wheat ripens from green to gold.
Moving and exhilarating, tender and slyly witty, The Perfect Golden Circle is a captivating novel about the futility of war, the destruction of the English countryside, class inequality – and the strength of beauty to heal trauma and fight power.
Available to buy here
Connect with Benjamin Myers
Michael has travelled a long way from his boyhood under the endless skies of the Midwest.
His retirement is peaceful, if solitary. But one day there is a visitation: a mysterious car on the seafront, and a package delivered. From its contents, Michael understands that he's been commissioned to undertake a final journey.
As he makes his way deep into a distant desert – a strange and liminal landscape that lies between hell and redemption – he undertakes another journey into long-suppressed memories: of Vietnam and the dying days of war, and to face a final accounting for what was done.
Taut, atmospheric and moving, Spies In Canaan is a powerful elegy to the pain of love, the guilt of old age, and the grace of atonement.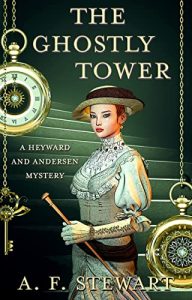 Meet Heyward and Andersen, consulting detectives in a paranormal London you never imagined…
Elspeth Heyward has never met a puzzle she didn't want to solve, or an adventure she didn't relish. Taking Sherlock Homes as her benchmark, she's determined to be the best detective and monster hunter in London.
Lars Andersen's ambitions aren't nearly so demanding. He just wants to stay alive, out of trouble, and out of jail. But when your partner likes guns and dynamite, that could be a challenge. Can he survive his new employment?
The Case: To discover if a stone tower on their client's estate is haunted. It should be straightforward, but ghosts aren't all they find. When they dig up a body, they also unearth a murder and a tangle of secrets. Secrets they'd better unravel quickly before someone else dies!
Set in an alternate, supernatural version of Victorian Britain, The Ghostly Tower is the first riveting story in the Heyward and Andersen, Consulting Detectives series.
Available to buy here
Connect with A.F. Stewart
Legend tells that the Palladium, a powerful talisman dropped from heaven by the goddess Athena, protects modern Istanbul. 
What if it falls into the wrong hands?
Moments after archaeologist Elif Mutlu finds a mysterious relic in a tomb in Istanbul, terrorists kidnap her and slaughter the rest of her team.
Elif's lover, disgraced MI6 agent John Savage, races through the city searching for Elif with the help of her brother Orhan, a proud Turkish cop who hates foreigners.
As bombs explode, Elif's captors announce they will destroy Istanbul. While she fights to stay alive, John and Orhan, pursued by cops and threatened by terrorists, must find the Palladium to save Istanbul, it being the living symbol that East and West can co-exist.
Available to buy here
Connect with Leigh Turner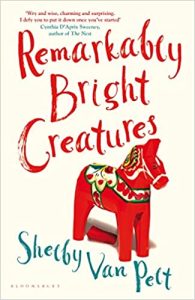 After Tova Sullivan's husband died, she began working the night cleaner shift at the Sowell Bay Aquarium.
Ever since her 18-year-old son, Erik, mysteriously vanished on a boat over 30 years ago, keeping busy has helped her cope. One night, she meets Marcellus, a giant Pacific octopus living at the aquarium who sees everything, but wouldn't dream of lifting one of his eight arms for his human captors – until he forms a remarkable friendship with Tova.
Ever the detective, Marcellus deduces what happened the night Tova's son disappeared. And now Marcellus must use every trick his old body can muster to unearth the truth for her before it's too late…
Available to buy here
Connect with Shelby Van Pelt
Remember, if you're an author and you'd like to see your book in our Saturday Spotlight, email: pentoprint@lbbd.gov.uk and send us the details of your new novel.

Further Links
For details of Penguin RandomHouse new releases, visit their website here.
For details of Hachette new releases, visit their website here.
For details of HarperCollins new releases, visit their website here.
For details of PanMacmillan new releases, visit their website here.
For details of Simon & Schuster new releases, visit their website here.
Disclaimer: Amazon links are given for ease but please remember there are a number of other online retailers operating, including hive (which helps to support independent book shops), Kobo, Apple Books, Google Play and Nook as well as online stores for bookstores such as Waterstones, Barnes & Noble and WHSmiths. 
Read the latest issue of Write On! magazine (12) online here
We want to help connect authors and readers, so our Saturday Spotlight page showcases some of the exciting new reads available each month.