Saturday Spotlight: New Book Releases May
By Claire Buss, Deputy Editor, Write On! 
At Write On! and Pen to Print, we want to help connect authors and readers, so we've created a Spotlight page every Saturday, showcasing some of the exciting new reads available. The list has been curated by Lisa Roullier and myself, based on books that you send us, so if you're an author and you'd like your book in the spotlight, reach out to Lisa at pentoprint@lbbd.gov.uk. Whether you're an indie author, with a small press or mainstream publisher, we'd love to hear from you and shine a light on your new novel.
Write On! offers other opportunities for writers as well. If you'd like us to feature an extract from your book or a short story, please send the extract, book cover and blurb to pentoprint@lbbd.gov.uk with the subject: Write On! Showcase (ensuring you have your publisher's permission, of course).
Pen to Print are also looking for short videos from people reading a passage from their favourite book, or authors reading extracts from their own books. These videos will be featured on the Pen to Print YouTube channel and across our social media. Please send in your videos or links to pentoprint@lbbd.gov.uk with the subject: Video Stories.
This uplifting poetry book is perfect for children and adults,  spreading the message of God and helping them focus on their journey of enlightenment.
Beautifully illustrated, this book is an introduction to teaching The Bible through poetry.
Fun and easy to read, it will encourage your child on their journey of faith. There is a moral lesson after each poem, giving a clearer understanding of the message.
Available to buy here
Connect with Sabinah Adewole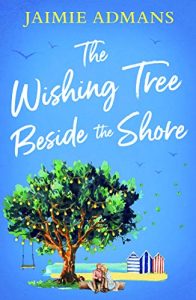 What do you do when 'the one that got away' now won't go away? In fact, he's so determined not to go away, he's chained himself to a tree.
Fifteen years ago, Felicity Kerr threw caution to the wind and kissed her colleague Ryan Sullivan under the ancient wishing tree along the coast.
When Ryan failed to respond, Felicity was mortified she'd read his signals so horrendously wrong and left Lemmon Cove for good.
But now her job brings her back to her home town, and face to face with Ryan, who is leading a band of octogenarians rallying to save their beloved 300-year-old sycamore from being bulldozed by property developers.
The spark with Ryan is still there, but Felicity is guarding a secret and, as much as she wants to join the protest by his side, she can't help but hold back.
Will she be able to mend her broken heart and find happiness with Ryan beside the sea?
Available to buy here
Connect with Jaimie Admans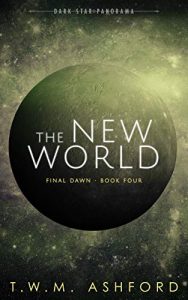 Earth is dead. Paradise awaits.
Jack Bishop is a long way from home. With no way back to the Earth he once knew, he considers himself alone in the galaxy… That is, until he receives a distress call from his old Ark ship, The Final Dawn.
Humanity lives on. Or what's left of it, at least.
The survivors have their sights set on New Eden – an untouched rainforest paradise ideal for starting anew. Jack volunteers to find a missing recon team, but the planet is rich with threats that could spell disaster for the entire colonisation effort and secrets that could change Jack's world forever.
All he wanted was to get back home. With Earth gone, can Jack help humanity build a new one?
Available to buy here
Connect with T.W.M. Ashford
This book is a sample of the writing of members of the Brentwood Writers' Circle (now in its 80th year), a group of some 60 writing enthusiasts, the majority of whom have been published elsewhere (many much-published).
Available to buy here
Connect with Brentwood Writers' Circle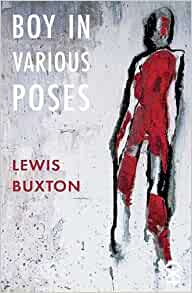 A debut collection of poems exploring all the different types of boy you can be: tender, awful, thoughtful, vulnerable.
Here, a maelstrom of mental health, male bodies and sexuality is laid bare with wit and curiosity, and the complexity and multiplicity of gender itself is revealed.
The boy in question is often shapeshifting, slippery, unreliable, close yet never quite in focus, moving too fast to pause and take a breath  – yet Buxton studies these boys, their bodies and behaviours, with a disarming intimacy and precision.
These poems are provocative, nuanced and often laugh-out-loud funny, shining with a naked, shameless brilliance.
Available to buy here
Connect with Lewis Buxton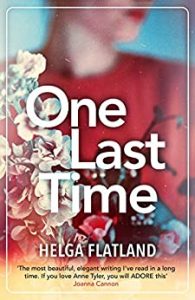 Anne's life is rushing to an unexpected and untimely end. 
Her  diagnosis of terminal cancer isn't just a shock for her – and for her daughter Sigrid and granddaughter Mia – it also shines a spotlight onto their fractured and uncomfortable relationships.
On a spur-of-the-moment trip to France, the three generations of women reveal harboured secrets, long-held frustrations and suppressed desires, learning humbling and heart-warming lessons about how life should be lived when death is so close.
With all of Helga Flatland's trademark humour, razor-sharp wit and deep empathy, One Last Time examines the great dramas to be found in ordinary lives, asks the questions that matter to us all and, ultimately, celebrates the resilience of the human spirit, in an exquisite, enchantingly beautiful novel that urges us to treasure and rethink everything.
Available to buy here
Connect with Helga Flatland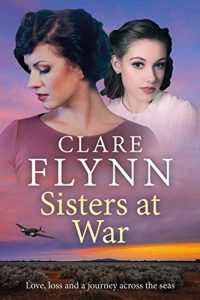 Liverpool, 1940. The pressures of war threaten to tear apart two sisters traumatised by their mother's murder by their father.
With her new husband, Will, a merchant seaman, deployed on dangerous Atlantic convoy missions, Hannah needs her younger sister Judith more than ever. But when Mussolini declares war on Britain, Judith's Italian sweetheart, Paolo, is imprisoned as an enemy alien, and Judith's loyalties are divided.
Each sister wants to be with the man she loves but, as the war progresses, tensions between them boil over, and they face an impossible decision.
Available to buy here
Connect with Clare Flynn
When a banished witch falls in love with the legendary trickster Loki, she risks the wrath of the gods in this fierce, subversive debut novel that reimagines Norse myth.
Angrboda's story begins where most witch tales end: with being burnt. A punishment from Odin for sharing her visions of the future with the wrong people, the fire leaves Angrboda injured and powerless, and she flees into the furthest reaches of a remote forest. There she is found by a man who reveals himself to be the trickster god Loki, and her initial distrust of him and any of his kind grows reluctantly into a deep and abiding love.
Their union produces the most important things in her long life: a trio of peculiar children, each with a secret destiny, whom she is keen to raise at the edge of the world, safely hidden from Odin's all-seeing eye. But as Angrboda slowly recovers her prophetic powers, she learns that her blissful life and possibly all of existence is in danger.
Angrboda must choose whether she'll accept the fate she's foreseen for her beloved family, or rise to remake it.
Available to buy here
Connect with Genevieve Gornichec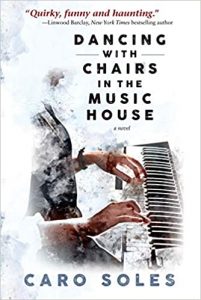 Precocious ten-year-old Vanessa Dudley-Morris knows lots of secrets.
In 1949, when she and her family are forced to move into two rooms on the second floor of 519 Jarvis Street in Toronto, a genteel but run-down rooming house owned by a reclusive pianist, she learns a lot more.
Despite the family's drastically reduced circumstances, her parents struggle to keep up their old standards. Threatened by blindness due to an eye condition, Vanessa is kept at home, tutored by an erratic succession of eccentrics, some with questionable credentials. Consequently, she spends a lot of time alone, wandering the dim corridors of the old house, silently listening at doors and watching the odd characters who live there.
She becomes fascinated by a mother and son who move into a room on the third floor. Eventually, she agrees to take secret notes from the son to his mysterious friend at her church, unwittingly unleashing a chain of events, leading to tragedy.
Available to buy here
Connect with Caro Soles
Remember, if you're an author and you'd like to see your book in our Saturday Spotlight, email: pentoprint@lbbd.gov.uk and send us the details of your new novel.

Further Links
For details of Penguin RandomHouse new releases, visit their website here.
For details of Hachette new releases, visit their website here.
For details of HarperCollins new releases, visit their website here.
For details of PanMacmillan new releases, visit their website here.
For details of Simon & Schuster new releases, visit their website here.
Disclaimer: Amazon links are given for ease but please remember there are a number of other online retailers operating, including hive (which helps to support independent book shops), Kobo, Apple Books, Google Play and Nook as well as online stores for bookstores such as Waterstones, Barnes & Noble and WHSmiths. Given the current situation, though, please check first.
We want to help connect authors and readers, so our Saturday Spotlight page showcases some of the exciting new reads available each month.