Showcase: My Mother's Sherry Trifle + Christmas At Home
By Julie Dexter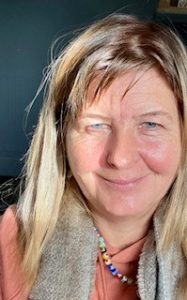 Welcome to my third December Showcase, and may I wish you all warm winter Season's Greetings!
This week, preparations for all sorts of Christmas menus – family ones, charitable, as well as restaurants – will be well underway. So what could be better than a recipe for a delicious divulgence of a sherry trifle recipe, enclosed within warm, humorous writing from Clare Cooper.
Christmas Sherry Trifle (hic)
During a recent conversation with my mother, who has dementia, we were having fun reminiscing about past meals. She was an excellent cook and I asked her if she could recall her famous sherry trifle recipe, which was always wheeled out at Christmas and other festive family occasions. To my disappointment, however, she said she had no recollection of ever having made it.
I think the tradition may have started because I loathed all dried fruit – still do – and she probably thought she ought to provide an alternative Christmas pudding for her picky, fussy elder daughter. (If you saw me now, you'd never believe how picky I was over food back then.) I remember the grown-up taste of sherry, and thinking how sophisticated it all was, although I imagine it would have been a minute amount, suitable for a child's palette, and added to merely enhance the other flavours.
So, here is my mother's Christmas sherry trifle. I can't give you the exact ingredients. If you're unable to operate in a kitchen without following minutely detailed, overly complicated recipes, this is not for you. Go and look online; other trifle recipes are available.
Christmas Sherry Trifle (hic)
Scale up or down, according to however many people you're catering for. Plus leftovers, of course. There must always be leftovers.
Packet(s) of trifle sponges. You could also use a plain Madeira cake instead, cut into slices if you happen to have one handily lying about the house. Or indeed a Victoria sandwich, ditto, but let's not get carried away here. No need to show off.
Fresh cream. Anything will do. Even tinned. Lovely. Or you could try crème fraiche, if you want to be really fancy.
Fresh custard. Mum made her own, of course, but these days most supermarkets do a perfectly acceptable fresh version, often made with proper vanilla, too. There's posh!
Lots of lovely raspberries. Fresh or frozen, but thaw these out first. The way Mum made it, it has to be raspberries here and raspberry jam, too, for the sponges/plain cake.
You might wonder about adding a jelly layer, but we all preferred it without. If you really must have it, you could vary the colours and flavours and go all-out whacky and retro with a lime flavour, for example. Just don't say I didn't warn you.
Mum liked to toast her own almonds for the topping, but there are lots of other options available now. Your local friendly supermarket will have shelves of them. Have fun spelling out people's names in tiny stars, or silver and gold balls, for example, Leave some for the rest of us. But no swear words, please. This is a family trifle, after all, and most likely to be enjoyed before the television watershed.
Find a large glass bowl from the back of a cupboard somewhere – or two, if you're catering for a large crowd. Just remember you will need to keep it in the fridge, so ensure you've already cleared enough space in there, or things could take an ugly turn later on. Wipe the dust and cobwebs off.
Line bowl(s) with the sponges or plain cake, all of which must be cut in half and spread with raspberry jam. (Tinker with other flavours at your peril.) Then add your layer of raspberries.
Now dowse the whole lot with as much sherry as you think you can get away with, bearing in mind any innocent children around, ensuring there's still plenty left in the bottle. Chef's perk.
Next comes the custard. If you're making your own (aren't you good, but we're not on MasterChef now), allow it to cool completely before this stage. If using a supermarket fresh product, it will already be cold, so just dollop it on, making sure to cover all the sponges in a nice hearty thick layer.
After this, the cream. Again, don't be miserly with this layer. Slather it on. Park the diet; you've already reached the point of no return. Tomorrow is another day. You can chomp on salad then.
Finally, your chosen topping. Be as artistic or creative as you like. People will remember it forever; in a good way, let's hope.
Then place your luscious, beautiful, highly calorific bowls in the newly-cleared fridge (no one ever eats sprouts anyway, and who needs that much cheese?) and allow them to chill for however long you need them to. This will also give the flavours a chance to meld and develop and form lifelong friendships.
Assign the washing-up to someone else, then disappear into a dark, quiet corner to finish off that bottle of sherry. You deserve it. Cheers!
(c) Clare Cooper, 2022
*****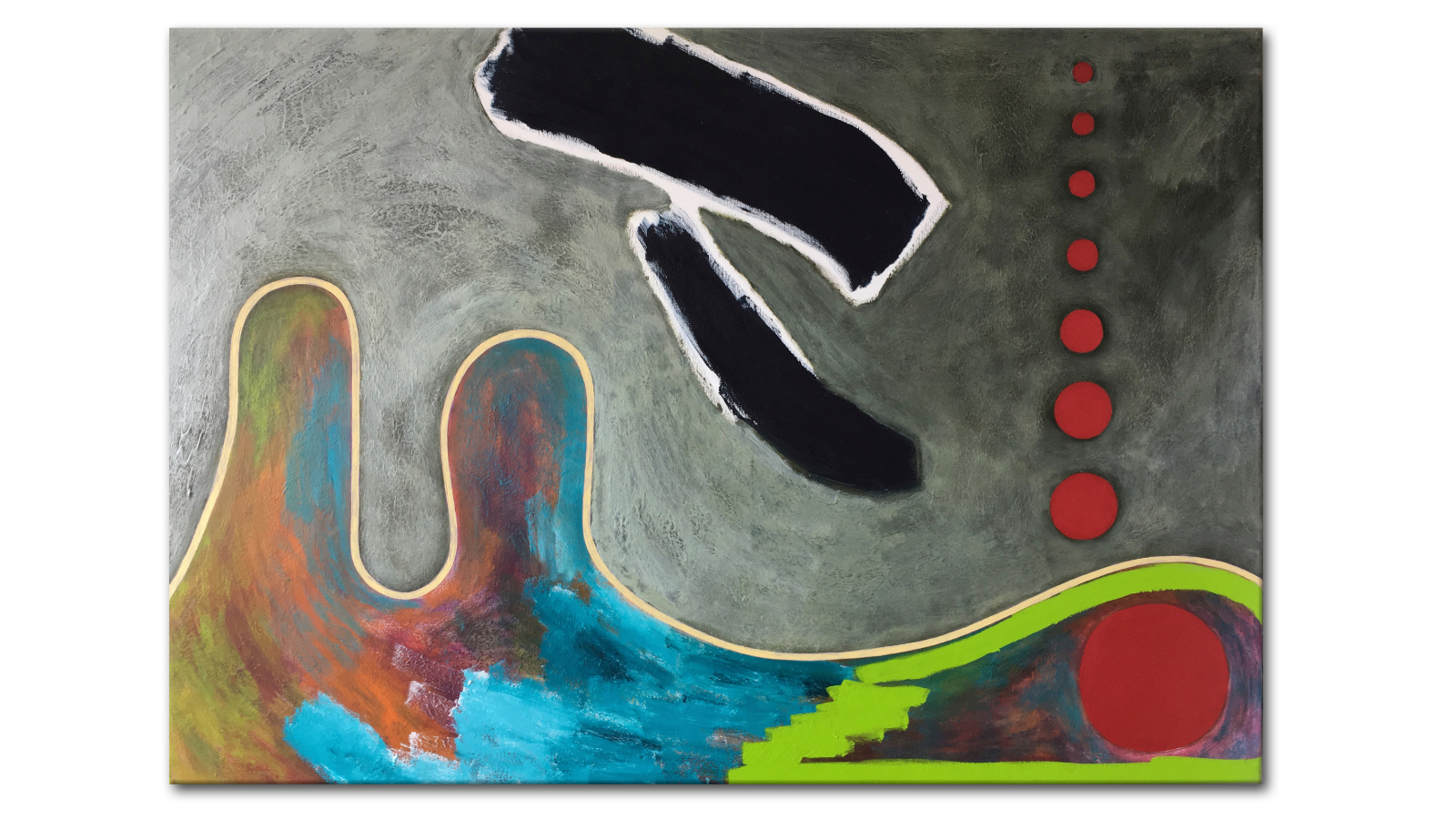 (c) In My Thoughts by RUNA, 2022
*****
This second and final piece in our Showcase for this week is written by Jo Renton. The piece articulates a stunning display of Christmases in three locations: London, Germany and South Africa. I love the rich use of language to convey the many decorous elements of Christmas at home. The writing evokes a sense of contrast; an almost rags-to-riches sentiment between the binary opposites and their many nuances of relative poverty to luxuriousness, wealth and warmth.
Christmas At Home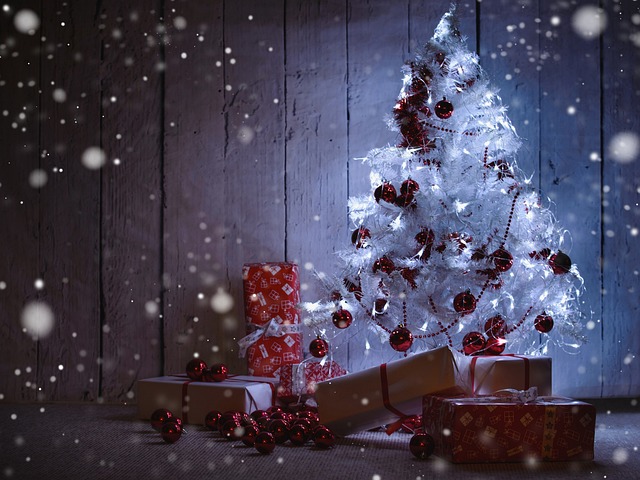 Every Christmas, for the first years of my life, the same small tree was displayed modestly on the sideboard, its only decoration being glass balls of glowing red, rich emerald green and precious gold and silver. I loved these decorations. A knitted fairy doll with a bit of lace around her middle sufficed for the top. The illuminations were provided by candles which were lit for short magical periods and were usually abruptly terminated by one of the branches catching fire.
Apart from the tree, Christmas decorations were sparse. A twig of holly was usually stuck behind the mirror over the fireplace in the living room and my paper chains, stuck together with a paste of flour and water, competed for space with the washing lines strung across the kitchen. That third-floor London flat was full of precious memories, but then it was time to move again.
When I was 13, home was one room with no lampshade around the single bulb hanging from the ceiling, and water for washing in a jug in the corner; a room reached by climbing six flights of bare wooden stairs, with a tall Victorian window looking out onto a neglected garden. One room in a house with nine cats and four dogs, and theatrical people downstairs. We stayed for six months, my mother and I, in that Dickensian house of Christmas Past, where there was very little to celebrate.
Then, it was a little London house, with an old lady living at the top, that became home.
Later still, I lodged term-time in one rather small room in the student halls: modern, pleasant and comfortable. A poster I had bought, Guernica by Picasso, was stuck on the wall over my bed. Bathrooms and kitchens along the corridors, and meals in the dining hall. I suppose it was a sort of 'home from home'. I enjoyed the social life – all girls, of course, but fun. I fell in love there, at the university ball.
After that, a single room in Leeds became my home for a time. With my first pay packet, I bought myself a dusky-pink candlewick bedspread. Made the room less plain.
I loved the view from the window my room in summertime when I was visiting my grandmother in the home for well-off pensioners in Germany. There were swallows flying in the red-tiled eaves. I washed and dusted for her and helped pour tea from huge pots at tea time.
In our first home when newly married, a flat with a high roof, the whole family came to sew and decorate and clean. We had bought new furniture and a framed copy of Turner's Fighting Temeraire for the wall. I had lost Guernica. Our first child, Madeleine, was born there too.
Then, a decade later, a big house in another part of town, elegantly spacious with a marble staircase and wrought-iron bannisters, both up and down. It was not a place of safety, and the tiled floors were cold. We'd been happier in our house along the road.
Our refuge was a seaside town in England, where the sea sparkled, the flowers were bright and the garden was full of yellow marigolds.
Much later, during grandchildren time, a single-storey house surrounded by a tropical South African garden and an enormous mahogany tree filled with birdsong was also home to me. I used to bathe late in the pool under the Southern Cross and the swaying palm and paw-paw trees. There were monkeys and a rocky fountain in that garden, as well as myriad birds.
Home, these days, is sufficiently near the centre of a coastal town that I can walk down the High Street every morning to buy my newspaper. The evenings and the mornings are dark and tins of chocolates are everywhere in all the shops. The joyful rituals of Christmas have begun.
Very soon, I will be draping the garland of dark green winter foliage around the mirror over the fireplace in the living room and a larger tree now will be decorated with many, many coloured glass balls of rich emerald ruby red and sparkling silver and gold.
(c) Jo Renton, 2022 
*****
If you'd like to see your writing appear in the Write On! Showcase, please submit your short stories, poetry or novel extracts to: pentoprint.org/get-involved/submit-to-write-on/
You can read the latest issue (15) of Write On! here.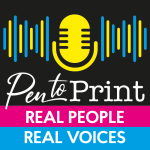 Hear extracts from Showcase in our podcast. Write On! Audio. Find us on all major podcast platforms, including Apple and Google Podcasts and Spotify. Type Pen to Print into your browser and look for our logo or find us on Anchor FM.
*****
If you or someone you know has been affected by issues covered in our pages, please see the relevant link below for ​information, advice and support​: