Thursday Connectors: The Best Festive Dinner
By Farzana Hakim

Tandoori Turkey: The Best Festive Dinner.
Hello, and welcome to a joyous Thursday Connectors, with me, your regular host Farzana. What a treat I've lined up for you all in this festive month!
We can agree that it's been freezing for almost the whole of December here in the UK, with gorgeous snow and slushy ice everywhere. Of course, the cost of our heating bills at the same time has been scary; making most of us feel miserly and Mr Scrooge-like every time it's turned on!
So, I thought I'd first warm you up with some hearty letters to Santa, which the children I work with at Marsh Green Primary School in Dagenham wrote during one of the creative writing sessions I run with them as part of 'The Story Of Me' project. Honestly, I was left humbled at the level of thought and care these small year two children held for those less fortunate than them. Their wishes were not for toys and material things for themselves, but for children in poorer parts of the world to have access to basics such as education, food and shelter. Being the sentimental writer that I am, I couldn't resist showing a collection of letters here for you to see for yourselves just how small children can be the most innocent and loving of all hearts. These will be our first Connectors.
Also included is a poem from Jo Renton, in which she paints a most original relationship with the moon. Hong Wei's Diaspora, a poem about life, is our third Connector and Diane Jackman's piece, A Long Way From Home, concludes our Connectors around the theme of home. Our final Connector is an illustration from Lauren Callis, age 14, which I felt was a jolly way to end this festive edition.
Before we come to the letters, I promised to tell the team at Write On! the secret to my mum's glorious tandoori turkey dinner, which she cooks for our family every Christmas. I know some of you may be thinking that I'm a Muslim and don't celebrate Christmas in my faith. That isn't true, it's the only time in the year when all my family are together and can spend the day eating a delicacy which we don't normally have available any other time of the year. Our halal meat shops only sell the big, fat, chunky turkeys during the Christmas season. Christmas for us is also spent as a festive day because we enjoy each other's presence and can eat together as a family. We look forward to the holiday season very much and like to get involved as a community.
My mum cooks us the most divine dinner; the star being, of course, her roast tandoori turkey. She marinates this in a mixture of rich tandoori spices and it's seriously yummy!
Mum says: "It's easy. Just add the spices into a yoghurt and lemon mixture. Imagine it's a large chicken. Put in some chilli powder, salt, coriander powder, some ginger and garlic paste, a little bit of crushed black pepper, turmeric powder, cumin powder and lots of tandoori powder. Mix spoonsfuls of these into a bowl, add three cups of yoghurt and half a bottle of lemon juice. Next, smother your bird until it's slathered in the stuff, cutting and pricking and rubbing it to get the marinade inside and underneath the skin. Marinade it overnight, before roasting for five hours, and …Bob's your uncle."
Do give it a try. You won't be disappointed!
*****
Now let's read the letters to Santa from the brilliant children in year two at March Green Primary School.
Hi, Year Two. Let's connect!
To whet your appetites, we're showing you two of the wonderful letters from the children below. By following this link, or clicking on the image of the letters themselves, you will be taken to a special page we have created just to show all the heart-warming festive letters.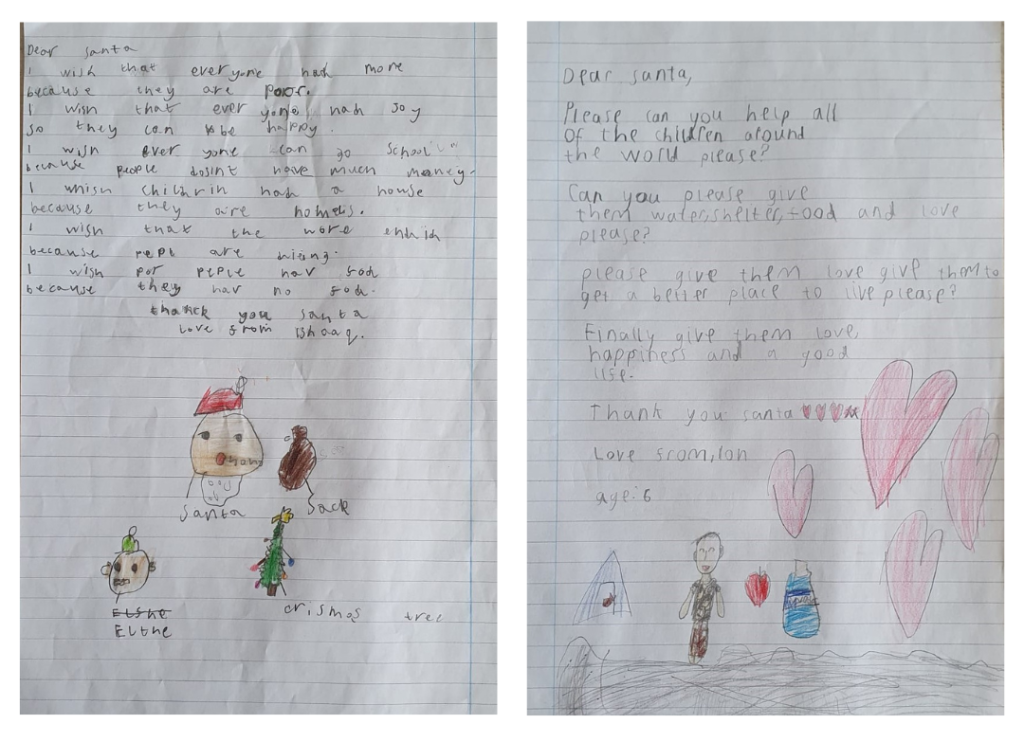 Brilliant letters, although I ought to have warned you to have your tissues to hand!
*****
Now, for the rest of our Connectors:
Hi, Jo. Let's connect:
The Moon And Me             
The moon was so full and large that night
As I stepped right into the pool of light
There was really no-one else in sight
I just followed the silvery road.
I was fearful to venture into the park
The paths were narrow, and the trees were dark.
A dog on a lead looked up and barked
As his owner ushered him past.
I was almost, by now, at the top of the hill
The street was deserted, and the wind was still.
Inside I felt a kind of thrill
As I strode on the solitary road.
I turned and then I saw the moon
Silvery gold in the inky gloom
A mysterious ethereal bloom
It was a newly magical road.
But I wasn't looking where I trudged
At the sinuous roots or the slippery mud
And I hit the ground with a hollow thud.
It flashed as my chin struck the road.
I just lay there for a minute or two
The perspective now was completely new
Was it a dream or was it true?
Why was I lying like this in the road?
I made a short list of all that was right
My chin and hand stung, but it was mainly the fright
My front teeth were in place and try as I might
I could not find anything else.
The moon seemed to mock me as I stumbled home
It was deaf to all my discomfort and moans
But it had shone enough to let me find my phone
So, I forgave it – Our beautiful moon.
(c) Jo Renton, 2022
*****
Hi, Hong Wei. Let's connect:
Diaspora
I think of life as a sunflower
that reaches high into the sky.
Dewdrops on fresh petals
glisten in the silver moonlight
and sparkle in the golden sunshine.
Or a dandelion clock
unrooted as it draws a full circle,
torn apart by an untimely wind,
and carried towards a strange land
for an unknown destiny.
Or the New Year fireworks
that shoot from the darkest corners of the earth
into the highest night sky
warming up the frozen faces
of happy families
and lonely travellers.
(c) Hongwei, 2022
*****
Hi, Diane. Let's connect:
A Long Way From Home
1. Shared house available
Three double bedrooms, own bathroom on upper floor giving complete privacy. Share kitchen and garden with owners.  Pets welcome.
Situated in a quiet country lane with no through traffic and extensive views of surrounding arable farmland.  Would suit walkers.
2. Your local services – updated annually
Mileage chart
From Fox Meadow Cottage
To:                                  Miles
Bus-stop                             0.5
Primary school                  2.5
Church                                2.5
Chapel                                 2.5
Children's playground     2.5
Post Office                           3
Pub                                      3.5
Shop                                    3.5
Doctor (dispensary)         3.5
Hairdresser                        3.5
Supermarket                       5
Senior School                      5
Library                                  5
Leisure Centre                     5
Pharmacist                           5
Bank                                     7.5
Railway station                  7.5
3. A long way
I gaze through the upstairs window
and see nothing.
Endless fields of wheat harvested.
Stubble remains, a duller yellow.
A narrow lane, grass on the ridge
ground out by tractors.
Our host is a kind woman.
Her friends give us clothes,
toys for the children.
I am not a beggar.
The children catch a bus to school.
No one is TEFL trained.
No other refugees in this village
or anywhere close.
I used to work in a gallery.
Coffee with friends at a pavement café.
Old men playing chess,
buskers and break dancers.
Traditional dress and New York chic.
Noise and colour, so much colour.
Here it is not silent.
Faint traffic on a distant road.
Tractors rattle and clatter to the farm.
Trains whistle past
the end of the garden.
It's a long way from Kyiv.
(c) Diane Jackman, 2022
*****
Finally, an illustration from 14-year-old Lauren Callis.
Hi Lauren, Let's connect: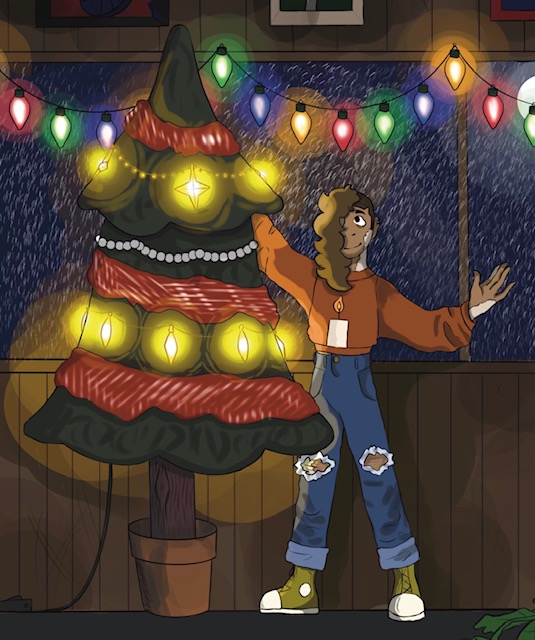 (c) Lauren Callis, 2022
*****
Thank you, Connectors for all your submissions today, and a special thanks to the lovely children at Marsh Green Primary. It's been a complete pleasure writing with you and I hope all the dreams and wishes you expressed in your letters come true for you and for the people you wrote about.
Happy holidays and I'll see you all in the new year!
*****
Read the latest issue of Write On! magazine online.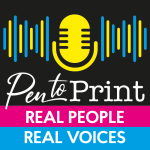 You can hear extracts from Showcase in our podcast. Write On! Audio. Find us on all major podcast platforms, including Apple and Google Podcasts and Spotify. Type Pen to Print into your browser and look for our logo or find us on Anchor FM.
*****
If you or someone you know has been affected by issues covered in our pages, please see the relevant link below for ​information, advice and support​: pentoprint.org/about/advice-support
It's been a complete pleasure writing with you and I hope all the dreams and wishes you expressed come true for you and for the people you wished well for.