Showcase: St Patrick's Day
Welcome to Wednesday's Showcase page and because it's St Patrick's Day  March 17th – we've brought you a little flavour of Ireland.
The pieces I'm showcasing today all have their roots in the Irish diaspora, the word used to describe the dispersion or spread of any people from their original homeland. The first piece is a poem by London Irish poet Lorna O'Connell, who is also a member of Forest Poets. It captures the emotions of migrants leaving Ireland to travel to far-off places. Many of the victims of the Famine in Ireland went off across the sea, their relatives seeing them off on ships, never to see them again.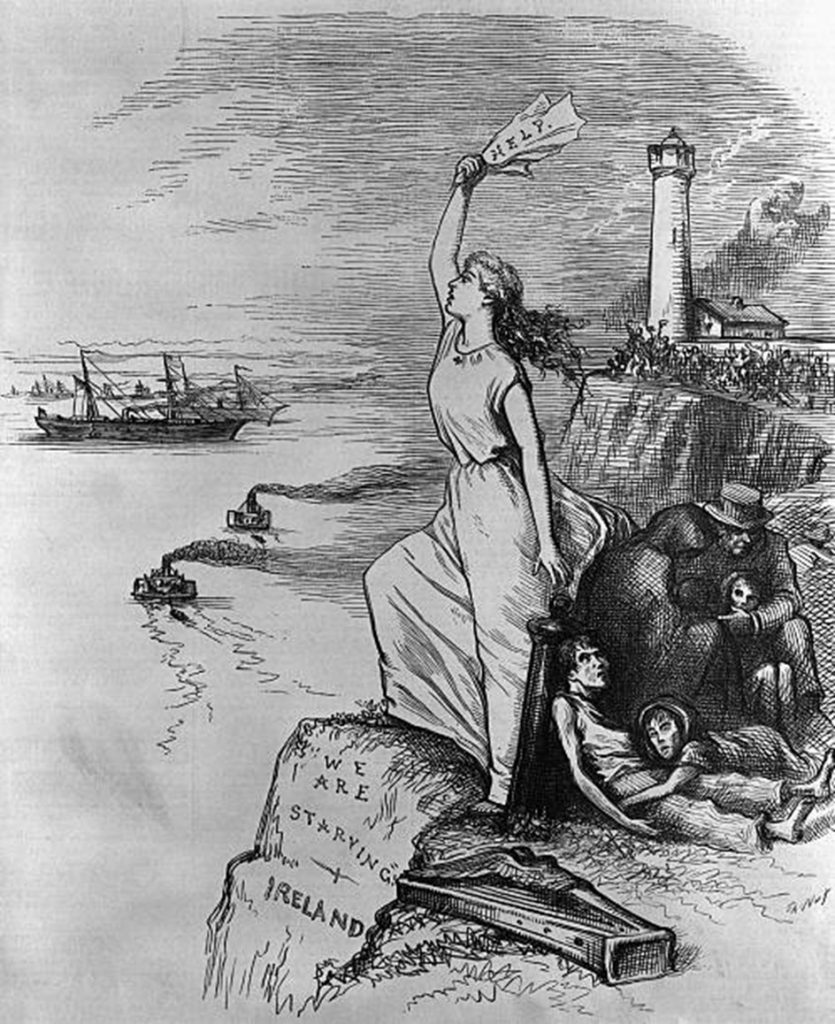 Make yourself tidy
Wrap your shawl round you
The scent of bread lingering
Will be a comfort in the lean days.
Wear the red petticoat
Flannel to keep the blood warm
Will be a blanket on the cold deck.
Put boots on your bare feet
Blow a prayer for me over the prow
Sew these pennies in your hem.
Take my brooch. Pin it so
On your breast. The baby's head
Will hide it from the customs man.
Kiss your father. Don't be scared of the waves.
There are angels out at sea they say
To mind the traveller.
Don't cry now. Stay safe.
Make yourself tidy.
© Lorna O'Connell, 2021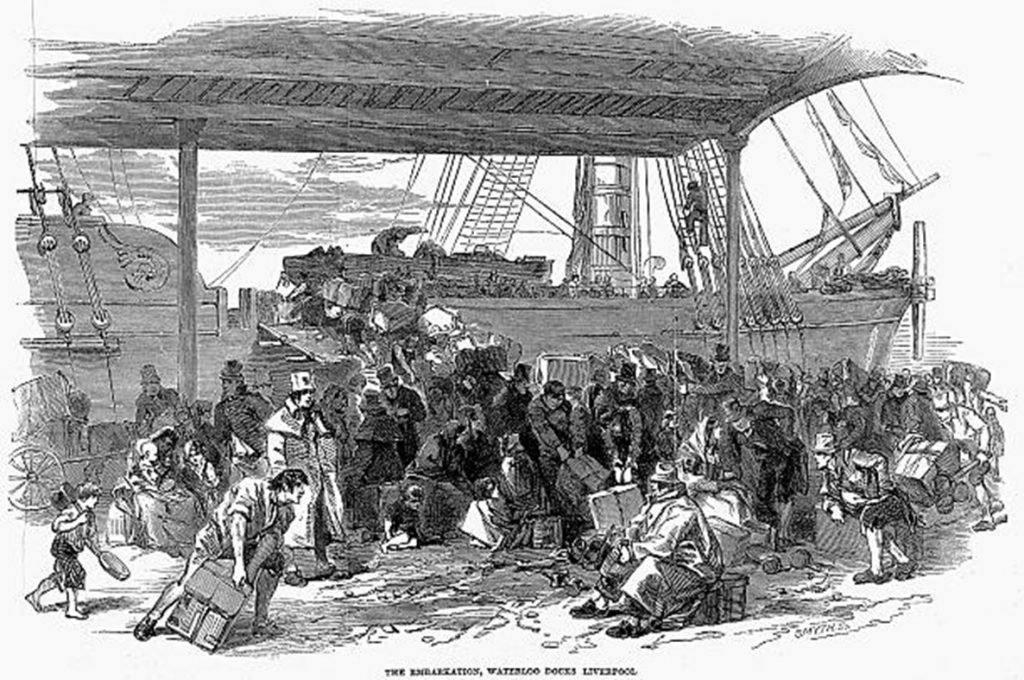 *****
H.B. O'Neill, one of our Pen to Print writers, has written this short story set in Ireland. Its poetic quality sweeps us along.
Unshackled Then Freed
 Work hard all your life and then retire. Be happy. Finally. Do what you've always wanted to do. Buy a boat. Live on a boat. Escape the life you never escaped from. Mum dead. Dad dead. Wife dead. No kids. No one to judge. No one to offer advice that is, in truth, opinion. Narrow opinion.
Buy a boat. Buy a narrowboat. Irony our one faithful friend? Laugh. Ha. No. Don't. Don't fake it. Don't revert to the safety of cynicism. Not any more. Don't allow it. Don't sully the dream. Sell the farm. Buy a boat. Sail away. Or stay in the Bay. But have the option. Allow the possibility. Buy a boat.
The north-west of Ireland is rich only in folklore. The land is rocky, barren, boggy. The mountain folk tough but historically impoverished. Sell the farm and buy a small boat. But sell the farm.
He did. Jason did. Jason Midwinter Reilly. He sold the farm at the age of 73 and he bought a boat. The locals laughed. They mocked him gently at the bar and savagely when he left. When he escaped. He knew they would. He knew the rules. He wasn't living in Dublin. Or even Cavan town. He'd done what none would do. He'd bought a boat in Bantry Bay. He'd traded tradition in favour of the unknown.
Jason knew nothing of boats. He wouldn't sail until he was ready. He lived aboard a boat that stayed moored. September. October. November. Sea air and bracing walks. Cigarettes and seagulls. Ma Murphy's for occasional libation. A quiet pint in a quiet corner. Contemplation under the shadow of Wolfe Tone's statue. Reflection on rebellion. Jason missed his horses but it had been fairest to release them too. On Tuesdays he bought sausage rolls from the Box Of Frogs bakery.
The storm came on a Thursday. Market day back in Leitrim. The boat was moored in a very summerly fashion. Jason Midwinter Reilly took his first voyage at three am on Friday. The wreckage was found six weeks later. Jason had not been reported missing.
News eventually spread and glasses were raised back home. They were pints of two halves. Jars of salute. Jars of satisfaction.
© H.B. O'Neill, 2021
You can connect with H.B. O'Neill on Twitter and Instagram: @hb_oneill
*****
The next poems are from another of our Pen to Print writers, Mary Walsh. Mary's Irish family had a great influence on her childhood and growing up in east London. Her father came from an Irish speaking area in the county of Waterford. She has shared some of her poems with us; the first is about that area and, I suspect, a childhood holiday.
Ring, County Waterford
Out of the ferry's yawning mouth
Driving through the day
The scent at once of peat and open fires
Green assaults the eye, a change from grey.
In the west the orange glow dies down as
We wind our way along its path
To paradise
With air salt fresh and
Sea lapping gently at the quay
Boats resting, creak
After fishing in the bay
Waking in the brightening morning
Marvel at the cool clear waves
We fill our lungs with purer air and rid ourselves of
Smoggy stress of urban wear
Gaze at misty brown and purple peaks
Will we revive our stressed out souls
With a mere two weeks?
© Mary Walsh, 2021
The next two speak for themselves. The Migrant's Tale has a universal quality which will appeal to anyone who's left their homeland and Dad is just that: her dad.
The Migrant's Tale 
He came in search of better life
Across the sea with rolling waves
He found the city life so strange
Missed his mother's loving ways
He came in search of any work
To this unfriendly land
"We don't want Irish workers." they said
As he travelled across the land
He worked on railways and on roads
To earn his crust of bread
He found a house, he found a wife
To warm him in his bed
No more a stranger in this land
His children followed on
As years rolled by he settled in
The emptiness was gone
Returning to his native land
When age had taken hold
He wished he'd never had to leave
The place he knew as home
© Mary Walsh, 2021
Dad
Last night I dreamt of Dad
The scent of tweed jacket
White of hair
Crinkle of twinkled eyes
Laughing together
We talked
I woke, eyes wet with tears
Sad for the reality of time.
© Mary Walsh, 2021
*****
Iain O'Higgins, a musician and poet, left his home in Ireland many years ago and now lives in California. The first of the two poems I'm sharing is about the legend of Daedalus and Icarus and the excitement of their flight, which is also the excitement of freedom. The title of the second poem, My Right Foot might remind you of the book written by Christie Brown, My Left Foot. He was an Irish writer and painter with cerebral palsy who was only able to write or type with the toes of one foot. lain and Christie both came from Dublin.
GB1
Eye level with the hawks
As I went down……
And they cried Icarus
Brushed the wings of vultures
As I spun to the ground ……
And they cried Icarus
I flew to the sun
My endeavor to escape
But the wax in my cape
My feathers
my father
My son
he screamed
My feathers flew farther
father
Further indeed than I
I wind thru the cloud
As they swirl above
Eye to eye with the gull
With the roar of the bull
in our ears
Aphrodite I come
to lie in your arms
We tried to free ourselves
We tried to free you all
Now my son, you take the fall
Tried to free you
from the tyranny
behind the wall
From the dead end
To find an escape
Thru the darkened vaults
But you couldn't see us
Still we tried to free
all
From the fire
We flew to the sun
We flew as one
A voice of freedom
A voice for us all
(Let's go back
Back to Farouzi
Let's go back
Back to the cedars
Let's go back
Back to the beauty
Let's go back
Back to the mountains
Let's go back )
© Iain O'Higgins, 2021
My Right Foot
I thought of Pablo Picasso
The other day
Whilst playin cards
A hand like a foot
I thought
'Twas but a pair of tens alas
No hue no cry no fuss was raised
No wigs upon the green
A bout of betting did ensue
Long did this suspense of time and space
live its moment through
A shuffled deck can never
Just like that reveal
The inner workings of it all
In the entrails there might live
a same but different account
Disregarding they who dealt
That lowly pair does inspire indeed
Those acts of times before
Heroic and valiant my dreams
To that distant shore they carry
I can hear them in my ears
They whisper
But my foot
it was wanting
Picasso forlorn
No glory
no story would follow.
© Iain O'Higgins, 2021  
You can connect with Iain on Instagram: @ohigginsiain
*****
Patsy Middleton is another of our Pen to Print writers who never forgets her Irish roots. Here's a poem from her.
The Digger
The beach is deserted,
The sun paints the distant horizon
with pale primrose light.
He walks with measured steps
a metal detector, extension of his mind,
gently sweeps over the sand.
Large earphones on his head,
he listens to varying whining pitches
hoping for a particular note.
He finds the odd lost coin
But mostly bottle tops
and other tosh.
Sometimes he scours fields
under a hard-blue sky
hoping for another Sutton Hoo.
He found a wedding ring once.
He put it on the kitchen windows sill
in his lonely little flat.
© Patsy Middleton, 2021
*****
I'd like to finish with some drama: 'Green Curtain Theatre' is a theatre group expressing the voices of the Irish diaspora. Some of their projects involve collecting and recording monologues, reflecting stories and experiences. You can find these projects on the 'Green Curtain Theatre' web page: https://greencurtaintheatre.co.uk/short-pieces-wanted
The link below will take you directly to a winning story, set around emigration, titled Leaving.  Just Coming Home, written by Rosanna McGlone, is performed by Justin McKenna:
https://greencurtaintheatre.co.uk/wp-content/uploads/2019/02/Just-Coming-Home-v2-no-music.mp3
It's been a delight to  share these pieces with you. I've been lucky to find a real variety of voices and an interesting response to the experiences and events that have shaped our lives, wherever we come from. In this case, with an Irish eye and an Irish voice.
Wishing you all a happy day. Lá fhéile Pádraig sona dhuit!
Keep writing.
Eithne Cullen.
*****
Don't forget, Issue 7 of Write On! magazine is out now. Read it online here.
If you'd like to see your writing appear in the Write On! 'Showcase', please send your short stories, poetry or novel extracts to: pentoprint@lbbd.gov.uk.