Thoughtful Tuesdays: Fall Into Fall
By Eithne Cullen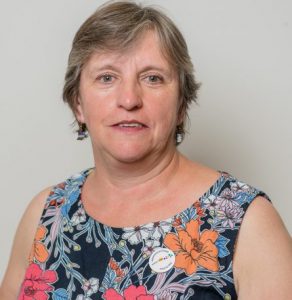 Our pages this week have a focus on the changing season, as we move from summer, into what the Americans call 'Fall,' or autumn to us.
Emmanuel Oreyeni, out talented artist at Pen to Print, has created this image of Fall; I love how he has captured the colours of autumn in his picture.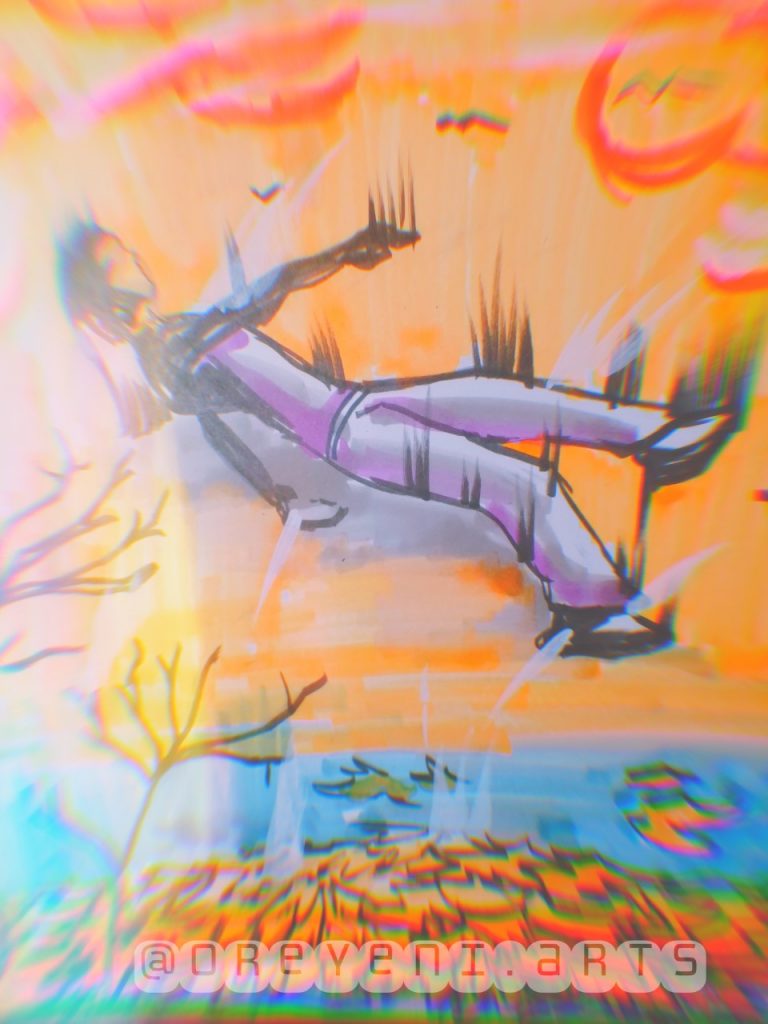 *****
We're heading into autumn with a chill in the air and lots of leaves finding their way to the forest floor. On my walks, I've been seeing plenty of acorns and shiny conkers around the paths, always a sign of the end of the summer season and reminding us to start getting out the winter woollies.
We began lockdown with cold March weather and have moved through the seasons while we wait for the anxiety about the virus to pass. We've been through a bright spring and a glorious summer, and here we are again: nothing is as certain as the changing seasons. In case we're missing spring too much, we can think about the words of Albert Camus when he said: Autumn is a second spring when every leaf is a flower.
This week, I have two lockdown poems to begin with. The first is by Michelle Owen and it was a runner up in the Barking and Dagenham 'Summer Of Festivals' Poetry Competition.
Lockdown
It was a day in March I was watching the news
About a deadly virus
Politicians discussing their views
It had killed thousands in China
And was spreading to here
Our county England
Was living in fear
A few days later
There stood our prime minister
We are on lockdown
Things had turned sinister
Stay in your homes
His words were wise
Wash you hands
Make sure to sanitise
The days were long
They turned into weeks
Everyday listening
To Boris speak
Don't go out
Thousands are dying
People were anxious
At times I kept crying
This couldn't be happening
Is this for real
I hate covid 19
And all the lives it would steal
Weeks turned to months
Will it ever end?
I missed my family
I missed my friends
I spent my days indoors
Went for half hour walks
Thank god for technology
To hear loved ones talk
Three months later
Lock down was easing
We could venture out
As the deaths were decreasing
To this present day
I still feel afraid
Of the coronavirus
And the difference
On life it has made
But it won't stop me living
And everyday I pray
That this deadly virus
Will eventually go away
© Michelle Owen, 2020
*****
The second lockdown poem is from one of our Pen to Print poets: like Michelle, Mabel reflects on the fears and confinement experienced in lockdown times.
Lockdown
A German term for fastening logs
Bound together for sea rafting
Now a sign of home confinement
Uncertainty and loneliness
Stay home or risk infection
Wear masks and gloves for protection
Maintain distance and do not hug
Your friends and loved ones anymore
From free movement to quarantine
Outdoor assurance now lockdown
As indoor prison to climb walls
In changing times and changing terms
© Mabel Joshua-Amadi, 2020
*****
When I think of autumn, I always think of the phrase Season of mists and mellow fruitfulness – the opening line from Keats' To Autumn. It's a poem many people like, as it offers a picture of the richness of trees laden with fruit as well as the richness of harvest.
To Autumn
Season of mists and mellow fruitfulness,
Close bosom-friend of the maturing sun;
Conspiring with him how to load and bless
With fruit the vines that round the thatch-eves run;
To bend with apples the moss'd cottage-trees,
And fill all fruit with ripeness to the core;
To swell the gourd, and plump the hazel shells
With a sweet kernel; to set budding more,
And still more, later flowers for the bees,
Until they think warm days will never cease,
For summer has o'er-brimm'd their clammy cells.
Who hath not seen thee oft amid thy store?
Sometimes whoever seeks abroad may find
Thee sitting careless on a granary floor,
Thy hair soft-lifted by the winnowing wind;
Or on a half-reap'd furrow sound asleep,
Drows'd with the fume of poppies, while thy hook
Spares the next swath and all its twined flowers:
And sometimes like a gleaner thou dost keep
Steady thy laden head across a brook;
Or by a cyder-press, with patient look,
Thou watchest the last oozings hours by hours.
Where are the songs of spring? Ay, Where are they?
Think not of them, thou hast thy music too,—
While barred clouds bloom the soft-dying day,
And touch the stubble-plains with rosy hue;
Then in a wailful choir the small gnats mourn
Among the river sallows, borne aloft
Or sinking as the light wind lives or dies;
And full-grown lambs loud bleat from hilly bourn;
Hedge-crickets sing; and now with treble soft
The red-breast whistles from a garden-croft;
And gathering swallows twitter in the skies.
(c) John Keats
*****
Like Keats, Palak Tewary and Ann Dineen have been inspired to write poems on the subject of autumn. Palak is one of our writers here at Write On! She's shared her poem and a video of her performing it.
Something New
Early morning soft dewy grass,
a chilly wind nipping on cheeks,
transformation of a deep green to a burnt sienna,
noticeable, on every golden streak.
An eerie empty silence,
fills the air every dawn,
as the nightingales leave their home
and the cuckoos are all gone.
The earthy scent within every breeze,
of glorious harvests and sweet-smelling hay,
an intoxicating mix, that shall tell
of the beauty in mouldy decay.
Crisp leaves fall off every tree,
and the hours of light are now few,
change is catching up, as all changes usually do
the old is making way for something new.
© Palak Tewary, 2020
Here's the video:
*****
And Pen to Printer Ann Dineen has also shared this poem with us.
Autumn
Each day bids farewell a little earlier than we would like.
Sad to see them fade so soon forgetting summer is a visitor.
Pleased as raffle ticket winners on dazzling bright blue days.
Like a gift left from summer for us to find on our doorstep.
A reminder she bears no grudge and has made plans to return.
Trees shake loose their golden leaves that dance downwards
waving farewell to their branches upon which birds perch.
Feasting on jewelled berries emboldened in the low dazzling
sun knowing they must take a long perilous journey to migrate.
Faded flowers have dried ripened seed heads ready to erupt.
Prepare to take the leap and scatter tiny kernels of hope that
next year the soil will offer them again, a front row seat.
We should also be so fearless to mirror such optimism as winter
is in no hurry to return, dawdling in the background, reluctant
to interrupt summers last curtain call.
© Ann Dineen, 2020
*****
On the subject of harvest, the richness of the earth and bringing the crops in for autumn, our friends at Company Drinks have an exciting new venture. Cam has been in touch to tell us all about it:
Made In Barking & Dagenham: 'The Good Food Collective' public launch on Saturday 26th September 2020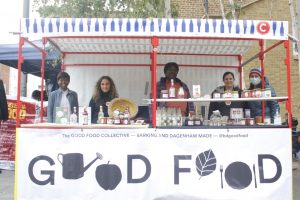 A group of local food makers and chefs launched their new venture at Barking Market on Saturday 26th September. 'The Good Food Collective' is a new Barking and Dagenham, resident-run food group, which was started by Helen Bateman, Cátia Baxter, Brigitta Budi, Nikki Elegbede, Rubina Khan, Lily Kwong, Toni Lötter, Kathy Mason, Elisabetta Nasta, Oyin Okusanya, Elizabeth Osagiede and Company Drinks.
"We are united in our belief that there is an urgent need for a better understanding of where our food comes from, how to grow it, how to cook it, and how to share our knowledge."
In a pop-up stall on Saturday 26th September, local residents were able to meet the group and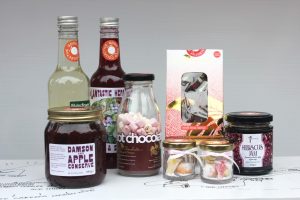 witness their passion for affordable, good and healthy food, at a special market stall packed with information, tasters and free family activities. All the products on sale were 'Made In Barking And Dagenham,' some with ingredients grown and picked locally. There was a wide range of products on offer: from Jollof sauce to masala paste, freshly made jams and cordials, hand-crafted chocolates and marzipans, pesto and more…
This month, the group will be supporting the LBBD Black History Month programme, hosting online talks from Dee Woods (Granville Community Kitchen) and Fozia Ismail (Arawelo Eats) on Thursday 22nd October at 6pm, plus the 'Good Food Collective' cooks will be making delicious meals, celebrating the borough's food cultures, and sharing their recipes and food stories. Visit: www.companydrinks.info for all the details.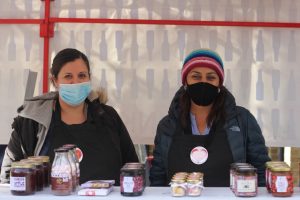 If you're interested in finding out more, or would like to join the growing network of local growers, makers, bakers, cooks and 'Good Food' sharers, you can contact us at: goodfood@companydrinks.info or follow us on social media: @BDGoodFood
Cam Jarvis
Company Drinks CIC  / Subscribe to our Mailing List / @goingpicking
*****
We haven't finished talking about autumn yet. Later in the month, we'll be looking at Halloween and the mystical aspect of the change of seasons and the way our minds move towards more spiritual and spirited ideas. If you have any writing about Halloween, do send it to: pentoprint@lbbd.gov.uk.
Next week, we'll be looking at recipes for success. So, whether you're a write,r or just interested in hearing about writing and reading, there'll be something for you in our Extra pages.
Our First Line Generator Competition Is Now Open. The best two 'first lines' submitted will win a copy of The Organised Writer, by Antony Johnston.
Don't forget, Issue 5 of Write On! is available to read here, just click for access.
When I think of autumn, I always think of the phrase "Season of mists and mellow fruitfulness" – the opening line from Keats' 'To Autumn'.