Monday Moments: Falling Into Fall
Introduced by Holly King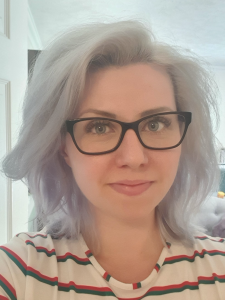 This week, we're 'Falling Into Fall'; the temperature has dropped dramatically, leaves are falling from the trees, sunshine has been replaced with rain giving way to heavy-clouded skies and, to round it all off, I fell over!
I find our use of the word 'fall' interesting. We 'fall' in love, 'fall' for someone's trick, fall into a trap – the commonality being that 'fall' is a passive term describing how easily these things happen to us. We don't do anything to help or hinder this act, it is thrust upon us and we, guided by gravity, simply move with it.
We fall because we are distracted, being careless, because of uneven ground, too much weight, an unbalanced life, from being pushed by others or not asking for support when we need it to keep upright. Fall happens, as does Winter, Spring and Summer. It's inevitable; it comes at the same time every year like clockwork. Deciduous trees lose their leaves, the sun peeps through watery, sporadically and shy. Yet, as Blue Öyster Cult reminds us: "Seasons don't fear the reaper". But if we were to 'fall' through life, or let the colder seasons pass passively while we wait for the warm, long days of summer, we'd miss out on so much.
It's difficult not to just let the days pass, but instead to actively stop and look, reflect on your surroundings, your life, yourself. It's hard not to just keep falling; for the same tricks, for different people, for a new trap, instead of learning to stick out the hard times and actively engage with those around you. But how else do you build strong relationships, become a more resilient person, learn and develop personally? If you don't actively work on the foundations of your life, aren't you just going to fall into the same potholes?
It's hard to put yourself into situations where you know you might fall. Better to stay inside where it's warm, safe, familiar. Here you can pass the time watching TV on the sofa with a cup of cocoa instead of going outside and braving the slippery, cold autumn. But we learn from falling (quotes from Batman Begins and Spiderman: Into The Spiderverse spring up). Our bodies heal, protect the wounds by scabbing over, send pain relief and attention to where we need it. When we fall, we defend the vital parts by putting out our hands and letting our knees take the scrapes because, intuitively, we know what parts of ourselves to shield.
We pick ourselves back up and carry on – always moving forward, into the next season, to somewhere eventually warmer and brighter. Because you can't live life to the fullest, can't see the brightest colours, encompass all of the flavours of being, if you don't also accept the possibility of falling over and getting a few bruises. To fall is to say we have lived, that we went outside and braved the world instead of staying in our comfort zone. To fall is to have come into contact with the world, to have left our mark on it while being changed by the experience. What we learn from falling is ours to choose.
There are great, strength-building, colourful aspects of Autumn that our features this week have to share with you, beginning with a poem by Danny Fenn from the 'One Borough One Love Summer Of Festivals' poetry competition,  which won Second Runner-up:
After The Storm
I have a dream
Of a hug and a kiss
From those I love
And oh so miss
These simple gestures
We had taken for granted
A peck on the cheek
So lovingly planted
A firm handshake
No social distance
We are human beings
We need coexistence
To once more see a smile
With no mask on a face
No more waving through windows
Just in case
To go to the shops
Smile at cashiers
Take down the screens
Without worries or fears
To hop on a bus
The tube and a plane
Step out once more
Into the public domain
To go for a meal
With family and friends
Will once more resume
When this finally ends
We will once more shine
Though the struggle is long
We are one in this fight
We all must be strong
These simple things
We all so yearn
Have no doubt
They will return
God bless you all
Stay safe stay well
But never forget
Those who fell
I have a dream
To keep me warm
Of things I'll do
After the storm
(c) Danny Fenn, 2020
*****
Next, we have an incredibly talented artist, Lucy, from Kent. She tells us:
All my work is pencil based because I love the versatility of the medium and the power of a black and white image. My favourite thing to draw is landscapes, especially seascapes, as I love the power of nature and how beautifully that can be transferred into a drawing. There is something about the beginning of autumn, where the leaves haven't turned yet but the air is chilly, it's a bit darker, and you're reaching for a jumper in the evening that just fills me with inspiration.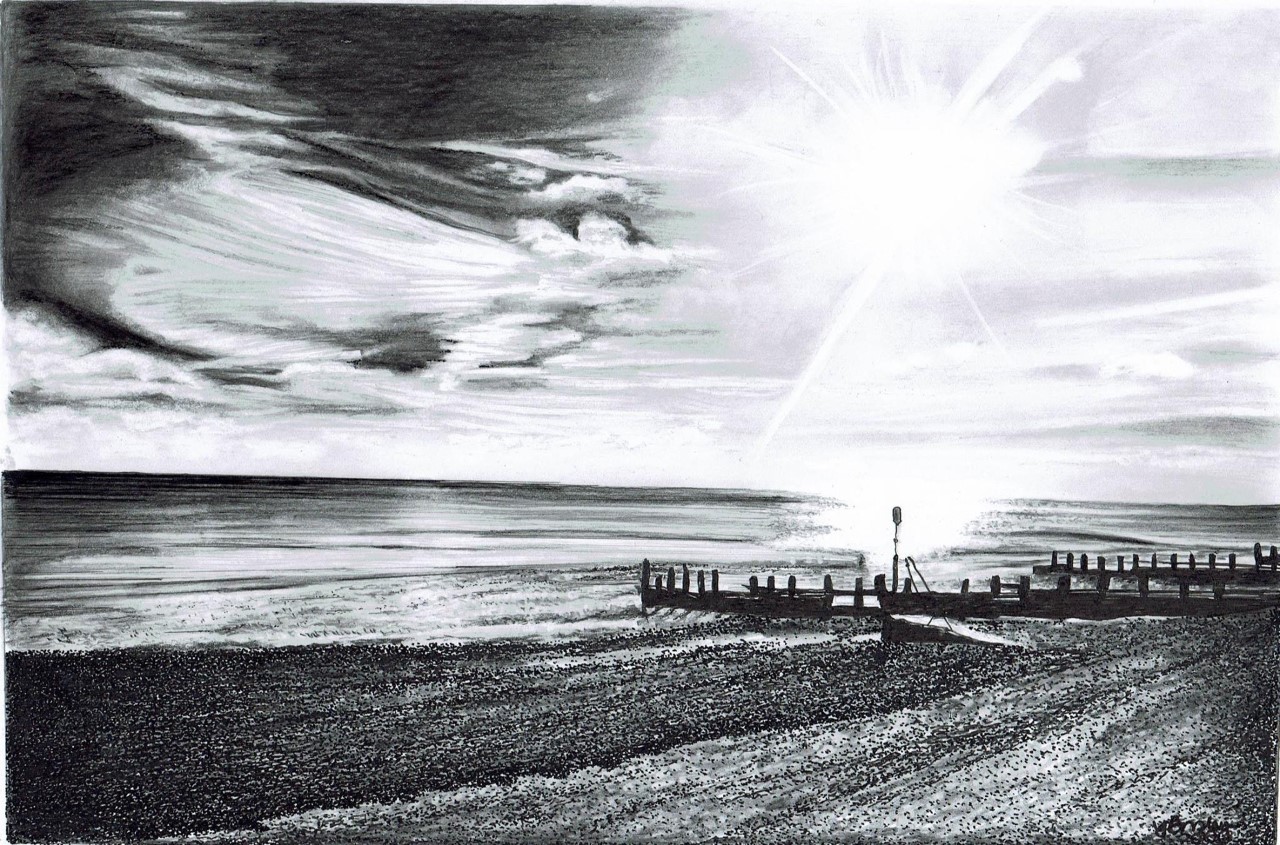 This drawing was done on A4 Bristol Board paper using mechanical pencils and graphite powder. It came from a photograph a friend put on Facebook. The light on the water is so beautiful in this landscape, but what I love most about it is the contrast between the sky on the left and the sky on the right. It is such an accurate reflection of Autumn in this country; how a chilly dry afternoon in September can so quickly turn into a wet and wild turbulent evening. The darkness seems to creep in from the left-hand side and changes the light completely.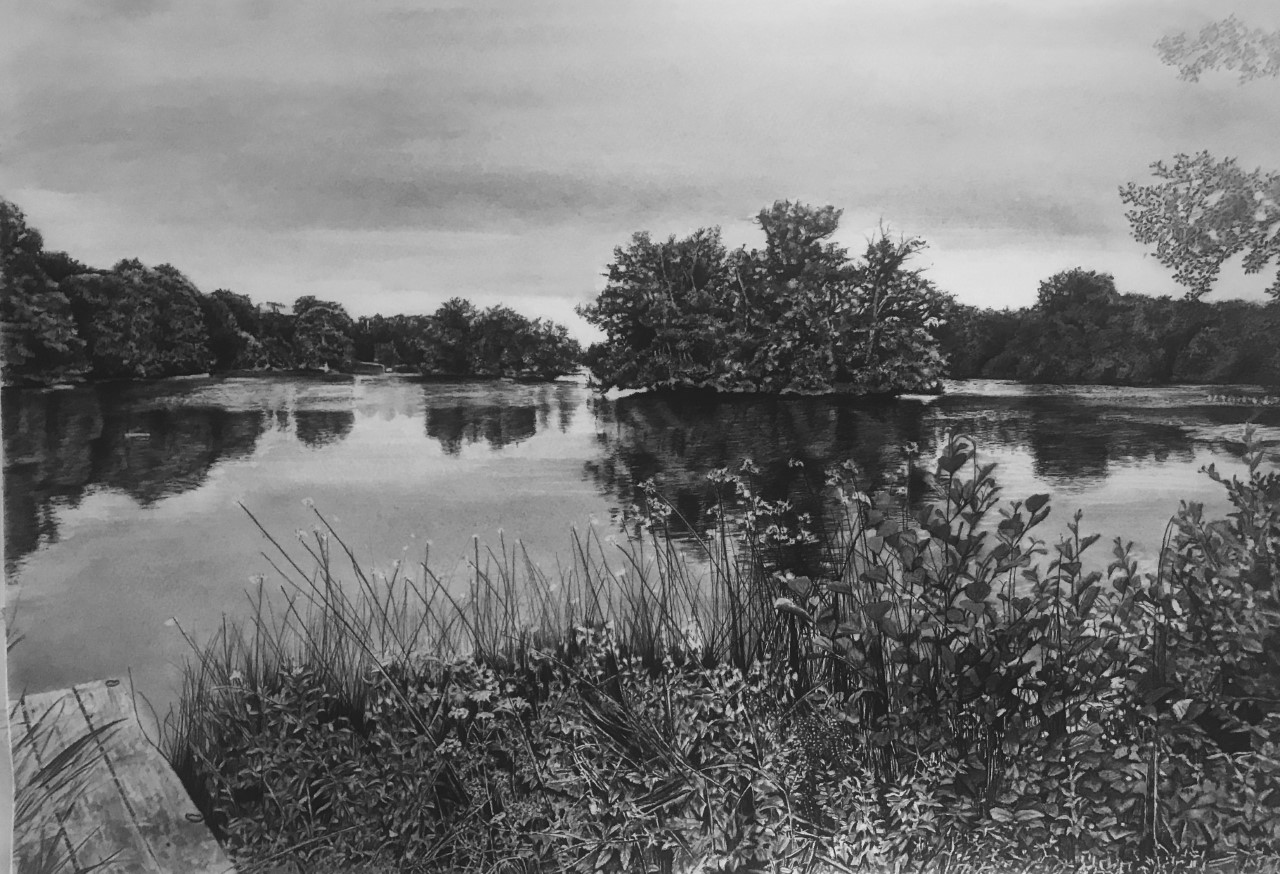 I created this on A2 Canson Paper, using pencils and graphite powder. Tranquillity was a commission and remains one of the most complex and detailed landscapes  I've ever drawn. Seeing it come to life was truly inspiring. There is something about reflections on water, especially during the early Autumnal months, that fascinates me. The way light interacts with water is a common theme in a lot of my landscapes, but what I find interesting about this piece is how the light on the water gives the piece a slightly gloomy feel; almost as though an October storm is just beginning to roll in. Drawing this reminded me of the importance of perspective, and I love the contrast of the wood at the bottom left of the picture and the hint of a bridge right at the back.
(c) Lucy Brushstrokes Artist, 2020
You can Connect with Lucy Brushstrokes Artist: www.brushstrokes-artist.co.uk Facebook: brizbrushstrokes
*****
To finish off this week we have a couple of poems from Claire Buss' poetry collection Little Book Of Autumn. Claire writes poems inspired by the seasons, 'Mum life' and her personal feelings about things. Her poetry is usually short, sometimes amusing and always relatable:
Colour Changes
It's not time yet but it soon will be

The mornings will reclaim some darkness
And the evenings will lengthen
A darkness is coming
It's still yellows and oranges
Bright things still twinkling
Cerulean blue dancing in the sky
Summer still shines
But the seasons will shift
September rustles around the corner
And Autumn is checking
That it's dancing shoes are ready
Browns and reds and purples are shifting
Greens and blues and yellows fading
The earth is saving is strength
Changing colours, falling
(c) Claire Buss, 2020
Firework
They crash and bang in the darkened sky
Like heralds of an ancient power
The crowds beneath them gasp in awe
Then start chatting between them
A firework only holds the attention for a short while
Despite the fizz, the whizz and the bang
After a while all the sounds and all the smells
All the colours and all the sky glitter
Just start looking the same
It's another firework, let's get a hot chocolate
The ones at the beach are best
They shoot out over the surf
The fear of standing on the beach in pitch black
With just fake stars exploding overhead
And a shore of strangers sharing the moment
At the end no-one claps
There's a murmur of disappointment that this is the end
The lights have fizzled out and the camaraderie lost
We all file out, some pushing, some shoving
The cars packing the road in the rush to get out
A sadness then that the display is over
A regret that you didn't pay full attention
But when you live at the beach
You have to remember
It goes on from October through to November
(c) Claire Buss, 2019
Falling Into Fall
September yawned and we all fell in
The evenings grew longer and darker
And winter blew from afar, chilling the weather
The sun decided to rest a while
And cardigans were pulled from bottom drawers
Autumn is upon us, marching on regardless
We spent too long on the beach
And tripped over our buckets and spades
Now we fall into hot chocolates and fingerless gloves
The start of a new year of school and learning
Shiny shoes and smart uniforms
Brand new lunchboxes
All the little children falling into lessons
With not too much grumbling…
We're falling out of love with salads
And plumping for pies, stews and roasts
Not forgetting crumble and custard
Falling into bad habits of curling up on the sofa
No more early morning runs
And one more biscuit from the tin
Fireworks, bonfires, sticky toffee apples
Crunchy leaves and rain, pumpkin spice everything
We're falling into fall
(c) Claire Buss, 2020
*****
First Line Generator Competition is now open. The best two 'first lines' submitted will win a copy of The Organised Writer, by Antony Johnston.
Issue 5 of Write On! magazine is available to read online, just click here!
To fall is to have come into contact with the world, to have left our mark on it while being changed by the experience. What we learn from falling is ours to choose.