Thoughtful Tuesdays: The Identities We Use To Face The World
By Eithne Cullen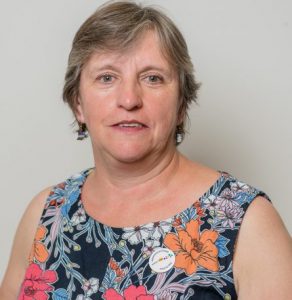 Welcome to the new season of Write On! Extra. Our new season has the overarching theme of 'A Kaleidoscope Of Colours', tying in with the way we are living through a shifting landscape at the moment. This theme explores how we are adapting to the ever-changing, ever-swirling patterns of life.
This week, we're focusing on: 'Different Hats And Different Faces' – the identities we use to face the world.
Sometimes it feels like lockdown is tailing to an end and then we are reminded that the virus is still out there: R numbers are less talked about and people's Spanish holidays have been disrupted. Sometimes it feels like an endless summer and we're not quite sure what September and beyond will bring.
Mary Walsh's poem captures the feeling of this endless summer perfectly. I do hope she's remembering to wear a hat in these lazy, sunny days!
Afternoon Sun
When you've given up the weeding
For a deckchair in the sun
And you know you shouldn't sit down
'Til the deadheading's done
But the sunshine softly beckons
The birdsong calls a tune
It is so nice in the garden
In the late afternoon
When you know you should be mowing
'Cos the grass is getting long
And there's reaping and a sowing
Still to be done
But you'd rather put your feet up
Sit back and relax
Soak the late afternoon sunshine
Rest your aching back
(C) Mary Walsh, 2020
*****
Here at Write On! Extra we're examining the different ways we face the world. We're still being asked to put on a brave face and even now I want to know what it will look like. We also wear different hats for the roles we play in life: mine have included taxi driver and 'chief cook and bottle-washer,' among many others.
Way back, when lockdown began, I put on a new T-shirt (not a hat this time) and joined Gareth Malone's home chorus. It was a delight tuning in each evening and joining the thousands who sang with him.  After many weeks, the choir had produced an EP and many images of the singing we were doing. Then a TV programme emerged to show the power of the whole enterprise.
'Write Next Door' poet Kala Solanki has written this fabulous account of her involvement, right up to her appearance on the programme.
The Choir
I used to sing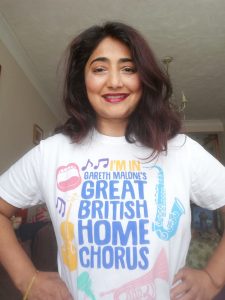 When I was little
In the choir at school
It filled my heart with joy
The orchestra, the Christmas carols
It made me feel as if I'd
flown to the moon
I take every chance to sing now
To the radio and in the shower
We sang a Phil Collin's song
Another step to heaven
When I joined the "Wanstead rock choir"
So in lockdown, I couldn't believe my luck
As I watched the "One Show"
Come sign up and sing with Gareth Malone
What an opportunity
For me to sing, stuck at home, all alone!
I registered straight away
And we began virtual classes
With fifteen thousand people
It helped lift my daily gloom
Singing with the masses
We did vocal exercises
Some that made me larf out loud
Such as 'My dog is a good dog'
And my favourites
"Bella momma, bella momma yay" and
"Danger men at work"
During the early weeks of the crisis
Singing with the choir,
Raised my spirits, took away my anxieties
Of what would happen to myself, my health and my family
The joy of singing, should be sold in bottles
It is the elixir of life, a pure health tonic
We practiced songs
Reflecting our time, at home
Including "You are my Sunshine"
"I'm Still Standing"
And "Somewhere Only we Know"
We had to send in videos
Whilst singing to some songs
But I was shocked
Mine was chosen
For the TV show "The Choir"
The first two episodes of front line staff and key workers
Their songs and stories were sensitively retold
Such as Pippa, a carer for her granddad with dementia
Her lyrics so heartfelt, open and honest
Moved me to tears, I lost all control
I sent in 4 auditions of me singing to "The Storm"
About those shielding for the third program
Written by the talented, 16-year-old Rae Kwan
This song was perfect
And captured our collective experiences
Of going through an almighty storm
But fighting and overcoming with resilience
To my delight
My video got played
Bottom row, fifth from the right
I had my pride of place
My friends were texting me
Sending me pictures of me on TV
It was fantastic,
I felt so excited, and ecstatic
So is this what fame feels like?
Wow it's so surreal
The adulation, the likes and lovely comments
Cool, I could get used to this!
But mostly I was proud
To be part of something special
During my time in lockdown
It was a once in a lifetime moment
Something I will never forget
How "The Choir: Singing for Britain"
United the nation
Through loneliness and isolation
Singing to me, takes me to special places
It's something so magical and uplifting
It's up there with the angels and the graces
I've always loved it, since I was a young child
And once this is all over, I can't wait
To sing again, in a new rock choir
(C) Kala Solanki,  2020
*****
I wear a writer's hat and a much-treasured reader's hat, too. And I've always felt the benefits of reading help us in more areas of our lives than just improving our literacy. Ask most writers for their top tip and they'll say, "Read a lot!"
Growing up, my brothers and sisters and I were often told off for wasting time on idle pursuits, but tell Mum we were reading, and she'd leave us in peace. I feel privileged to have grown up in a house where reading was never seen as wasting time.
Dan Cross, our showcase editor, told about a message he received from a company called Ghergich, promoting an infographic about reading and its physical and mental health benefits.
The message was from Sean Farrell and he shared how they've teamed up with Health Perch to create an article and complementary graphic on the health benefits of reading. Writer Kristen Seymour covers six top benefits for mental and physical health and provides tips to help us read more.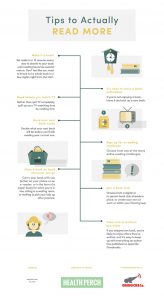 The benefits include: stress reduction, with many people saying reading helps to get them ready for sleep. We're also told it's good for the brain. Well, that would make sense! Also, the benefit of making us more empathetic is a powerful one. We need a lot more boosts for our emotional intelligence in these troubled times, that's for sure. And, when it comes to creativity, we're told reading will boost our creative flow – giving us permission to use our imagination.
Here's the link to the page (or click the infographic).
Of course, Pen to Print gives us loads of opportunities to read and interact with other readers and writers, providing lots of activities in lockdown, including workshops and a book club through Microsoft Teams. September is the month of Readfest. This presents us with all kinds of events and the team is working hard to make sure there will be online and virtual content, including an insight into the world of Write On!
As I said at the beginning, 'A Kaleidoscope Of Colours' gives us the opportunity to reflect on living through a shifting landscape and explores how we are adapting to the ever-changing, ever-swirling patterns of life. If your writing fits in with the theme, do submit to pentoprint@lbbd.gov.uk. You may also have writing you'd like to submit to our competitions. The deadline is September and entry is free!
Finally, you'll have to excuse me, my book is calling…
This week, we're focusing on: 'Different Hats And Different Faces' – the identities we use to face the world.