Thursday Connectors: Africa Away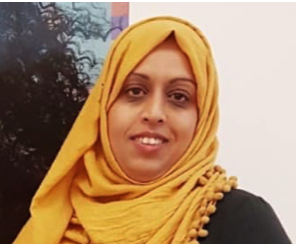 by Farzana Hakim
Hi, all. It's Farzana here, for our latest edition of Thursday Connectors. As promised, this week I'm taking you on a trip across one of the most culturally rich and diverse continents in the world: Africa. We'll be connecting to writer friends from Morocco, Kenya and Tunisia, all sharing some of their lockdown thoughts with us.
Although I am truly excited, I can't help but feel a little disheartened. Last week, my family and I were supposed to be on our first-ever trip to an African country. It was half-term and we'd planned to explore Morocco as a family treat. Of course, as with so many things, it ended up not happening. So, with plans for our holiday ditched, half-term was spent at home in our 'new normal' lockdown routine instead. Last Wednesday was fun, though, as my daughter had the great idea of turning our front room into a traditional Moroccan village; the idea being if we couldn't go there, she'd bring it home to us…
She made me take out the fancy silverware I'd brought back from Saudi Arabia a few years ago, when I went there to do my Hajj. Next, she made me fix up the golden, round table I'd bought when I was visiting my sister in Qatar last year. It only took her a few minutes to completely transform the space. She had even taken out all the floor cushions and blankets from the attic; stuff I hadn't used in years. When the evening approached, she proceeded to light up all those small colourful lanterns and lamps I've been accumulating as a shopaholic: representing years' worth of trips to my husband's (I don't know why!) detested Dunelm Mill and The Range stores at Lakeside shopping centre.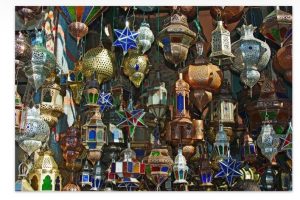 I did my bit as well: presenting a juicy, flavoursome lamb tagine for dinner, cooked in an actual tagine and accompanied with aromatic couscous. My husband made some gorgeous black tea, which we enjoyed along with baklava and mammoul biscuits. A feast! Although we laughed at how quirky and weird we were acting, the entire day really was extra special. We even dressed up: the boys in Abayas, sent over from Qatar by my sister, and my daughter and I in a mish-mash of clothes and headgear, inspired by our recent Turkish binge-watch, Resurrection Ertugral.
Then my daughter announced: "Let's go to Egypt tomorrow. I want to see the pyramids."
Bless her :). But no, unfair though it may seem, I made her pack everything away before bedtime. At the end of the day, home is where the heart is.
But I guess it's not only my daughter who's been trying to bring the outdoors in during lockdown. This has become the new normal, hasn't it? People are even going on dates from the comfort of their homes. Regular cinema-goers, like my sons, have resorted to watching the latest releases on their TV screens for entertainment, and subscriptions to Netflix, Amazon Prime and Disney+ are at an all-time high. Also, with schools being out for so long, aside from online lessons and homework, children are having interactive PE lessons in their living rooms. Just look at how popular Joe Wicks has become.
Keeping ourselves and our families occupied during the pandemic has become a coping mechanism in itself. Along with many others, I do believe this is healthy for our mental and physical health.
So, returning back to Africa for our first connector of the week, we have a poem sent in to us from Salma El Bouaichi, who lives in Morocco. She has also sent in some great pictures.
Hi, Salma. Let's connect:
United
a poem by Salma El Bouaichi
There is a country in North Africa
called Morocco
Peaceful, kind, and hospitable
are its people
A place of harmony and joy
A wonderful sight.
Until a dark cloud came over the sky
and scared so many
and made them cry.
The dark cloud huge and disabling
roared over the land
"Yes, I am the Coronavirus, but I bring also
goodness instead of bad. No need to cry."
The people looked at it and frowned,
"Why not cry?
you isolated us in our homes for days
killed our loved ones
and terrified us all!"
The dark cloud smiled, as he began to appear gentler,
"If only you could understand. I am some grace, I am some mercy to you,
There is no need to worry at all."
The people of Morocco exclaimed,
"If this is true, explain yourself"
'I am grace,' the dark cloud beamed.
"Because of me, people are calling out to God. Coming closer to him.
I am mercy. Thanks to me, the earth is breathing life again and healing.
Thanks to me, so many of you are now reunited in your homes,
Sharing smiles, laughter
Protecting each other.
Stop scowling at my face and celebrate this beautiful grace."
The people of this land in the North of Africa
took note and stopped frowning
did they realise, the dark cloud was a blessing and not a curse?
That behind this rough cloud
There was a relief.
That the storm will be brief
The people relaxed and gained some hope
And they began to wait for the sun to shine again
whilst united and one.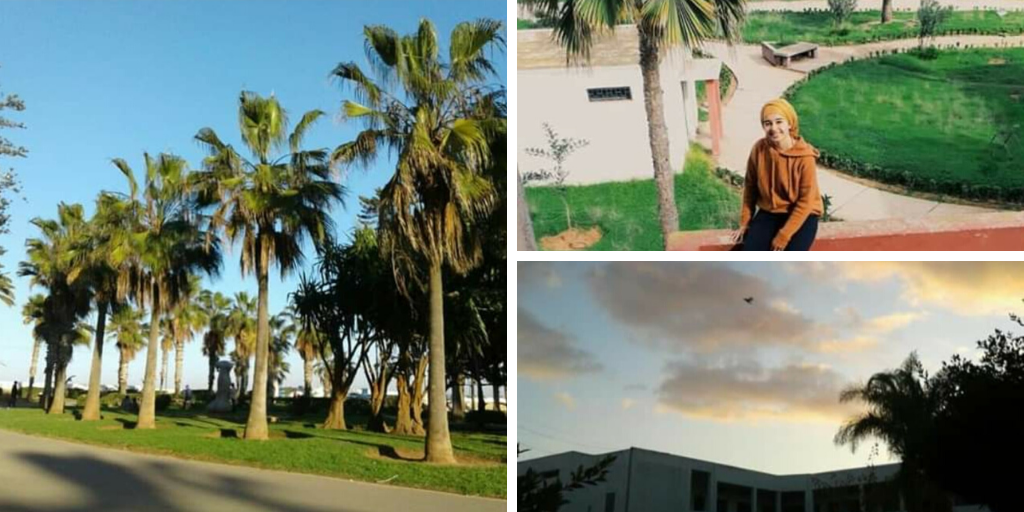 Thank you, Salma. Your optimistic nature shines throughout your poem. The pictures are lovely, too.
*****
Next, we head to Kenya, from where Abhay Shah tells us how he feels about the whole situation there.
Hi, Abhay. Let's connect:
Kenyan Update
by Abhay Shah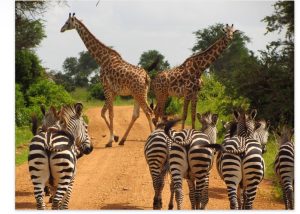 Life in Kenya has been greatly affected by the ongoing coronavirus pandemic. The first case reported in Kenya was in late February. At that time, the virus was not taken quite so seriously. After a sudden rise in the coronavirus cases, the government decided to take action to reduce this.
All Kenyan residents living in a foreign country were allowed to return within a period of two weeks and thereafter, all flights were shut down (no incoming or outgoing passenger flights were allowed). Passengers coming from other countries now have to undergo a compulsory 14-day self-isolation.
As of today, the cases are 1000-plus. The government has set a curfew between 7pm to 5am every day for the next three weeks until another decision is made on whether to increase the curfew by another three weeks or to impose a complete lockdown. Businesses are forced to close by 4pm, so that all employees can reach home before 7pm.
Since lockdown, a lot of businesses have been affected; some even shutting down completely, forcing the economy into crisis. Many people have lost their jobs, or have been forced to take leave because of this. Amongst those facing the largest losses are the nightclubs and bars. Due to the curfew, they have no customers.
However, people are very cooperative and follow the rules the government has set. This includes compulsory masks. Passenger vehicles are only allowed two people per car, to maintain social distance. Compulsory gloves and hand sanitiser must be used while shopping. And compulsory hand sanitisers must be available in cars.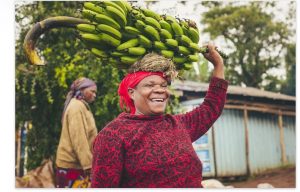 In my opinion, these rules are excellent and will surely reduce the cases here. Those who are highly affected by the pandemic are offered care packages containing food and medicine by the government to aid them. Overall, life is normal and will soon be better for everyone.
*****
Thank you, Abhay. That was an interesting update on the situation in Kenya.
Our next stop is Tanzania. Luckman Said gives us his take on how the government there is dealing with the virus.
*****
Hi, Luckman. Let's connect:
The Coronavirus In Tanzania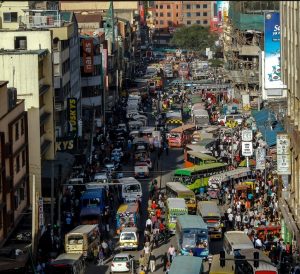 Living in Tanzania is mostly what you would expect. Hot weather. Overcrowding. Political Naivety.
COVID-19 has left the country no different. Was it out of ignorance, stupidity, or just corruption? Any guess is as good as mine. The streets are still filled to the brim with people going about their usual business and day, as thousands die from the virus.
The smart ones in society know not to leave the houses. They are the rich and the ones who don't need to be on the streets earning the next meal. The unsure individuals simply follow orders as much as they can afford to: stay at home, wash your hands, wear a mask. Whereas the poor, they will need to go out, or they'll go hungry.
On 24th June 2020, on Eid day, the president held a huge celebration for 'The defeat of the coronavirus.' Yet not a single statistic has been released in the country, and people are still dying. However, the country still rejoiced. And why wouldn't they? Their own leader had declared their victory.
Hospitals are filling up, reaching full capacity and beyond. Medical practitioners are catching the virus while on the frontlines and they are dying. Retired doctors are coming out of retirement to tackle the casualties of the virus. But to the Tanzanian public, the pandemic is invisible.
*****
Thank you, Luckman, for your honesty. It's not only in Tanzania where there is mistrust for the people running the country. I'm afraid, here in the UK, we have seen similar trends. The people of any nation would rightly expect the leadership, the people they've voted in and put all their trust in and given the power to in the first place, to shine during this hard time. But in reality, what we are seeing is shocking and makes us think, doesn't it?
Speaking on behalf of all the people I know in the UK, though, we haven't lost any trust in the heroes who are on the front lines, doing the jobs to keep our country running. Today, in our key worker segment, a local bus driver, who wished to remain anonymous, shares his anxieties, as he's having to work, despite having a child with severe asthma.
"I drive along one of the busiest routes in London, in which I carry passengers from East London and Central London. On a normal day, the job is demanding as it is and the long hours and rotas can be strenuous. Add the coronavirus and the pandemic into the equation, and you can imagine pressures I've had to deal with.
I live in Newham and the cases of Coronavirus here are the highest in the whole of the UK. I know many people who have had the virus and a couple of them have sadly passed away. A driver friend is on a ventilator at Whipps Cross Hospital and another has been off sick for weeks. I can't help but feel anxious about my own health.
I have to work, despite the fact that I might bring the virus home to my wife and children. I also have my elderly mum living with us. My child has severe asthma and I am always afraid of bringing the virus home. After my shift, as soon as I return home, I put my uniform in the wash and take a shower. Then I hug my children.
On the bus, some measures have been put in place to keep me protected in my seat. During the first few weeks of lockdown, the buses were less busy but as lockdown eases, they are getting busier. I am only allowed a certain number of passengers on at one time. The back doors are being used to get on and off and some seats near my cabin are sealed to the public.  On the whole, passengers have been complying with the gaps, which have been put in place to make them sit at a distance.
Has this been enough? I can't really say. I know many bus drivers who have contracted the coronavirus and some have died. London bus drivers are at risk. I hope there's not a second wave as Londoners come out of lockdown."
Thank you so much for that. I pray you remain safe and healthy.
That's it for this week. Next time, I'll be taking you Down Under to connect with a writer friend from Australia.
In the meantime, take care and stay safe!
You can connect to Farzana on twitter: @farzanahakim
Living in Tanzania is mostly what you would expect. Hot weather. Overcrowding. Political Naivety. COVID-19 has left the country no different.