Friday Feature: Creating The Basilwade Chronicles
by Dawn Knox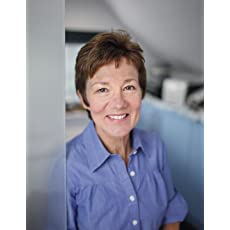 When I started writing the first chapter of The Basilwade Chronicles, I had no idea it would eventually be included in a book. It was simply a short story written to present at one of the Basildon Writers' Group meetings, where once a month, members read a short story or excerpt from a work in progress. Sometimes we set a writing prompt and one particular month, we were asked to write a story about a man who was socially inept and rather tactless.
I tried to think of a situation which might be considered a social minefield, which my character could mishandle and I came up with a speed-dating session. The name Derek Carruthers popped into my head (apologies to anyone with that name!) as being perfect for my man and I was away. Not surprisingly, by the end of the story, Derek doesn't leave with anyone's contact details. However, he does meet a woman – Mary Wilson, who is as disenchanted with him, as he is with her.
I liked Derek and Mary so much, I decided I'd write another story involving them, to read out at the following meeting of the writers' group. At the end of that story, a new character was introduced, Florrie Fanshawe, who I included in a third story.
Each month after that, I took one or more people from the previous story and wrote them into a new tale. As well as tactless Derek Carruthers, there were characters such as the selfish vicar with a penchant for pickled onions, the ostentatious clairvoyant with mesmerising eyes, the would-be entrepreneur with an unhealthy inclination to bear a grudge and the couple in the retirement home who had traumatised the young cleaner because they were often found in the broom cupboard together.
Each month, after I'd read a story out at the Basildon Writers' Group meeting, I submitted it to the CaféLit website, where a new story is published daily. I was thrilled that each one was accepted by publisher Gill James of CaféLit and Chapeltown Books. Gill suggested publishing them as a book. I thought I needed a way to conclude all the stories and decided on a final chapter where two of the characters, Sidney Jugg and Betty Bentwhistle get married. In that way, I could bring most of the people who'd appeared in the book back for the ceremony, in a grand finale. So, I started to write. I then realised that it was much too long and could be divided into three chapters – The Hen Night, The Stag Do and The Perfect Wedding.
I submitted the final three chapters, which were published one at a time on the CaféLit site and to my delight, Gill accepted them and decided to publish as a Kindle book and paperback.
Because each chapter is a stand-alone story, which has its own title, I hadn't considered a title for a book. Gill suggested The Basilwade Chronicles, since the tales were set in the fictitious town of Basilwade – a name I'd made up to be similar to Basildon, and the book was published in December 2019.
I adore the cover art, which was created by artist Neill C. Woods. Neill initially read the manuscript and took notes about the characters – their jobs, personalities, quirks and appearances, then interpreted them. Once you've read the stories, it's easy to spot who's who.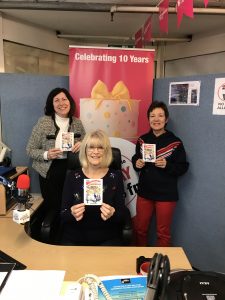 Jacqui James, chairman of the Basildon Hospital Radio, also presents a show on Basildon's local radio, Gateway 97.8FM. The Basildon Writers' Group has links with both radio stations. Last year one member of our writers' group was featured each month, in a slot on Jacqui's show which she called 'The Book Club'. When The Basilwade Chronicles came out, Jacqui invited me on to the show to talk about it and to read a chapter and when I'd finished reading, she said that she had a regular guest on her show who she thought would be very good at reading some of the stories out. The guest turned out to be aptly named, John Guest, who is currently the vicar at St Margaret's Church, Stanford-le-Hope. Jacqui set up a meeting between us so we could discuss John recording several chapters. I checked with publisher, Gill James, and she was happy for them to be recorded for the radio station.
The stories he chose were the three which included the character, Reverend Forbes-Snell, the pickle onion-loving vicar and he recorded them at the radio studios just before the recent lockdown, so none of them have yet been broadcast. Although I was invited to the recording, I was in self-isolation so I had to miss it. However, Jacqui sent me the audio files and she was correct, John is excellent at reading out different voices and he brings Reverend Forbes-Snell and the other characters to life.
You can also watch A Meal of Biblical Proportions –  https://youtu.be/i9NGiC7geSg and It is Better to Give than to Receive – https://youtu.be/iEnxdGFiMe0
I am now sending stories from a new series The Macaroon Chronicles to Gill and the first nine have been accepted and published on the CaféLit website. When I've submitted them all, I'm hoping she'll publish those in a book too. Neill C. Woods is currently reading the stories so that he can create the cover art, should the book be published.  If it is published, once the lockdown has been lifted, perhaps Jacqui James and John Guest will record some more stories!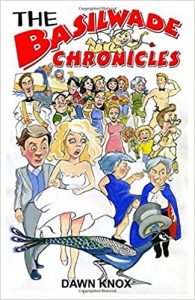 You can buy The Basilwade Chronicles on Amazon and connect with Dawn at her website dawnknox.com
When I started writing the first chapter of The Basilwade Chronicles, I had no idea it would eventually be included in a book.