Pen to Print Storytellers – A Gift Of Hope, From East London To The World
Borne in Barking and Dagenham, Write On! magazine, in print and online, was launched April 2019.  Out today, Write On! 7, the fourth magazine to be published during the pandemic, is the culmination of our 'Hope' theme, with Mark Haddon (Whitbread, Dolly Gray Children's Literature, Guardian and Commonwealth Writers Prize award-winner) sharing, in an exclusive interview, that the only way to 'face the darkness' is to do so together.
A reduced print run of physical copies will be distributed through centres and libraries that are open. The e-zine of this designed edition can be found here.
Issue 7 sees us returning to our original format, with favourites such as The Big Debate, exploring whether to set a fixed or flexible writing process. The Insight page features two new agony aunts – edge lit founder Alex Davis and Freelance Bible author Alison Grade. Some wonderful illustrations from Barking and Dagenham artists Danny Baxter, Susanna Wallis and Emmanuel Oreyeni shine a spotlight on this issue's more local flavour. This issue also includes a free gift of postcards from the 'Love Letters To The World' creative writing initiative. In short, the first issue of 2021 draws upon its east London roots to inspire writers and creatives from further afield to get creating!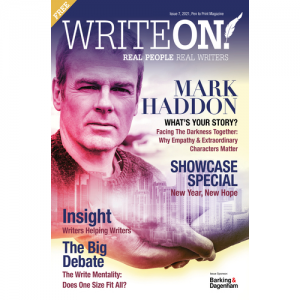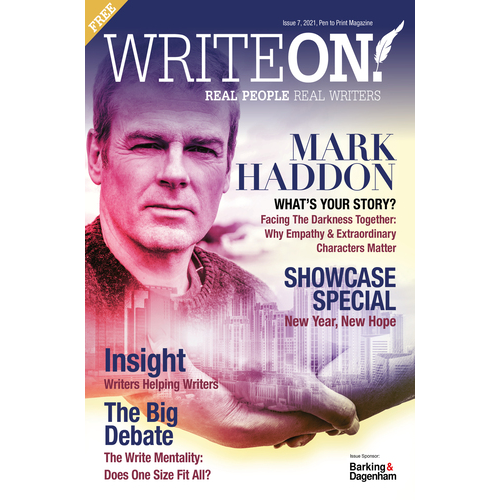 Pen to Print is place for writers to come together no matter their reach, levels of success, culture or geography. Write On! continues to be a shining example of a publishing platform adapting to COVID-19 by evolving its successful print offering into proven online vehicle which enables local writers to share their experience, strength and hope. This inclusive approach to creativity and storytelling has, in turn, encouraged people from other places in the UK and further afield to reciprocate with their own creative work. Currently our online readership stands at 27,000+ from 146 countries. Write On! 7 celebrates this inclusive community spirit; showcasing our passion for connecting beyond boundaries.
It's our aim to be at the intersection of entertainment, information and education, offering people a way to record and reflect the shifting culture and needs of these unprecedented times.
A Call To Action:
In keeping with Pen to Print's vision that everybody should have the chance to tell their story and so inspire potential in others we welcome new writing and ideas.
If you have something to share or are an organisation wishing to explore collaboration or partnership opportunities, please do get in touch at: pentoprint@lbbd.gov.uk
To advertise online or in the next issue please see: Our Media Pack
For further details around Write On! Extra, please see: The Editor's Introduction.
To see our Website: pentoprint.org
For further comment, please contact Madeleine White, Editor
DM Twitter/Instagram: @madeleinefwhite
or via Pen to Print Email: pentoprint@lbbd.gov.uk